2022 New Nursery Room Wallpaper Ideas
2020 was hard. So is 2021. Lives turned upside down and so were your little ones. With everything becoming digital, surely your kid misses the fun-filled days out there in schools, playgrounds and so on. As they're trying hard to cope up with the new normal, we have decided to come up with some wallpaper ideas that will make their stay at home no less fun than it used to be in school.
Your Little Adventurer
It is the age when imaginations start taking on new heights. And as we all know, you can make it if you can see it. With this adorable nursery room wallpaper of joy, colour and adventure, your kid may fly in the sky whenever she/he closes their eyes. Help them cultivate their imagination by making their wall a bit similar to their thoughts.
Little diver
Do your kids love undersea programmes on discovery? Imagine themselves as a deep-sea diver or a mermaid or even an aqua man! This vibrant colour combination would give your kid a under-the-sea feeling. It would also make their mood happy and bright.
All under one roof!
This is a combination of kids' storybooks and their favourite animated characters. This animal wallpaper mural is filled with colours and fun that will always make your kid and yourself feel happy and positive. Remember the proverb- all work and no play makes Jack a dull boy! They would feel like doing everything near this wall.  So, bring joy and happiness home with something that your kid deserves.
Lost in the wood
Kids are close to nature. They love everything about it. So why not fill their room with what they love the most. With the trees and hills and the giraffe, this green wallpaper will always give your kid refreshment.
Lost In The World
Kids love stories from the Jurassic period and dinosaurs are always their favourite. Do not make them upset by saying that they can't see one anymore. Instead, fill their wall with this wallpaper and make them happy and smile just like the dinosaurs on the wall. Let them be your kind's play-mates in their imagination!
Your little George may get lost in the jungle
Do you know that your kid wants to be lost in Muffasa's land every night when he or she closes the eyes? They wonder about themselves as one of the living beings in the jungle. They do not have much difference between reality and imagination. But you do. Thus, you know how important it is to cultivate your kids' imagination. You can let them lost in their imagination with this particular piece of wall mural. 
The jungle
Kids love jungle. Be it a real one or a movie or in the books. As a kid, the jungle is one of the favourite places they imagine themselves in. Everyone loves Tarzan and everyone aspires to be one as a kid. This particular jungle theme wall mural is designed to make your kid feel like they are in a jungle.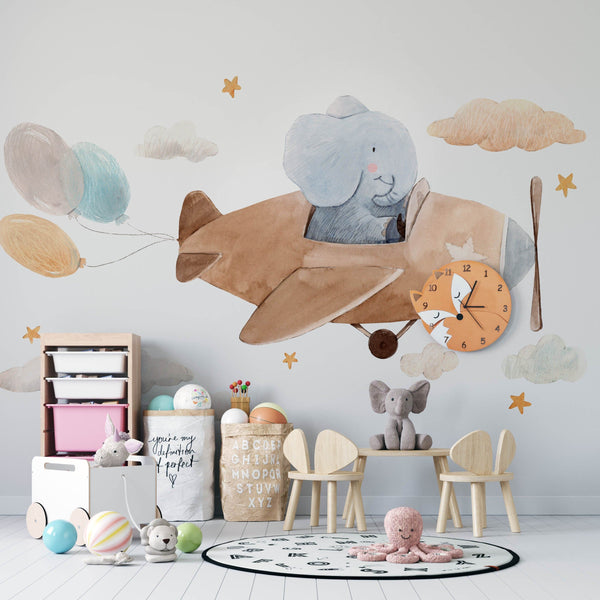 Around the world..
Let them wander around the world as many days as they want. Never limit their learning in school books only. Let them read, let them discover and let them imagine. It is their time to conquer the world through their imagination. Instead, push them few steps ahead. This simple but special wallpaper has been designed to break all the barriers to your kids' imagination. It is designed to make them understand that they can do anything they want, they can be anything they want to be.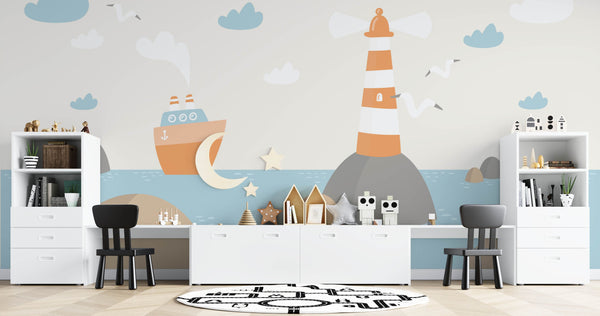 Bright Room Makes Bright Mood
This wallpaper is so bright and colour that it will not only instantly lift the mood of your kid and but yours also. The happy cloudy wall would take them somewhere every time they look at it. And, in no time you'll see that this wall has become their favourite one. Fill the colours on their room wall and wait to see the magic it does. This will never let your kid feel sad or down.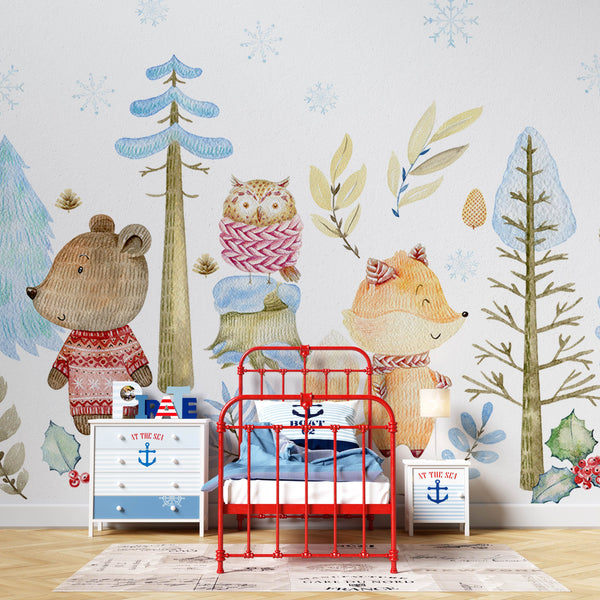 Straight from the books
Kids love stories but they are more like the picture in the storybook. It attracts them like a magnet. Pictures never fall short to mesmerize them. Use this nursery wallpaper and they will feel as if it has come straight from their storybooks. Every day will be new and full of joy with this wallpaper. They will surely thank you for this little new addition to their little world.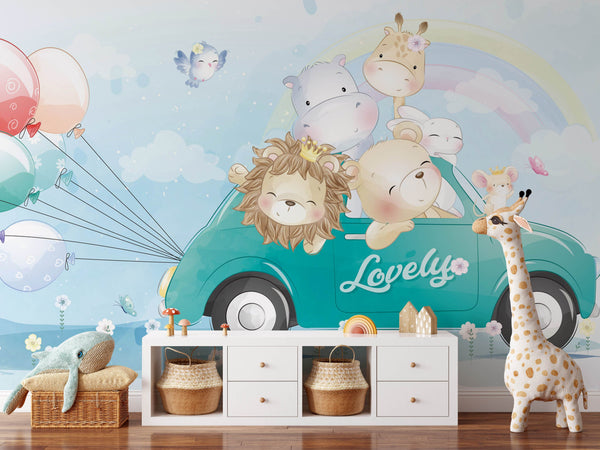 Never tired
All most of the kids like is watching cartoon all day long! And their love for the cartoon takes time for all other activities? Well, this bright, cartoony, animal wallpaper would surely take your kids eyes off the TV or phone. You will always find your kid doing anything in front of the wall. This also will make them wonder and never let them feel down.
Your child is special and so is everything around them. This goes even without saying that you will never stop trying to make everything a bit more beautiful and satisfying for your little one. So, go on and bring these amazing wallpapers and fill your kids' room with the imaginary characters and ambience.