Magnificent Brown Wallpapers Turning Living Space into Cozy and Sophisticated Look
Brown is an earthy color that can evoke feelings of warmth, comfort, and security. It's often associated with nature and the outdoors. In this blog post, we'll explore the meaning of brown and how it can be used in your living area and other areas of your home. 
When we think of brown, the first thing that comes to mind is the planet Earth. Brown is the color of soil and dirt. It's a natural color that reminds us of the outdoors and nature. Brown can also be seen as a stable and reliable color. 
The color brown may not be as exciting as some other colors, but it has certain dependability to it. When used in marketing and interiors, brown can convey these same qualities. It can communicate that a product or company is down-to-earth, reliable, and trustworthy. If you're looking to create an earthy or natural feeling in your living space, consider using Everwallpaper's Brown wallpaper mural collection: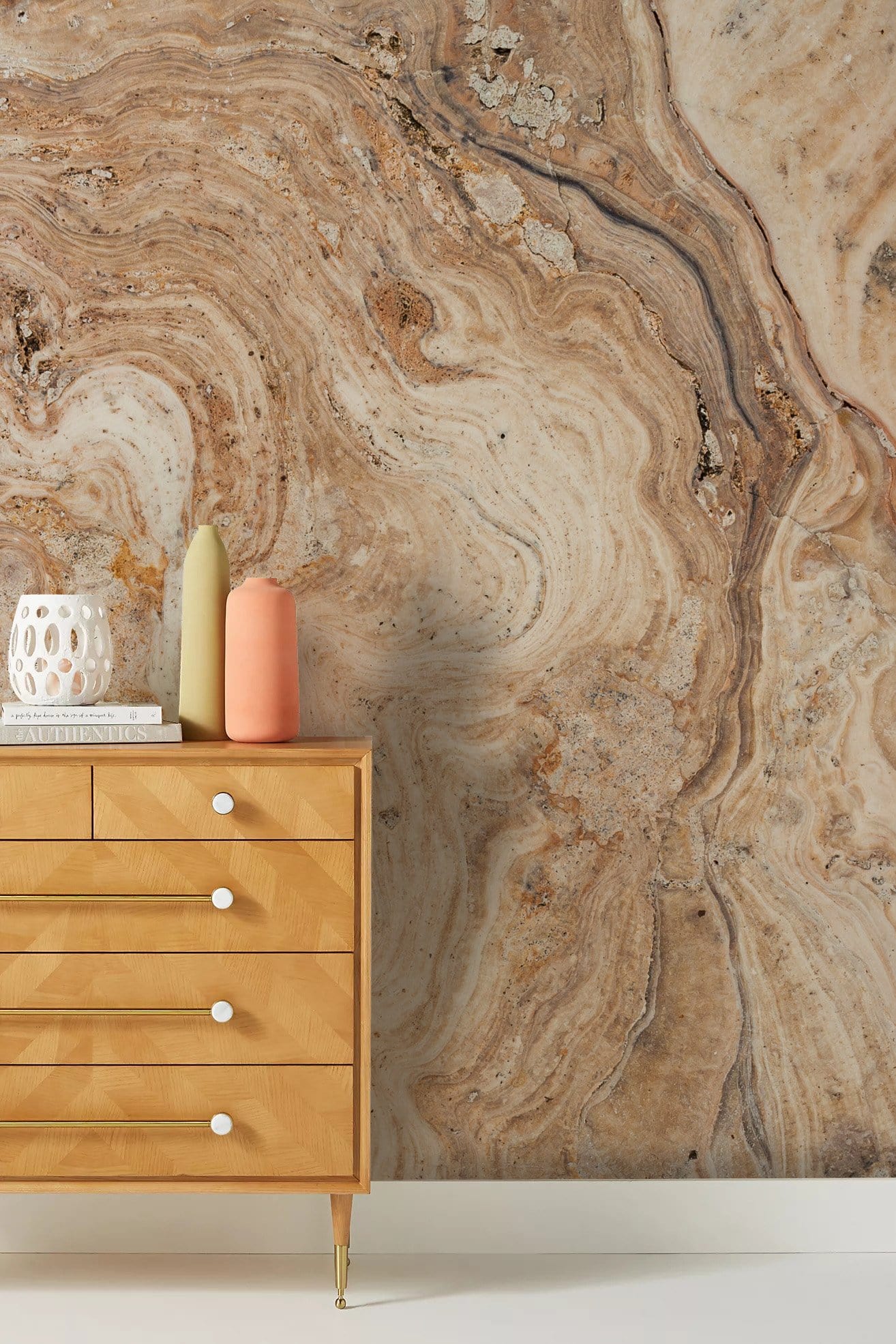 View design
Brown Texture Marble
With its deep brown tones and intricate texture, the Brown Texture Marble wallpaper mural creates an instant focal point in any room. At first glance, the mural appears to be made of natural stone. Still, closer inspection reveals a level of detail and intricacy that could only be achieved with digitally-created imagery. The result is a mural that is both realistic and eye-catching, making it the perfect choice for anyone looking to add a touch of elegance to their home décor. Confident and commanding, the Brown Texture wallpaper mural is sure to make a lasting impression on all who see it. 
How to Add Brown into Your Living Space for a Cozy and Sophisticated Look
Do you want to add a touch of sophistication to your living space? Brown may be the color for you. This versatile hue can create a cozy and inviting atmosphere while also lending a touch of elegance. In this section, we will be tackling simple ways in which you can add brown to your home décor design and create a look that is both stylish and comfortable. So read on to learn more. 
One way to add brown into your living space is with furniture. A leather sofa or armchair can give your room a touch of luxury while also providing a comfortable place to relax. If you want something a little more casual, try adding a wood coffee table or end table. These pieces will warm your space and make it feel more inviting.
Another way to incorporate brown into your décor is with accessories. Throw blankets, area rugs, and pillows are all great ways to add this hue to your space. You can also find artwork featuring brown tones or even add some greenery to your area with plants with brown leaves. These small touches will significantly impact your room and help create the cozy and sophisticated look you're going for.
These are just a few ways to add brown into your living space. With this versatile hue, you can create various looks – from cozy and inviting to chic and elegant.
Five Brown Interior Designs that Make Good Impressions
Brown is often seen as a dull color, but it doesn't have to be that way. Take a look at these five brown interior designs that will make your guests say "wow!" brown can be a warm and inviting color and, when used correctly, can create a beautiful and unique space. So if you're looking for some inspiration for your next design project, be sure to check out these fantastic brown interiors. 
Why not go with something unique and fun like a chocolate brown accent wall?
This rich, inviting color can really make a space pop, and it pairs well with other colors like cream and white. You can also add some delicate floral accents for a touch of femininity. Brown is such a versatile color that there are endless possibilities for how you can use it in your design. 
Brown is the new black when it comes to kitchen design.
A modern kitchen with dark brown cabinets, stainless steel appliances, and a sleek glass backsplash is the perfect way to make a statement in your home. The color brown is rich and elegant, and it pairs well with various other colors. Whether you choose to accent your kitchen with pops of color or keep it simple and neutral, brown is an excellent choice for your kitchen. Brown cabinets can also be paired with dark countertops for a modern look that is sure to turn heads. 
When paired with stone, wood, and other earthy materials, brown can help to create a warm and inviting space. In addition, brown is a versatile color that can be used in a variety of design schemes. Whether you're looking for a calming oasis or a rugged retreat, brown can help you achieve the perfect look. So don't be afraid to experiment with this lovely hue - your bathroom will thank you for it!
Brown is the new black when it comes to office design.
This rich and sophisticated color can add instant chic to any space. A chocolate brown desk is the perfect focal point for a stylish office, and leather accents add a touch of luxury. To keep the look fresh and modern, add plenty of greenery. Plants not only soften the feel of space but also help to purify the air. So if you're looking to create a chic and sophisticated office, consider using the color brown as your starting point.
A brown leather sofa can add a touch of luxury to a room, while rich wood floors add warmth and character.
The color brown is often associated with dullness and drabness. However, when used in the design, brown can be quite striking. When combined with plenty of natural light, brown can create a warm and inviting living space. So if you're looking for a unique color to use in your home design, don't forget to consider brown. 
Brown is also an excellent color to use in the living room because it's inviting and welcoming. It's perfect for creating a cozy, relaxing atmosphere, and it can help to ground the space. If you're unsure about what color to paint your living room walls, brown is always a good option. You can't go wrong with this classic hue.