Juicy, Tasty, and Sweet: Bringing Oranges Into Your Home With Orange Wallpaper Murals
Do you love oranges? Oranges are one of the most -favored fruits in the world, and for a good reason. Oranges are delicious, juicy, and sweet and are a good source of Vitamin C. 
Let us thoroughly discuss oranges today! We will examine their nutritional value, history, and how you can incorporate them into your interior design with wallpaper murals. Let us learn more about oranges today, so keep reading. 
Oranges are a type of citrus fruit, and they are believed to have originated in Southeast Asia. They were later introduced to the Mediterranean region and quickly became a popular crop. Oranges thrive in warm climates, which is why they are commonly grown in countries like Spain, Brazil, and the United States.
Vibrant Orange Wallpaper Murals: A Cheerful Way to Decorate Your Home
A touch of orange can really brighten up a room and give it a cheerful feel. You can now finally add more life to your home décor using orange fruit-themed wallpaper murals. These animated wallpapers are perfect for establishing summer vibes. 
Furthermore, these murals come in a variety of styles so that you can find the best one for your space. They're easy to install and can be customized to fit any size or shape. So if you're ready to bring some fun to your walls, check out our collection of orange wallpaper murals today! 
Gradient Orange
Make your walls pop with Everwallpaper's Gradient Orange wallpaper mural. This vibrant design is sure to add a touch of excitement to any room. With its orange and yellow hues, this mural is perfect for adding a bit of fun and flair to your décor. The gradient effect gives the design a modern edge, while the overall look is still playful and inviting. Whether you're aiming to liven up your living area or bring some personality to your child's bedroom, the Gradient Orange mural is a great choice.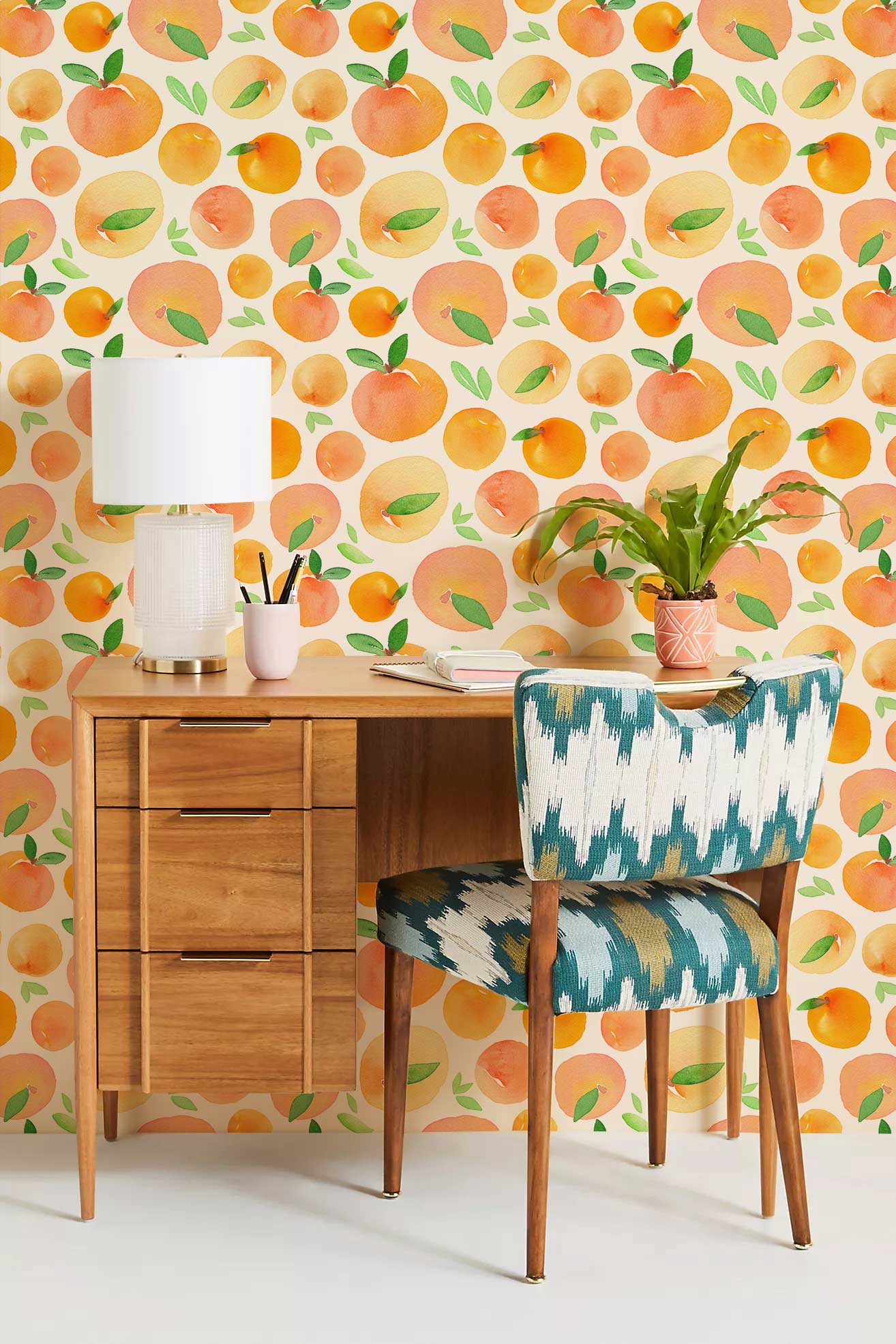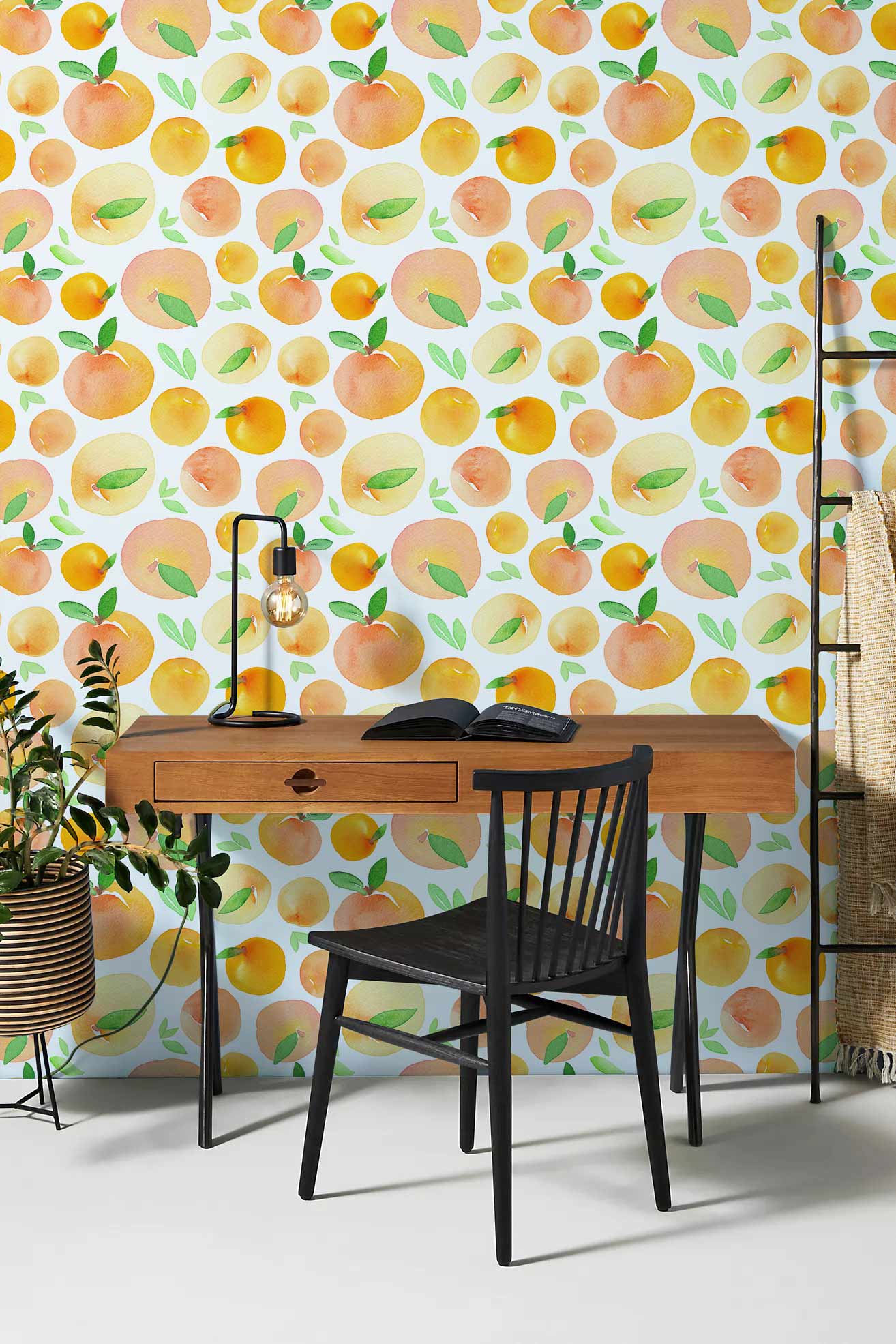 Orange Life
Introducing our Orange Life wallpaper mural – a vibrant and eye-catching design is perfect for injecting some life into any room. With its retro yet modern aesthetic, the Orange Life wallpaper mural will turn heads. The repeating patterns and bold colors are guaranteed to make a statement in any space. Plus, who doesn't love oranges? They bring to mind flowers, fruit, and all things tropical. So give your walls a little life with our Orange Life mural wallpaper.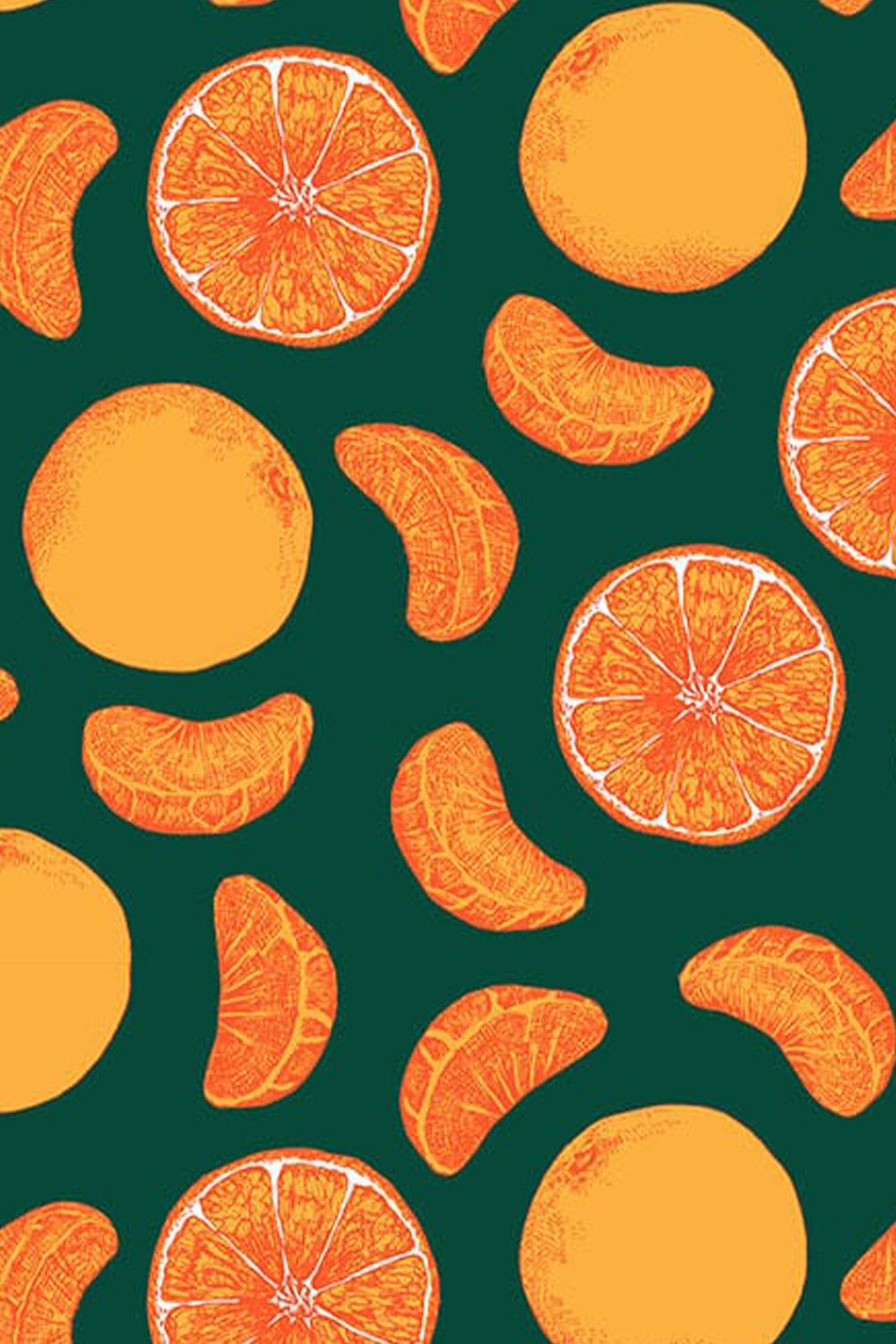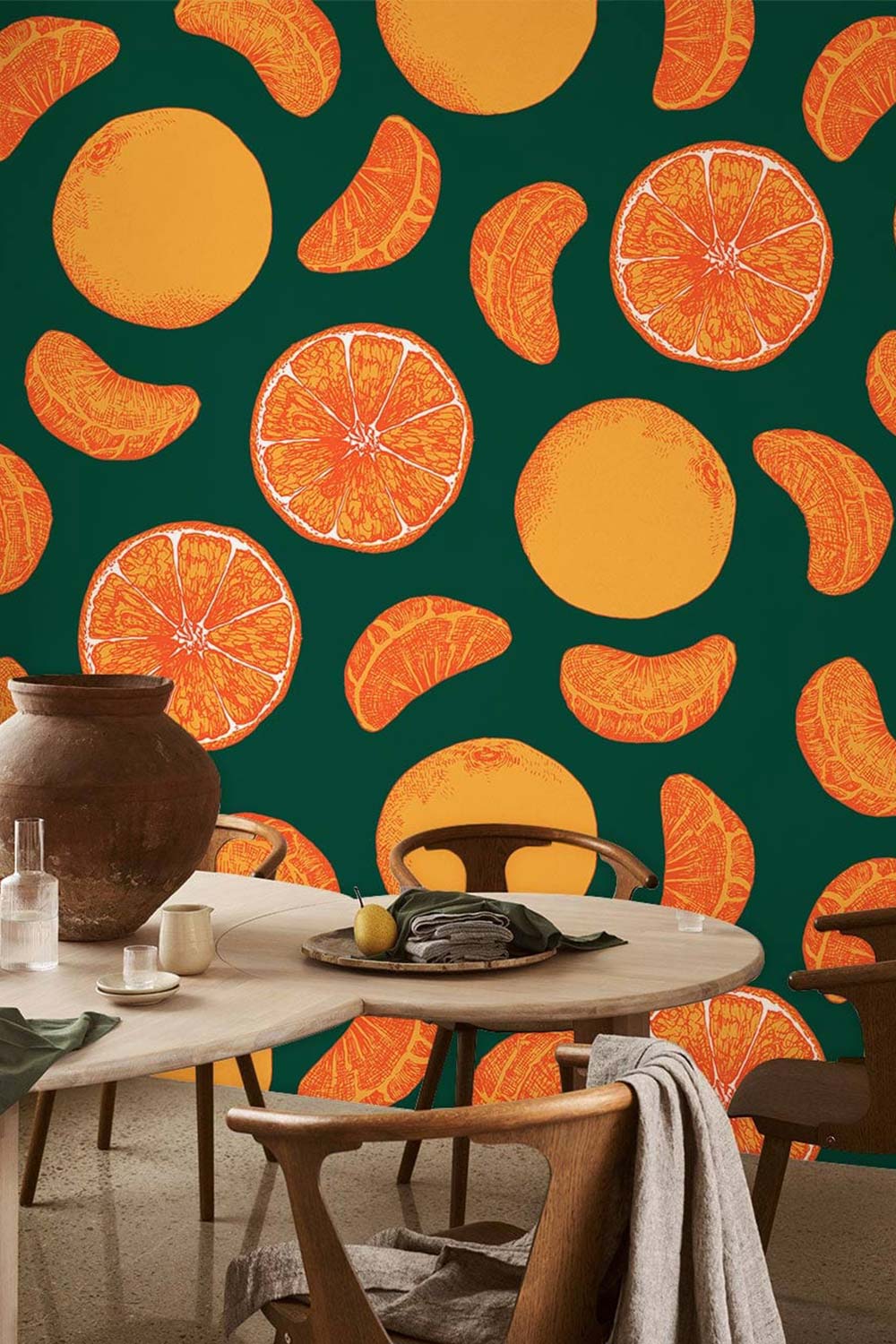 Sketch Orange
Looking for a wallpaper mural that will give your home a vibrant and playful feel? Look no further than the Sketch Orange mural wallpaper. This delightful design features a light creamy beige background with orange sketched images throughout. Whether you use it in your living space, dining, or bedroom, this design is sure to become a conversation starter. Bring more energy to your walls with a Sketch Orange wallpaper mural. Just the perfect way to brighten up your home!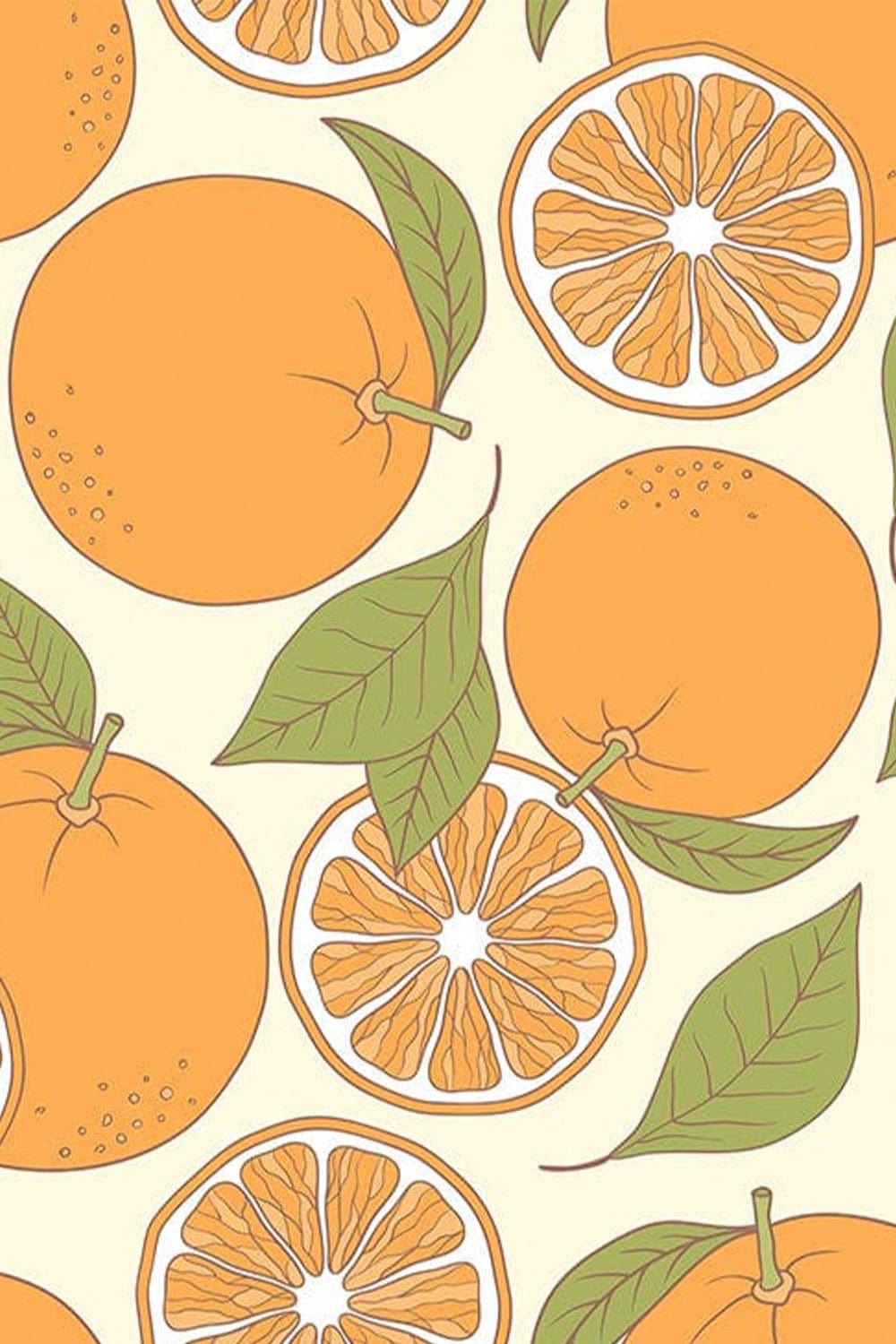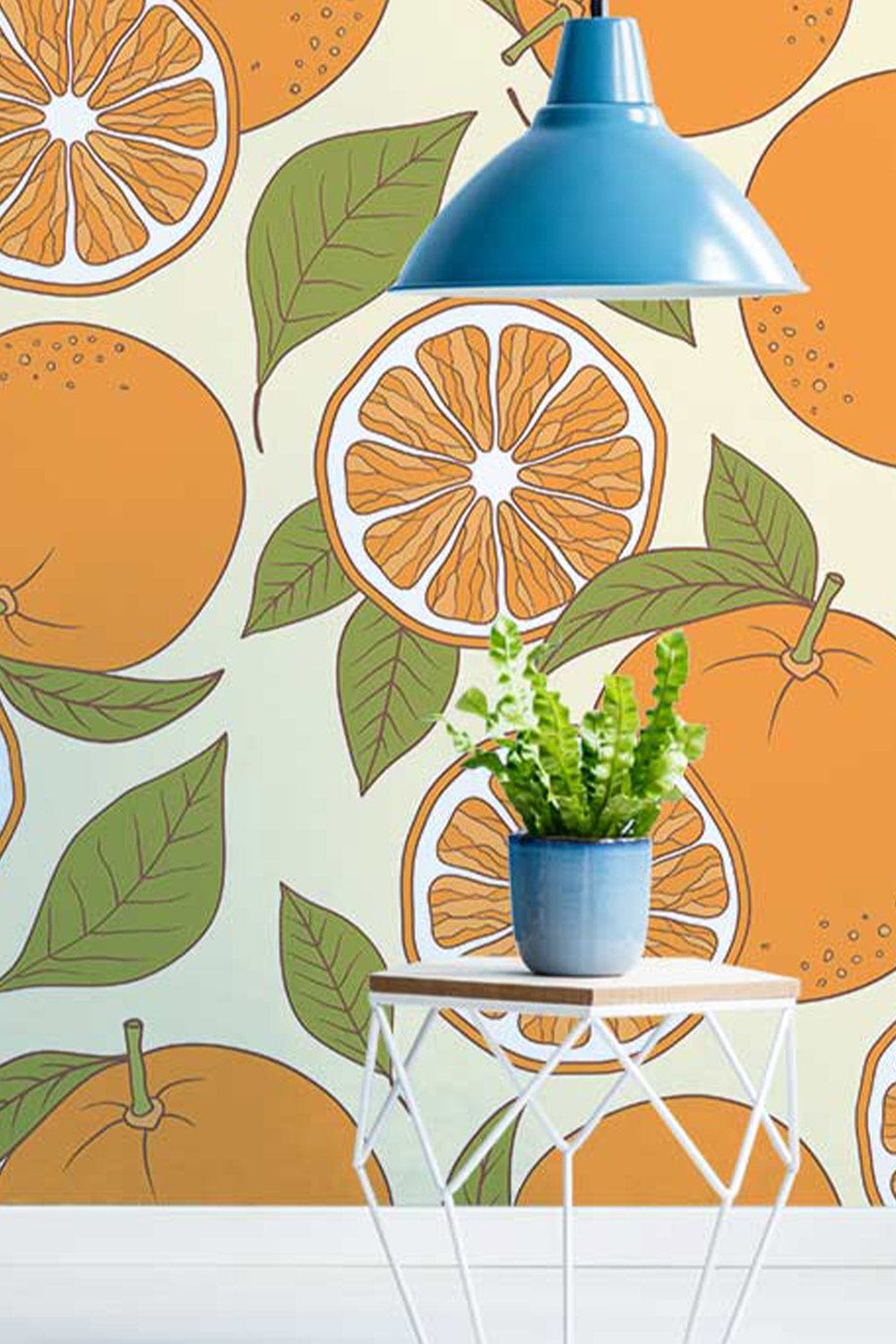 Orange & Leaf
Introducing the Orange and Leaf wallpaper mural! This exciting new product will transform any bland space into something unique and eye-catching. Featuring a vibrant orange background and realistic green leaves, this mural is sure to brighten up any room. Not only is it aesthetically pleasing, but the Orange and Leaf wallpaper mural is also incredibly easy to install. You can effortlessly peel off the backing and then stick it to any wall or surface. It's that simple! So don't wait any longer; make your space stand out today with the Orange and Leaf wallpaper mural!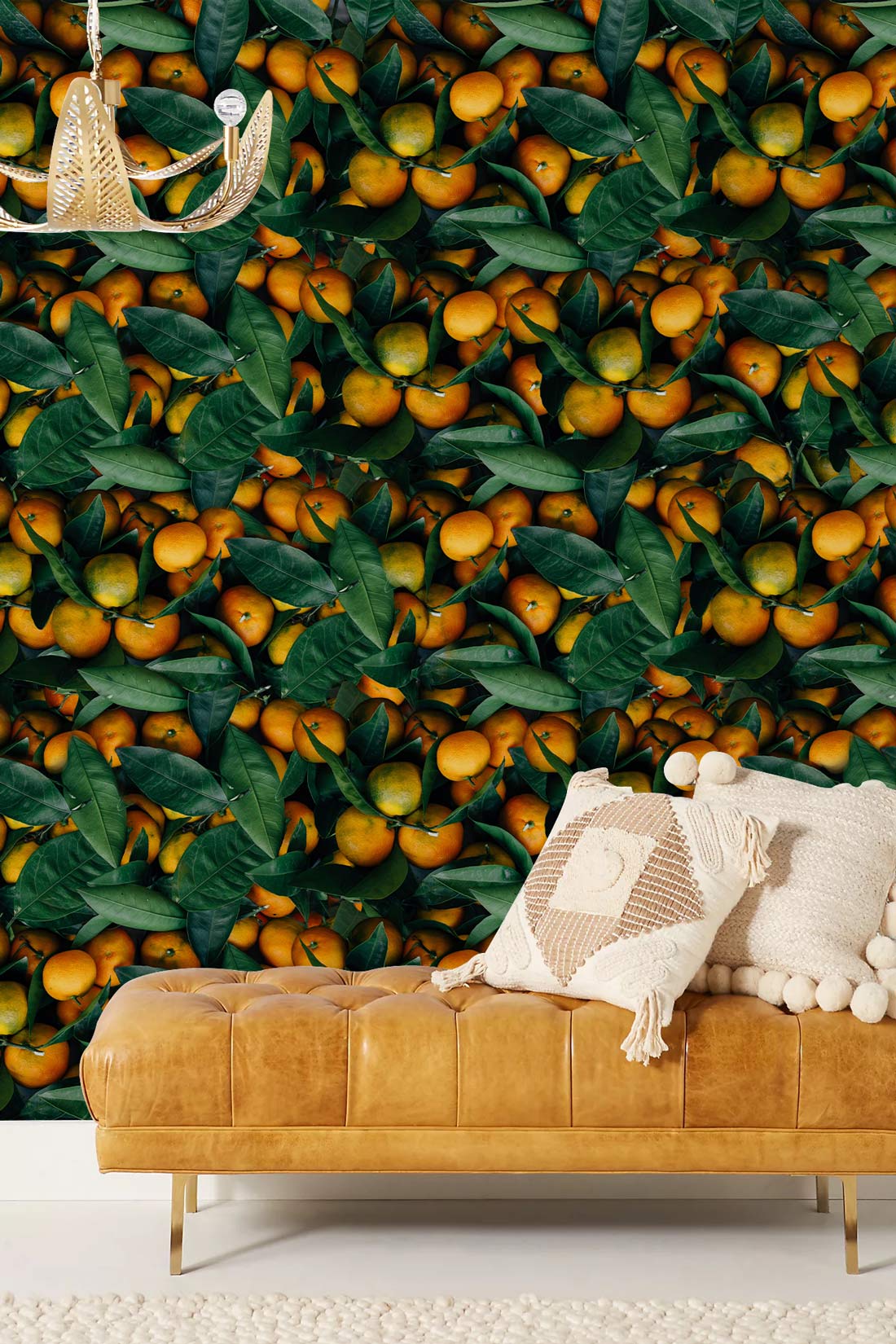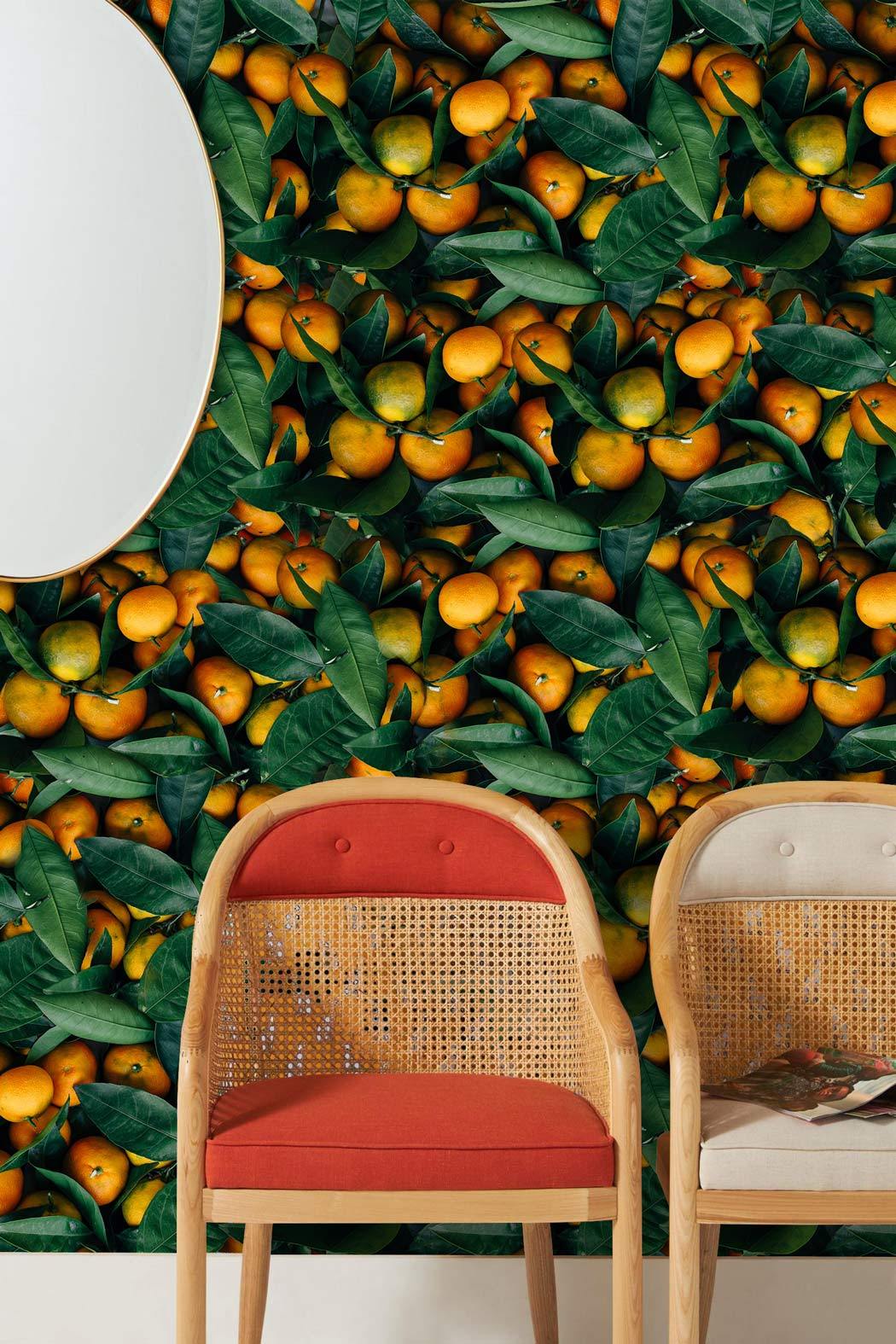 Oranges
Who doesn't love oranges? They're delicious and healthy, seamlessly bringing more sunshine to any room. Now you can enjoy the look of fresh oranges all year round with this Oranges Wallpaper Mural. Filled with juicy oranges, this mural will give any room an instant summery feel. The warm orange tones are guaranteed to brighten up your day, whether you're relaxing in your living room or working in your home office. And unlike real oranges, this mural won't make your hands smell! So go ahead and enjoy the fresh, cheerful look of this Oranges Wallpaper Mural.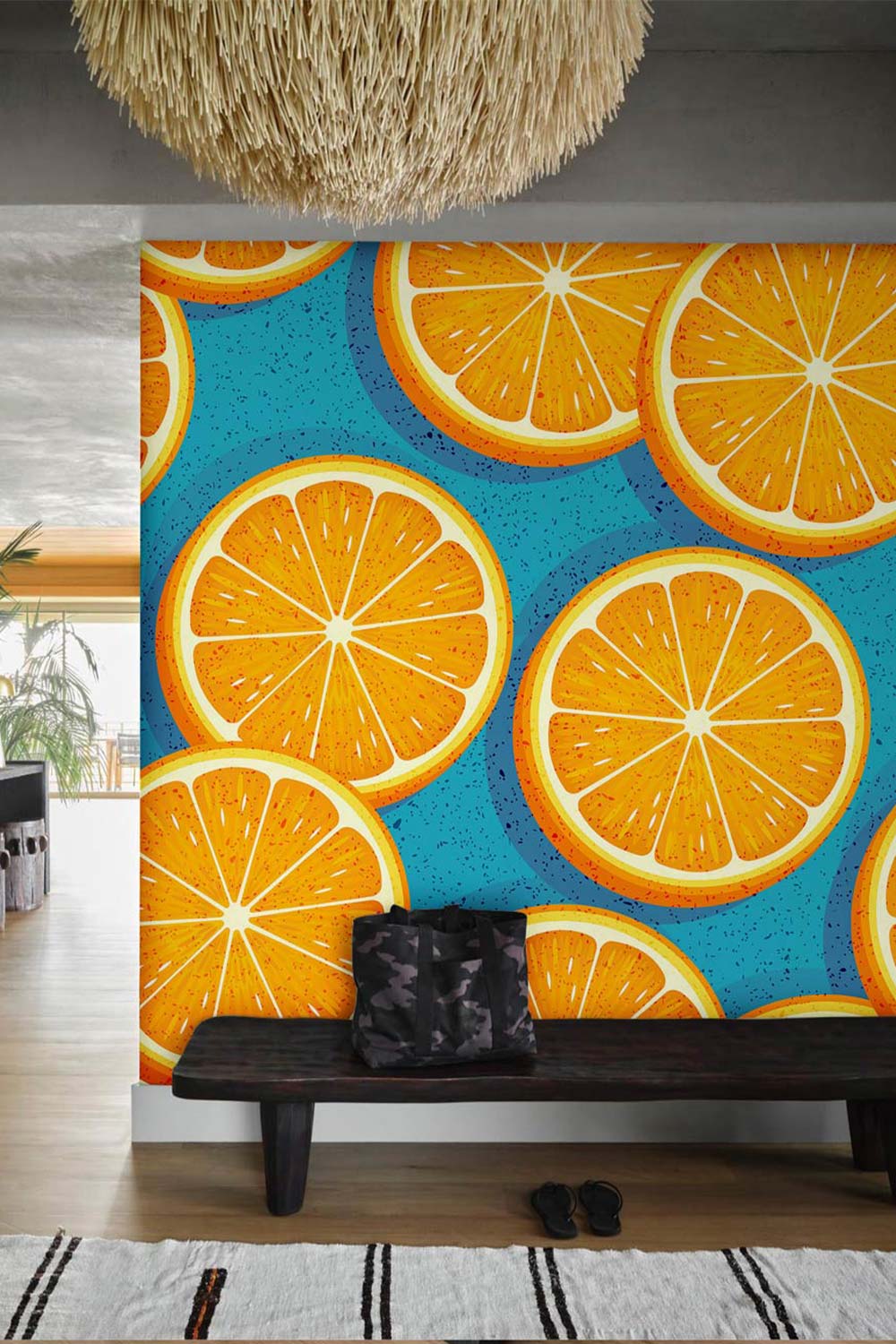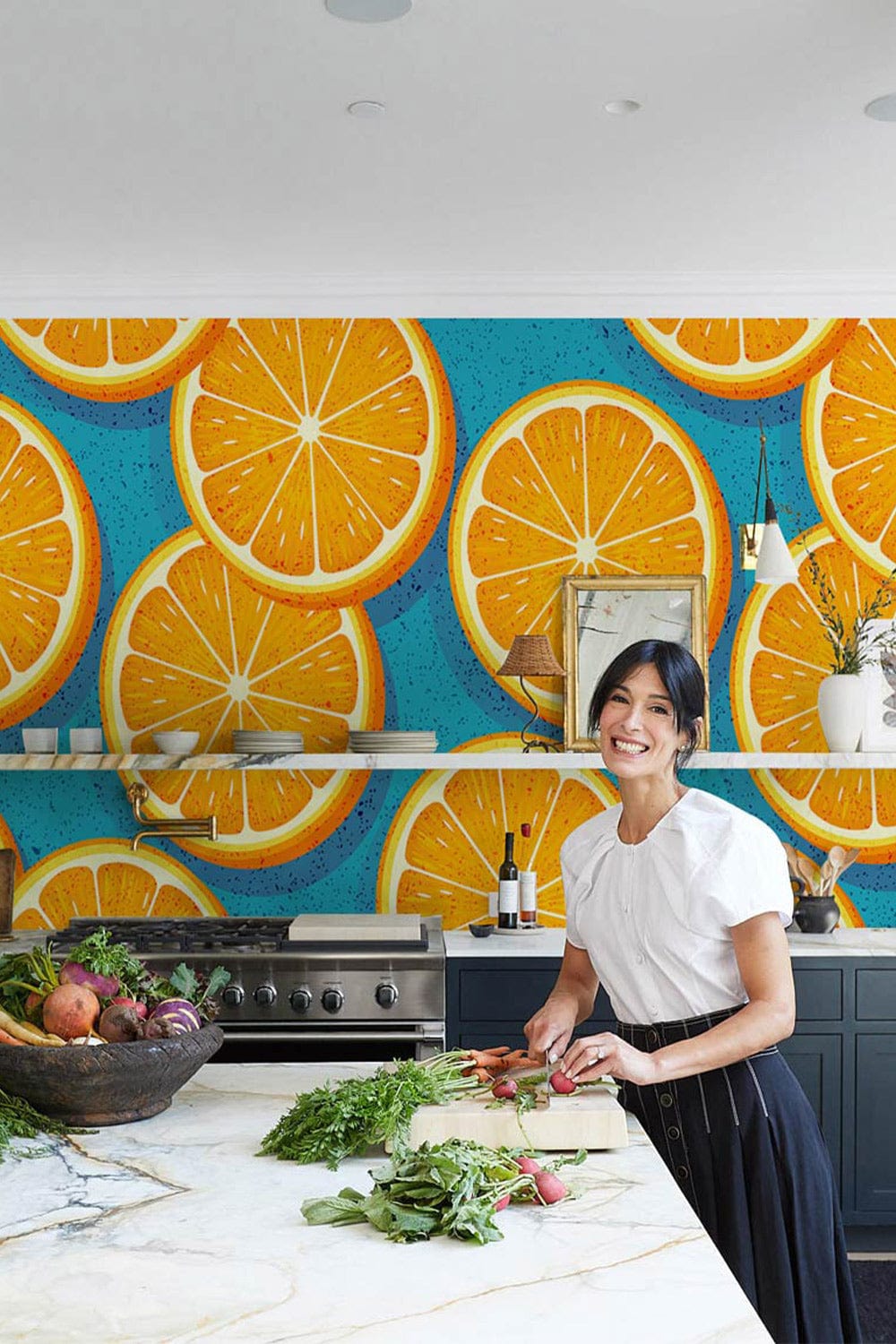 The Surprisingly Chic Power of Orange Fruit Design in Interior Décor
It's no secret that orange has been a consistent trend. From fashion to home decor, the dynamic hue is popping up everywhere. And we're not just talking about tangerine or pumpkin – we're talking about all shades of orange. You can finally add excitement to your interior design by maximizing this fruit as your interior theme. Here are a few reasons why orange fruit design is "in" right now.
First, orange is the perfect color to add a touch of fun and playfulness to any room. If your interior is feeling a little too serious, inject some orange into your decorating scheme. It's also a great way to add a pop of color if you're working with a neutral palette. 
Second, orange is known for its ability to stimulate the appetite. If you're looking to create a cozy and inviting kitchen or dining room, consider using orange as your primary color. To create a warm atmosphere, you may also use orange the orange murals in other areas of your home, like the living space, hallway, or bedroom. 
Third, an orange-themed interior can be very versatile. You can use this theme in any room of your home or office, and it will always look great. This is simply because orange is such a vibrant and happy color, effortlessly making your space feel more cheerful and inviting.
Another reason to consider using this theme is that it can be very budget-friendly. If you are looking for a way to save money on your interior design, then choosing an inexpensive theme like this one can be your best bet. You can find many affordable pieces that fit into this overall design scheme. For example, you could purchase some orange throw pillows or rugs to add more color. 
The orange fruit design is also a great option if you are looking for something that is unique. This theme is not something you see every day, so it can help your home or office stand out from the rest. This is the way to go if you want to make a statement with your interior design.
Finally, this theme is perfect for those who love nature and the outdoors. If you enjoy spending time outside in the garden or on the patio, then using this wallpaper design will allow you to bring some of that natural beauty inside. You can find many items that feature oranges and other fruits that will help create this overall look. For example, you could purchase some orange-themed artwork or décor items.
Incorporating Orange Fruit in Interior Design: More Eye-Catching and Delicious Ideas
Move over, green plants. Orange fruit is the new way to bring life and vibrancy to your interior design schemes. Not only are oranges beautiful and delicious, but they also offer a wealth of health benefits. We will explore ways to use orange fruit in your home décor. From eye-catching centerpieces to delicious snacks, we have got you covered.
One way to incorporate orange fruit into your interior design is to use it as a centerpiece. A beautiful bowl of oranges on your coffee table or kitchen counter will add a pop of color and life to your space. Most of all, they smell amazing! 
If you want a unique centerpiece idea, you can try using a carved-out orange as a vase. Simply remove the top of the orange, scoop out the flesh, and fill it with water. Then, add some fresh flowers or greenery.  
Another great way to incorporate oranges into your home décor is to use them as a natural light source. Oranges emit a warm, soft light that is perfect for creating a cozy ambiance in your home. Simply place a few oranges in a bowl or vase near a lamp, and enjoy the lovely glow they create!
Without a doubt, there are tons of advantages to why the orange fruit design is an excellent interior theme. If your goal is to build a versatile, budget-friendly, unique, or realistic option, an orange fruit-themed can never go wrong.