7 Aesthetic Yet Underrated Wallpaper Ideas With the Best Color Match Designs
Would you like to transform your home into a tropical paradise packed with natural hues and elegant accents? Are you looking for new patterns that are designed with a soothing and warm perspective? Well, one of the most important factors to consider for any space you're about to decorate is having a great color match.
Combined colors that complement the entirety of your home interior make up for aesthetically pleasing and balanced wallpaper color mixtures. Because the right colors can make your wallpaper look fresh and modern, while the wrong ones can make it look dated and old-fashioned.
Unique color combinations should not be too flashy to grab attention. Instead, it can still be eye-catching once you see them in a detailed close-up picture. 
Hence, finding the best wallpaper murals with top-notch color match palettes can be daunting.
In this article, we will present to you seven gorgeous and aesthetic wallpaper designs that are both functional and decorative. That is, these are also great color match wallpapers with their unique shades, tones, and textures, containing simple but one-of-a-kind patterns ideal for your home and business.  
Finding the Right Color Palette
The color palette is a crucial element in any wallpaper design. It sets the tone for your entire design and gives the viewer an idea of what they can expect to see. If you're looking to add some visual interest to your home, these are some of the things to consider when choosing a color scheme for your wallpaper:
What colors are your room's main colors?
This will help you choose colors that will work well together in your design. For example, if your space is primarily white and black, then you'll want to choose shades that complement these colors instead of clashing with them. If you have blue walls, then pick tones like reds or yellows that will go well with blue but not compete with it too much. If there are other colors present in your space (like yellow or green), then choose those that complement them as well.
What is the purpose of your wallpaper?
If it's going on a wall that gets lots of natural light, then you'll want to choose colors that reflect those tones - like blues or greens. If it's going on a wall that gets little light, then you'll want brighter colors and more contrast - like oranges, reds and yellows.
Where will this wallpaper go?
If it's going into a dining room or kitchen, then warm tones like reds and yellows are appropriate because they evoke feelings of warmth and coziness (like fireplaces). If it's going into an office or studio, cooler tones like blues and greens evoke feelings of professionalism (like waterfalls).
Color is the most important element of your wallpaper since it is what will define your space, possibly making or breaking it. So, if you're not sure where to start, here are some wallpaper ideas with the best color match to spice up your walls!
Blue and Yellow
Blue and yellow are a classic color combination that will never go out of style. They are two of the most popular colors in the world, and they can be combined in many different ways to create a stunning color scheme.
Blue and yellow work together so well because they're complementary colors, which means that they look great next to one another. Yellow is bright, sunny, and happy. Blue is calming and soothing. Together, these colors create a relaxing effect on the eyes and can be used to produce a serene environment in your home.
This combination has been used in design for thousands of years, but it's still just as popular today as ever before. The blend of blue and yellow is also known as "sunshine yellow" or "spring green" because it reminds us of springtime.
So, just like our Blue & Yellow Wallpaper Mural featuring a large-scale oil-painted wall topped with a splash of gold, this bright wallpaper works perfectly to your interior without overpowering the existing pieces in your home.
This lively and fun color mix will look great together and can be used in a variety of ways to create a cohesive design throughout your house. It's a perfect choice for your home office, bedroom, bathroom, and more!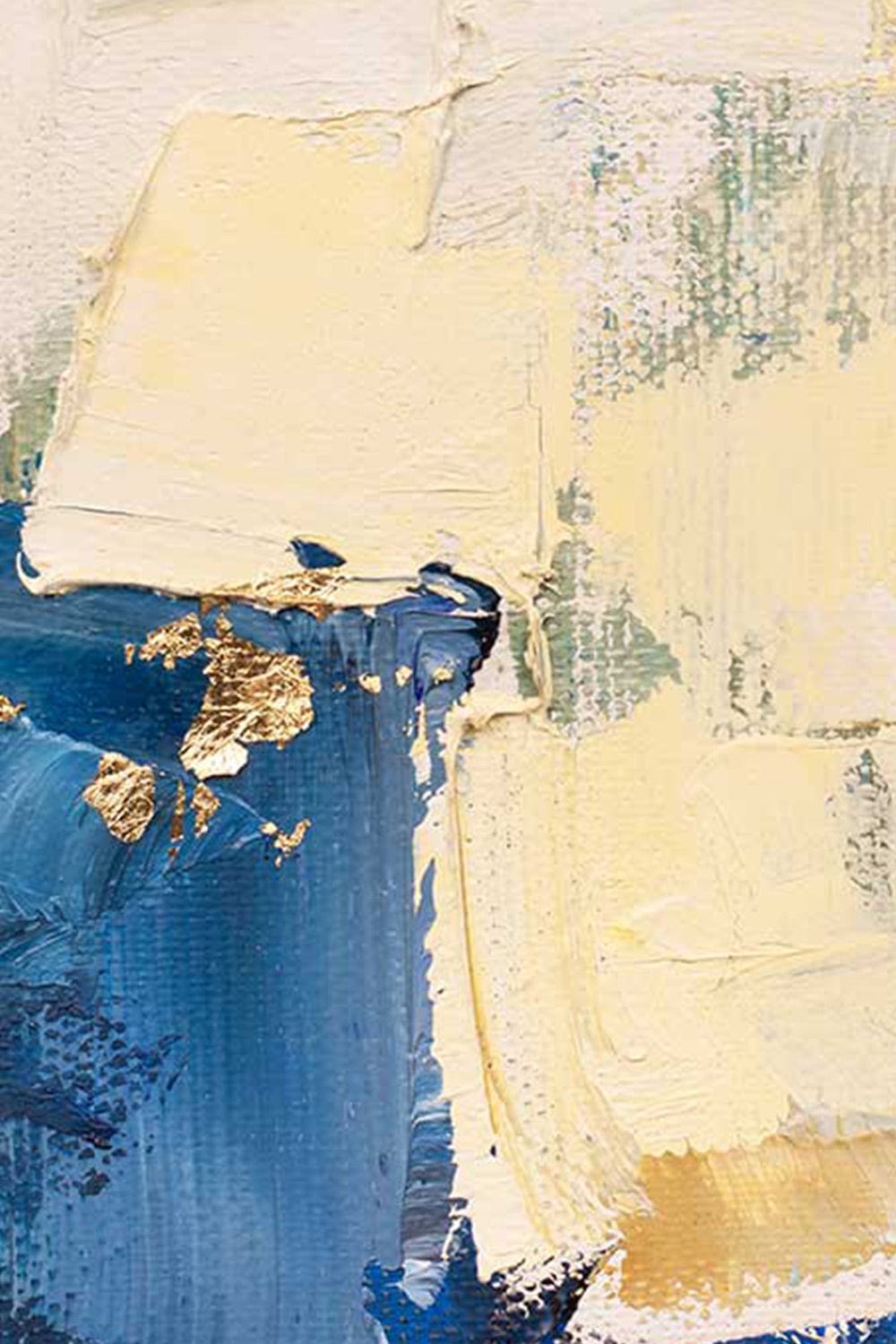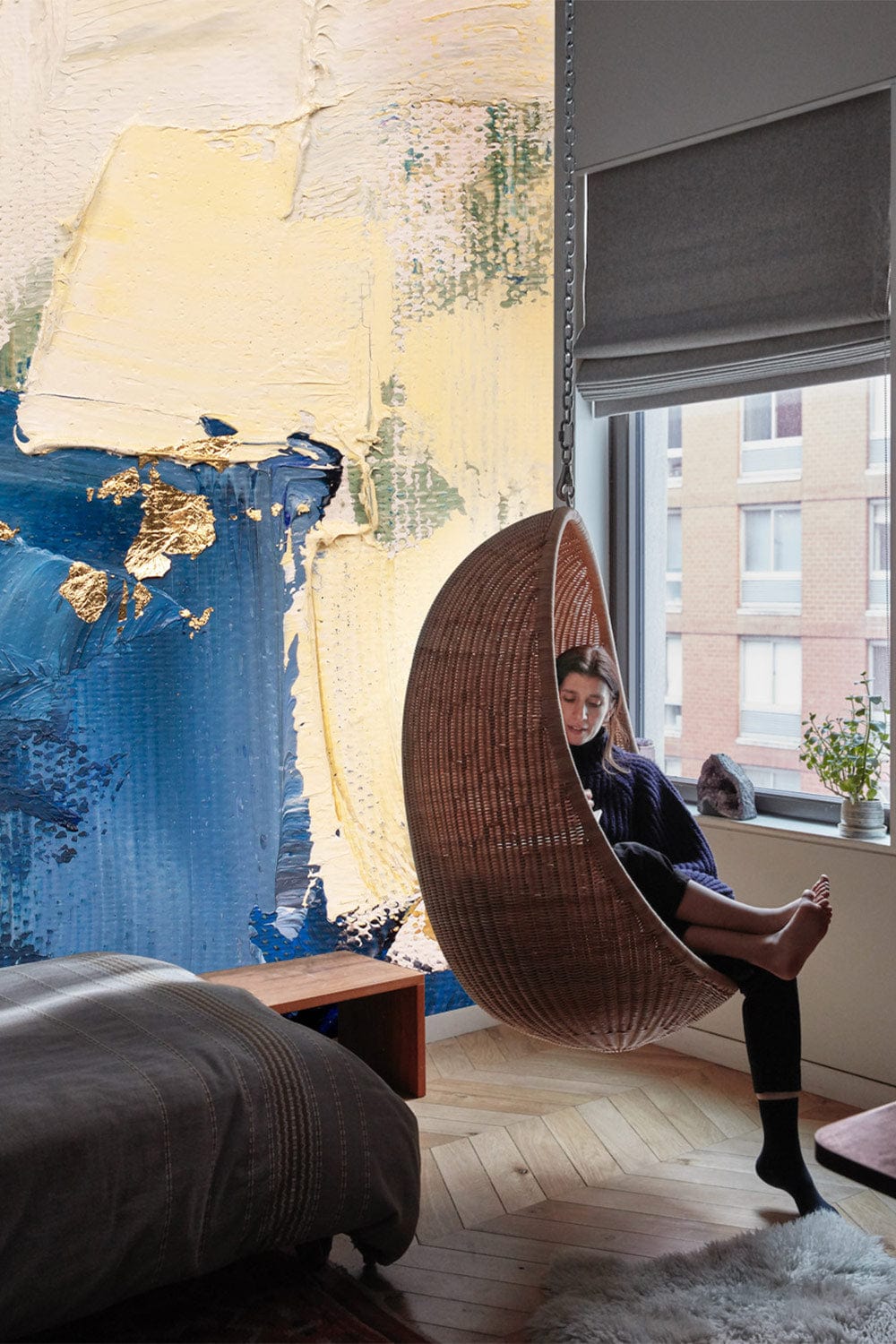 Blue and Yellow Painting Wallpaper
Shop Now
Red and Brown
Red and Brown are two colors that go together very well. They're complementary colors, which means they need each other to be at their best.
These two are great together because they both have an earthy quality. Red is a warm color that can be used to create a cozy atmosphere in a room. It's also associated with passion and excitement. Brown is a neutral shade that gives off a sense of stability and relaxation. Even though uncommon, this color match is an interesting idea to decorate the interior of your home with an unusual pattern.
Just like our Gilt Blossom Wallpaper Mural, perfectly designed with elegant brown gilt flowers on a bold red background, this floral wallpaper has a simple pattern that will add color and style to your living space. The color scheme is ideal for any room, especially if you are looking to develop a delicate yet cozy ambiance. It would also look great with some framed art work on the wall or an accent piece.
The combination of red and brown as main colors works especially well in kitchens or dining rooms where you want a warm and inviting space for entertaining guests. You can also use these colors in bedrooms as long as you keep them in separate areas of the room, so they don't clash with each other too much!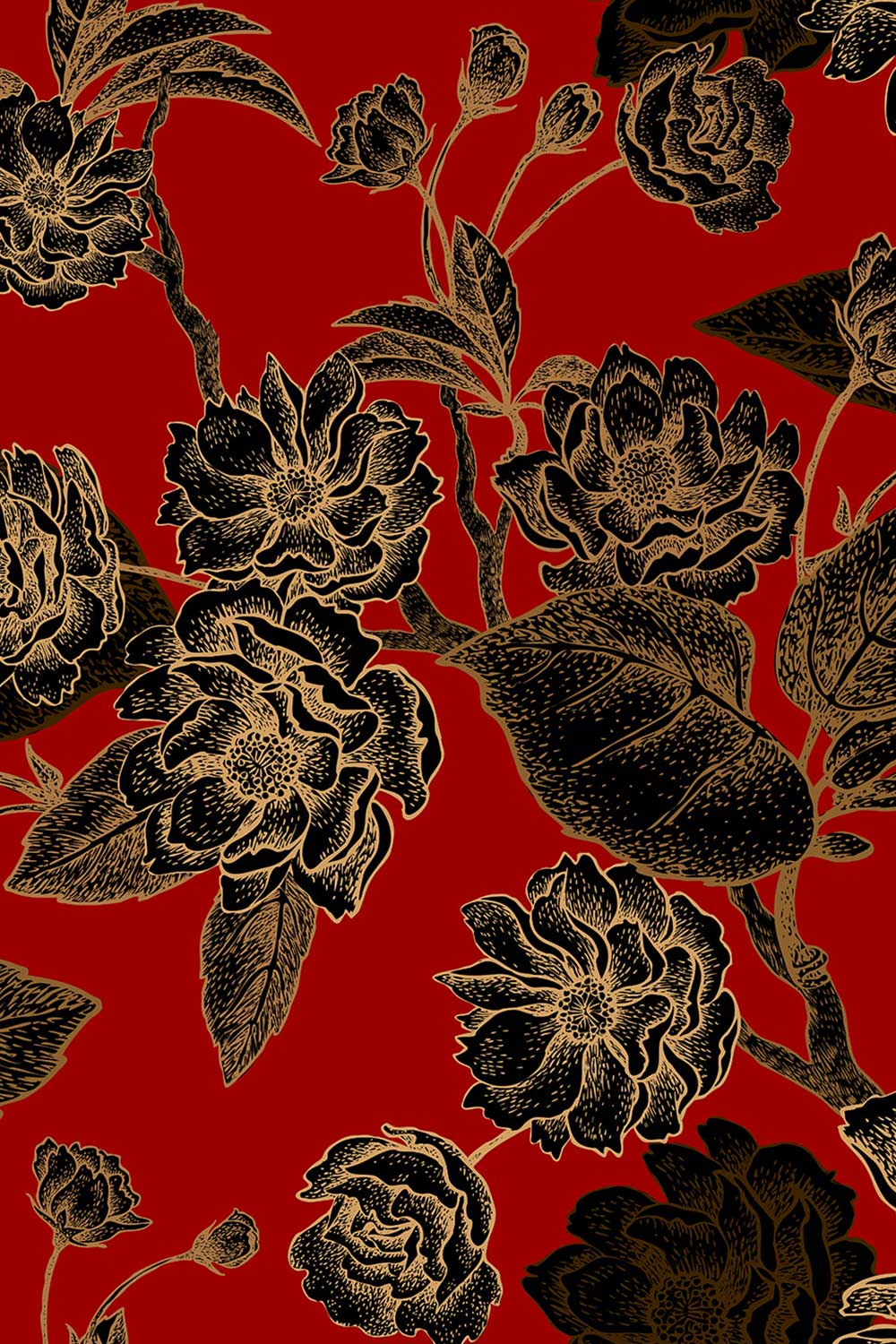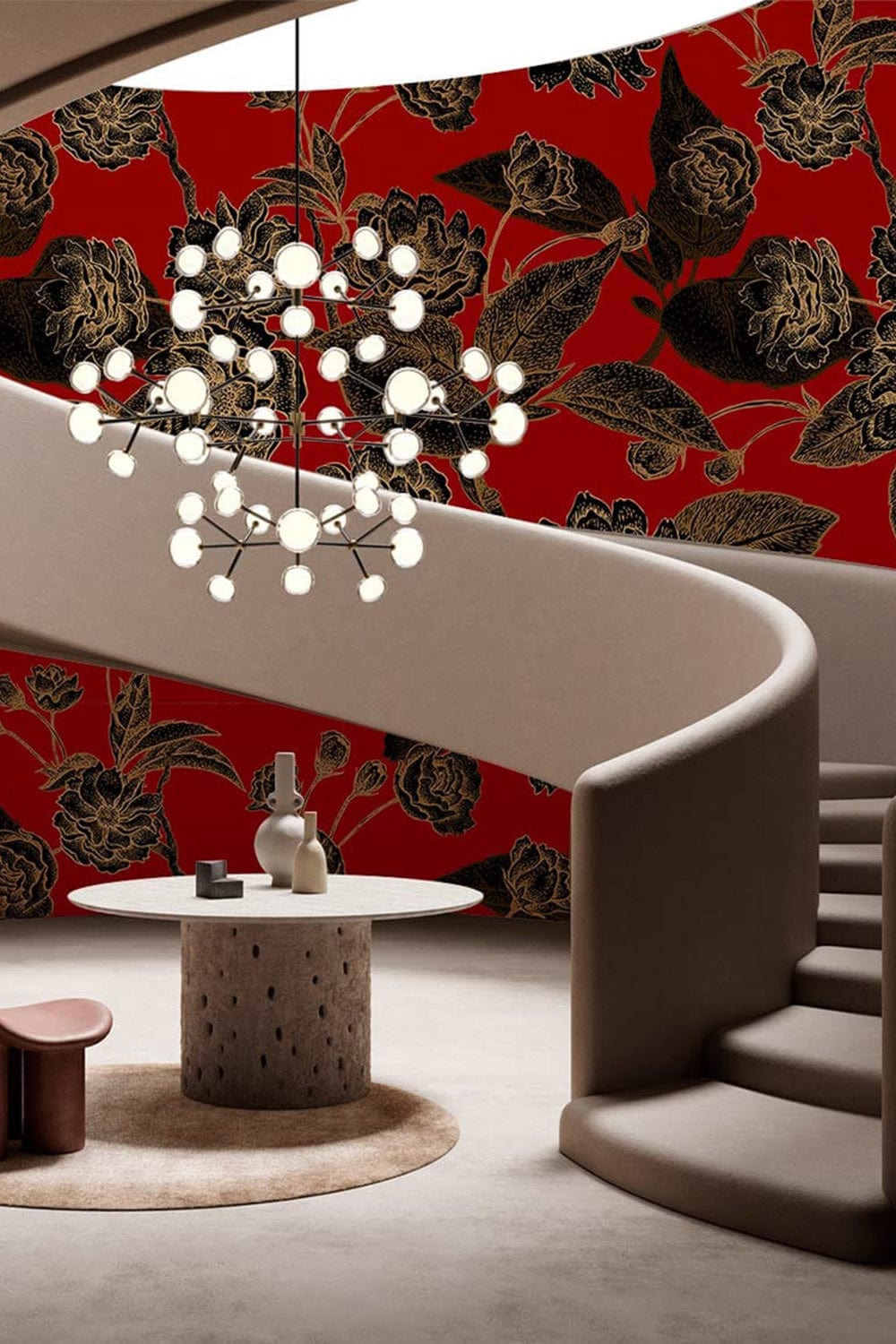 Red and White
The red and white color combination is one of the most popular color schemes around. It has been around for centuries, but became especially popular as a vivid color palette that will add more character to your space while keeping it warm and welcoming at the same time.
The combination of red and white is perfect for those who want a sophisticated look for their home. Red is the color of passion, excitement, and energy, while white is cool, formal, and peaceful. The colors are usually used in small doses, so that they do not overwhelm the room, rather add a touch of style.
This is particularly evident with our Red and White Wallpaper Mural designed with big floral prints and blooming flowers in red, white, and brown tones. The combination of red, brown, and white on this pattern makes this vintage wallpaper timeless yet modern at the same time, and sophisticated yet casual enough for any room in your home.
The design works well in kitchens where you want something bold but not too loud since it can be overpowering when used on its own, without any other decoration or furniture pieces in the room. It is also well-suited in bathrooms, where the cross of warm and cool colors can create a feeling of warmth and coziness.
But, there's more! The red-and-white color scheme is also often used in restaurants and hotels because it adds a touch of sophistication to any space. If you're looking for something bolder than plain white walls but don't want anything too loud or overbearing, then this color match might be what you're looking for!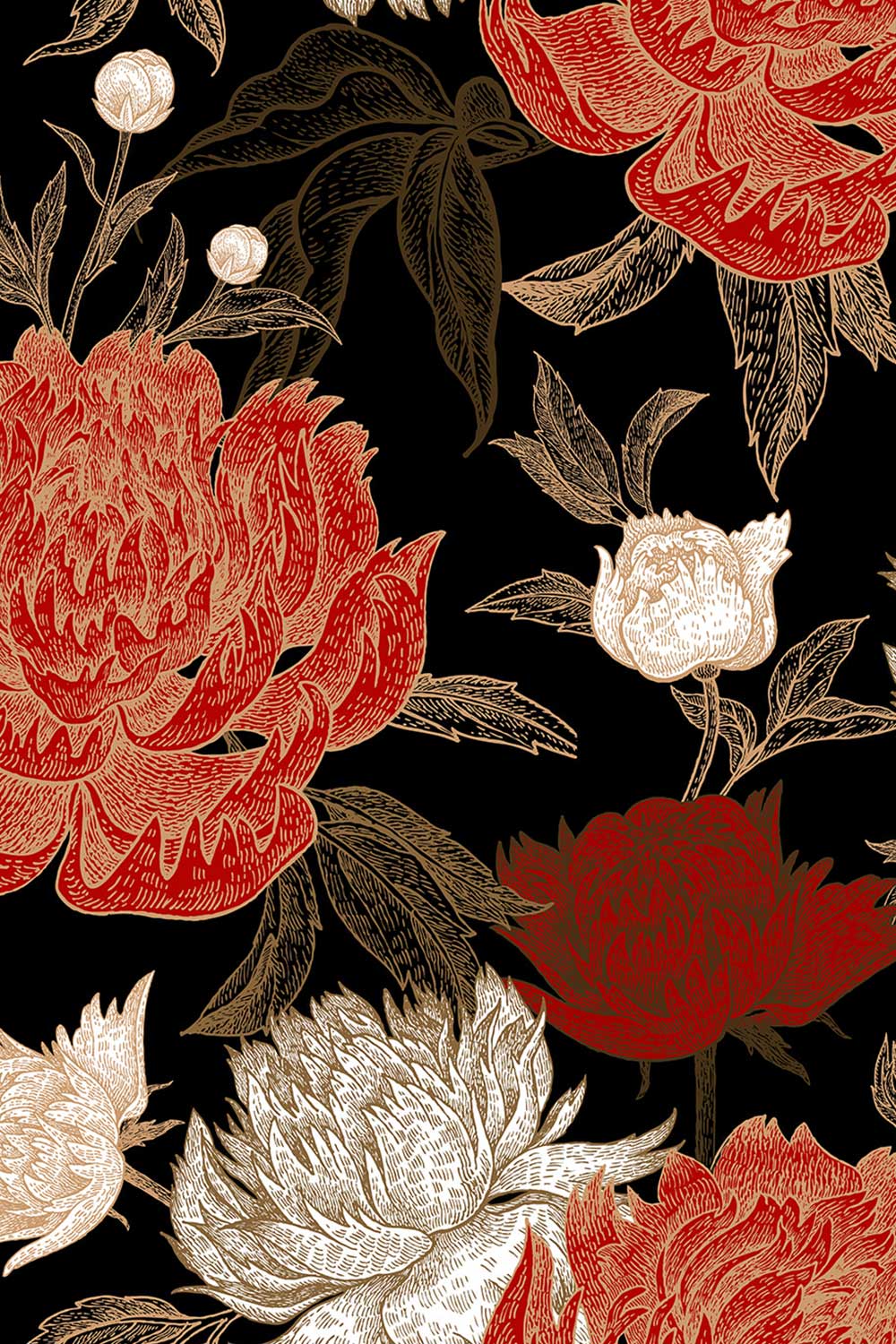 Ombre Blue and Pink
Our Ombre Moonlight Wallpaper Mural has been designed with a stunning white crescent moon on the center and over the silhouette of a tree branch below. These patterns are very interesting and natural, transforming any room into a dreamy space full of contrast and design.
But, the most highlighted in this ombre wallpaper is the stunning color combination of blue and pink on the background that will make any space pop! The subtle gradation of the shades of these pastel colors makes this wallpaper mural unique and eye-catching. The ombre effect also creates the right amount of drama while providing the area with a soft look.
The combination of these two colors brings a relaxing atmosphere that you can enjoy in your bedroom, living room, or kitchen. This art deco wallpaper would also make a great backdrop for your dining room table if you want to create a unique vibe for your next dinner party.
The colors are vibrant, and the design is simple, but it still looks very elegant. If you're looking for something more sophisticated, then this might be the right choice for you.
This wall mural can be installed on any smooth surface such as walls, wood paneling, glass, or metal. It comes in many different sizes and formats, so you can get exactly what you need!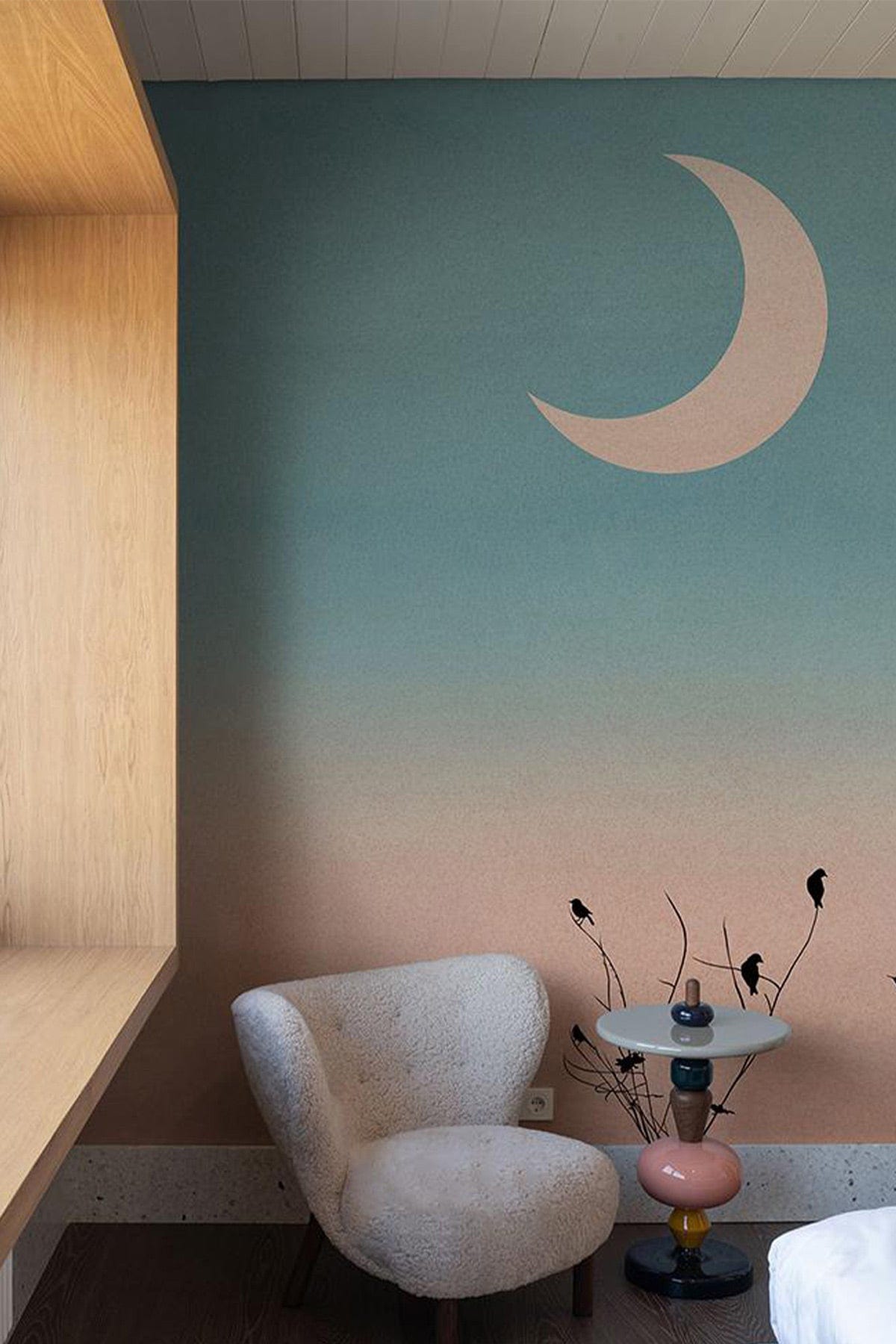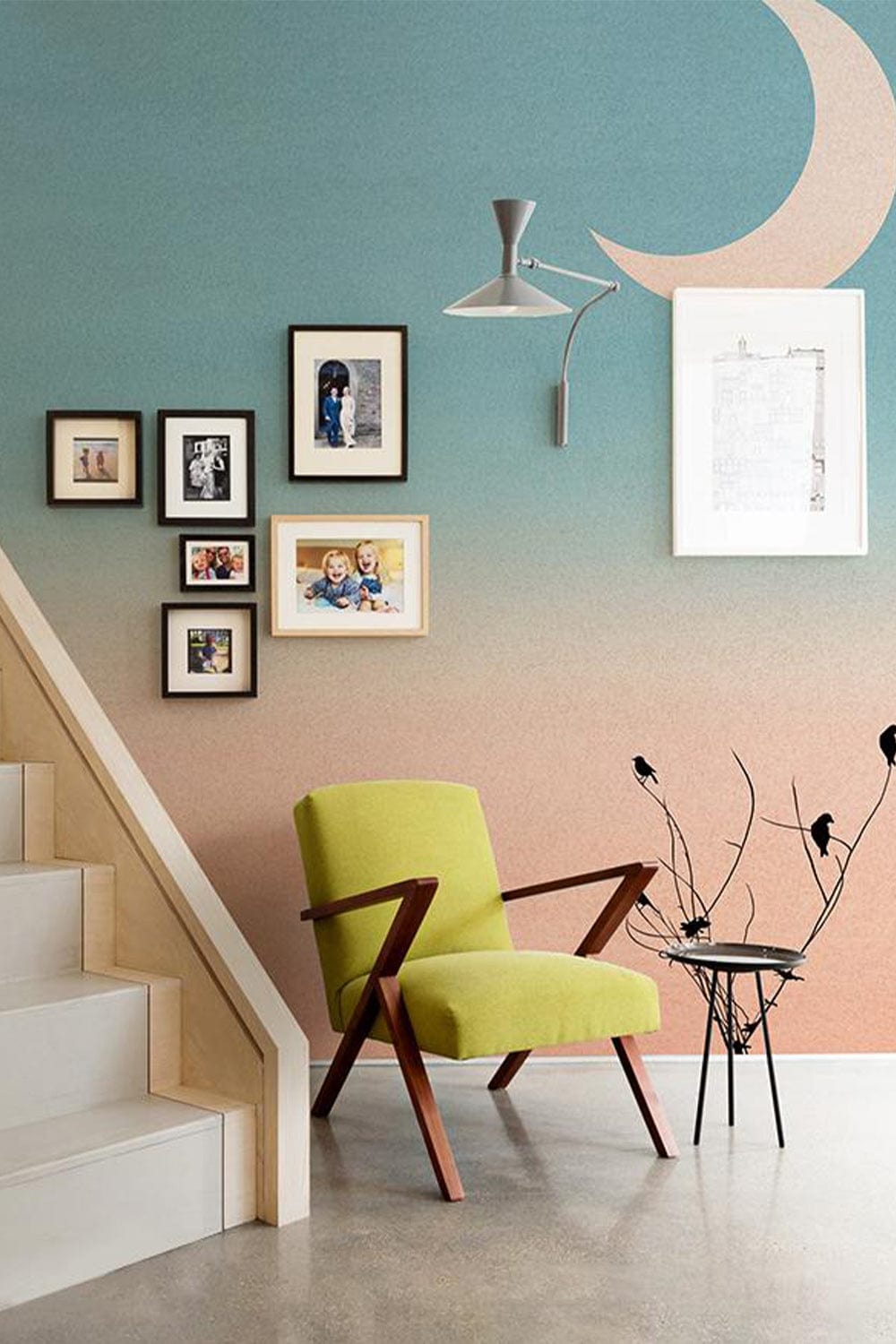 Red, Blue, and Green
When it comes to color combinations, red, blue, and green are some of the most popular ones around. This combination brings out an elegant look that will elevate the decor of your home or office space effortlessly, so these traditional colors can be used together to create a beautiful palette in your home.
Red is the color of passion and energy. It's also frequently associated with love and romance. Blue is one of the most popular colors in the world because it evokes peace, calmness, and tranquility. At the same time, it stimulates creativity and communication skills. Meanwhile, green is known as the color of nature because it is found in plants and trees. It also represents growth, freshness, and fertility, which makes it a great choice for decorating any room in your house.
Together, these colors create an attractive contrast with each other, just like what is seen in our Katsushika Hokusai Wallpaper Mural.
Appealing and impactful, this cartoon wallpaper features a comic-style sketch of Japan's historic treasure Mount Fuji, complemented with a blue sky background and green landscape bottom. This pattern fills your space with a modern look, perfect for bedrooms or living rooms where you want to create an airy feel without being too formal.
The combination of red, blue, and green has long been used in art and design around the world. It's a very versatile color combination for either masculine or feminine spaces. That's why, this color scheme fits a wide variety of designs and themes to suit your taste and decorating needs!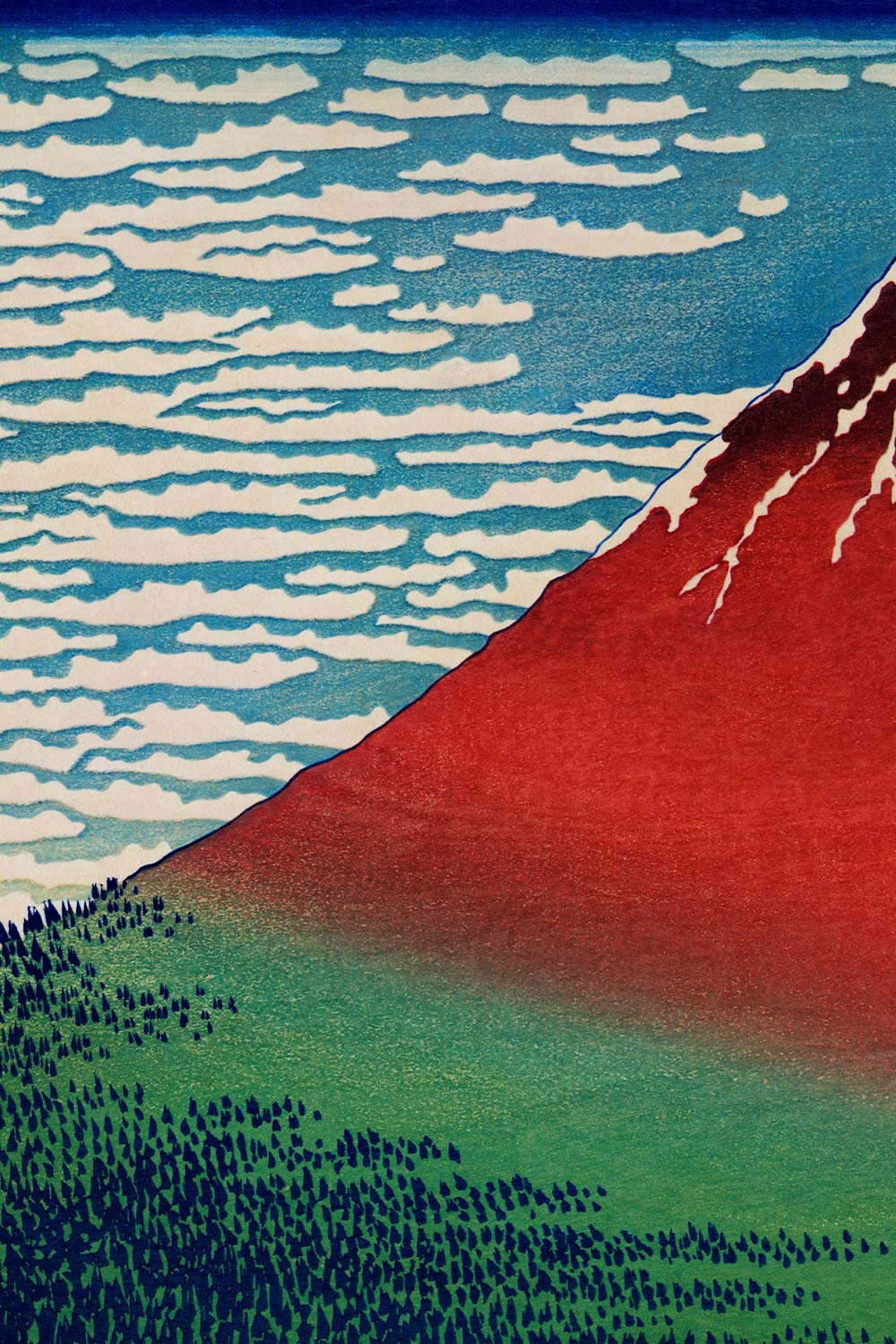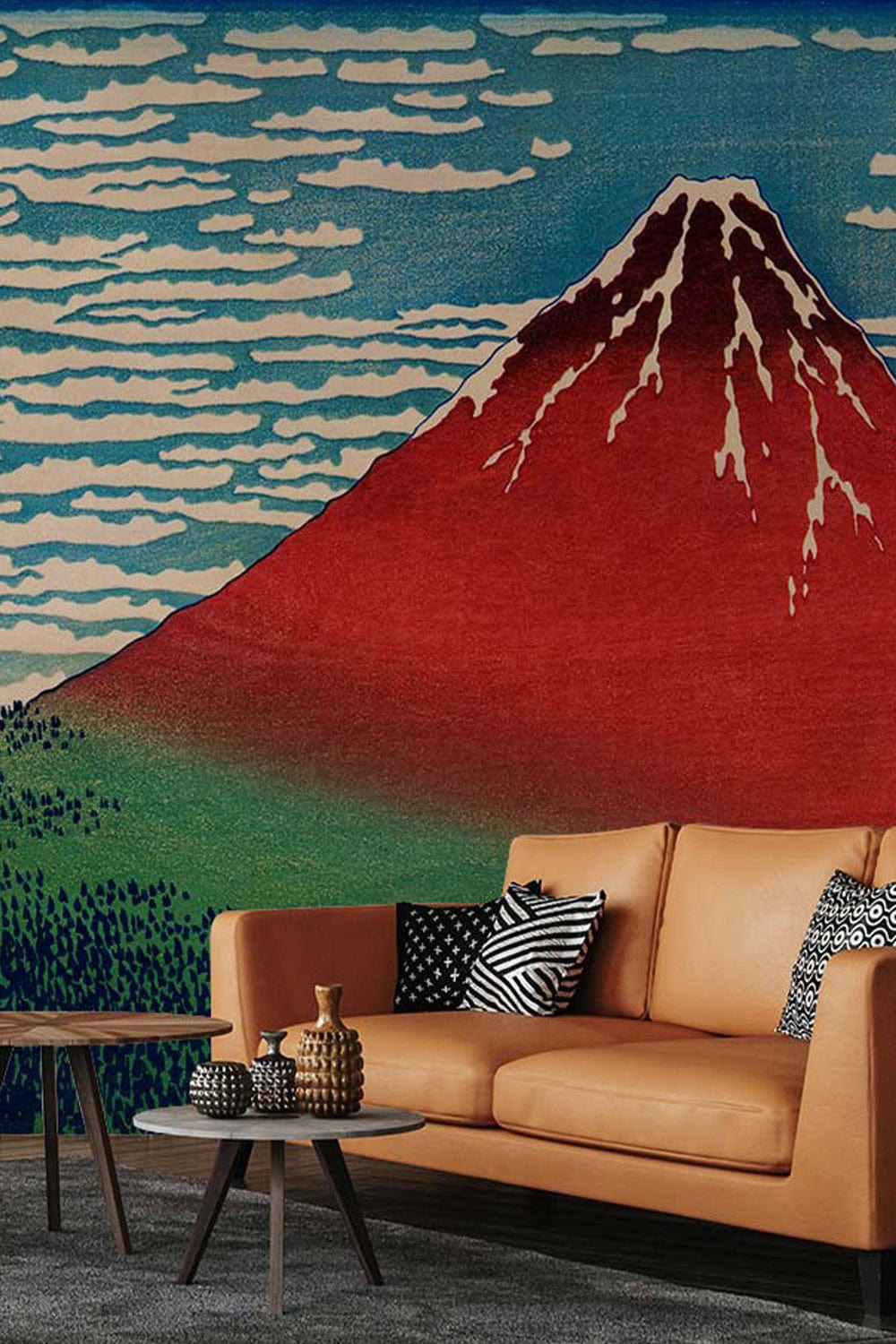 Ombre Pastel Stripes
In the world of home interior and designs, the ombre pastel color match is not as popular as the single color combinations. But even though uncommon, pastel wallpapers create a simple pattern full of drama and style ideal for your home and office space.
Our Ombre Stripe Wallpaper Mural displays soft stripes of a stunning color combination of white, beige, pink, purple, and blue stripes. The ombre effect gives your walls a classic and timeless look while giving off the feeling of love, romance, and friendship.
The pastel hues and light colors in this ombre wallpaper are soft and soothing, sure to brighten up any room and give it a fresh look.
The pastel color palette of this wallpaper mural will be a great addition to any room in your home, while the soft shades of white, beige, pink, purple, and blue are a stunning combination that will add a warm and relaxing atmosphere to your space.
This wallpaper mural can be applied to any smooth surface, including walls, wood, or metal. It's also easy to install and remove without causing damage to the surface!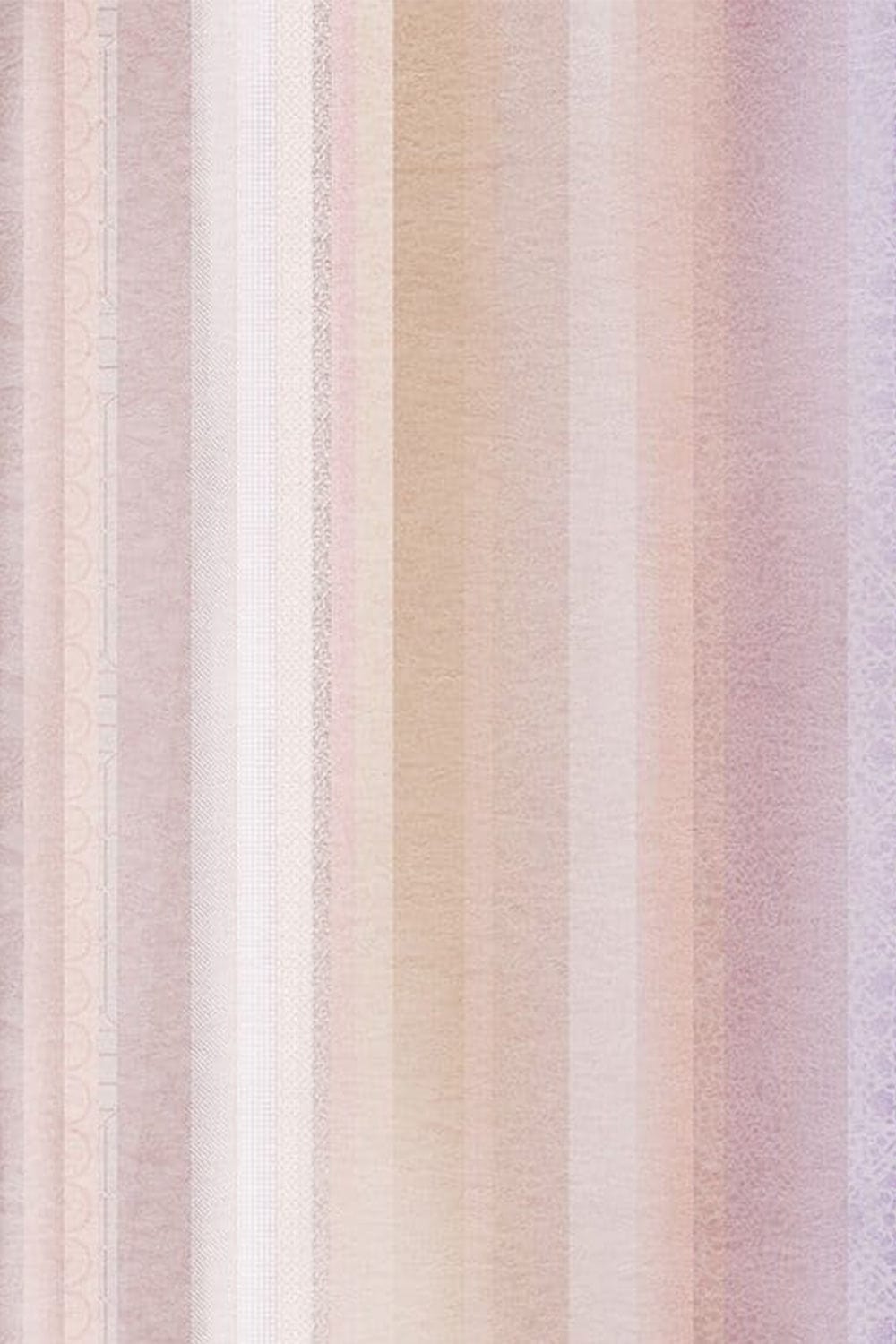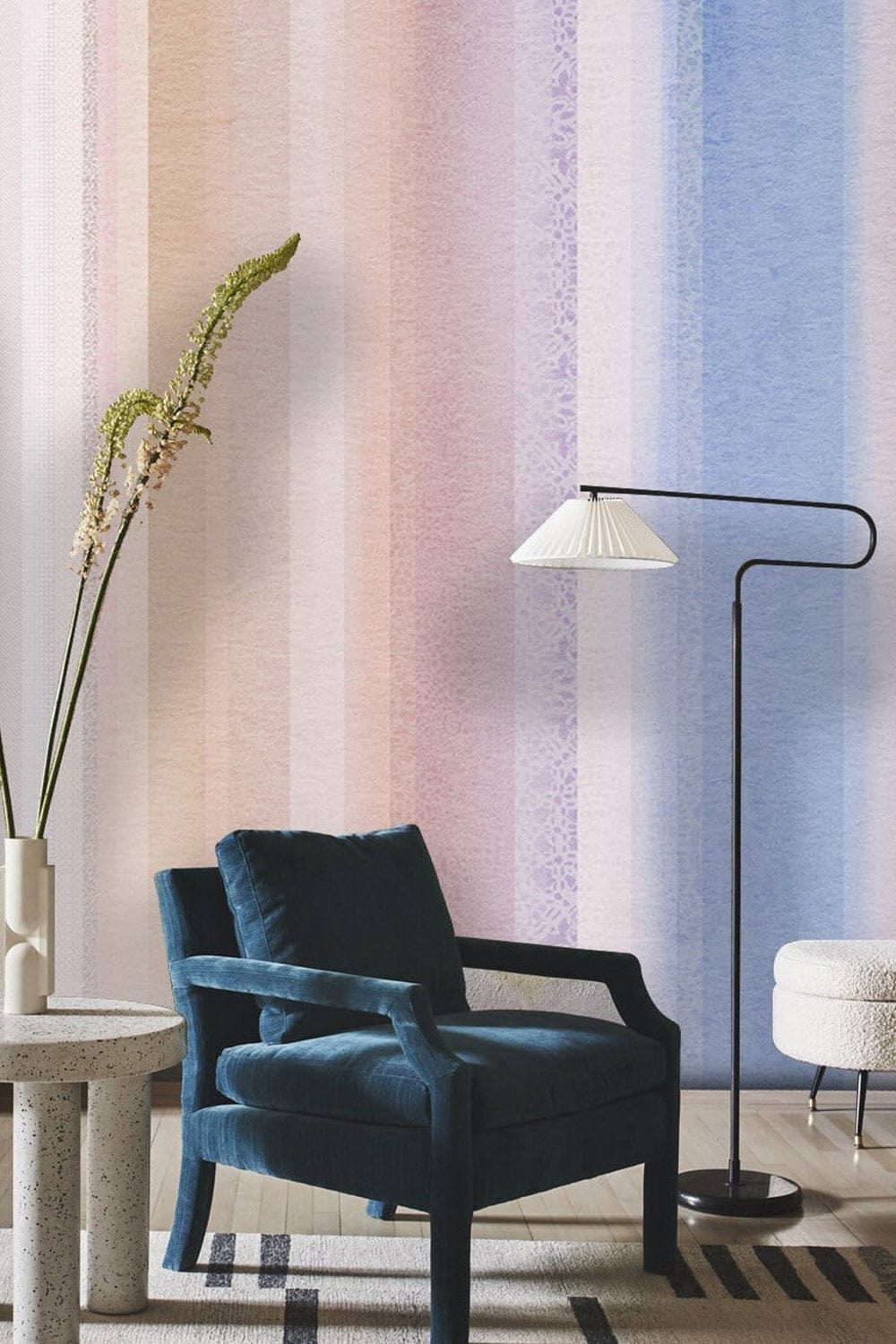 Multi-Colored Design
If seeking for the most versatile and flexible wallpaper for your home, then go with the multi-colored floral pattern!
Taking our Mixture Flower Wallpaper Mural as an example, multi-colored wallpapers really make an excellent choice for abodes. It features a beautiful flowery format decorated with red daffodils, white flowers, blue hydrangeas, and green chrysanthemums.
The floral pattern is designed to be very appealing, soothing, and relaxing, while the repeated layout creates an elegant and sophisticated look for your walls. This flower wallpaper mural will look great on any wall, but it would look best in a bedroom or living room where you want to bring a peaceful and serene ambiance.
The simple and elegant design with vivid and fresh colors are all combined together to give the entire design a sense of unity and cohesiveness.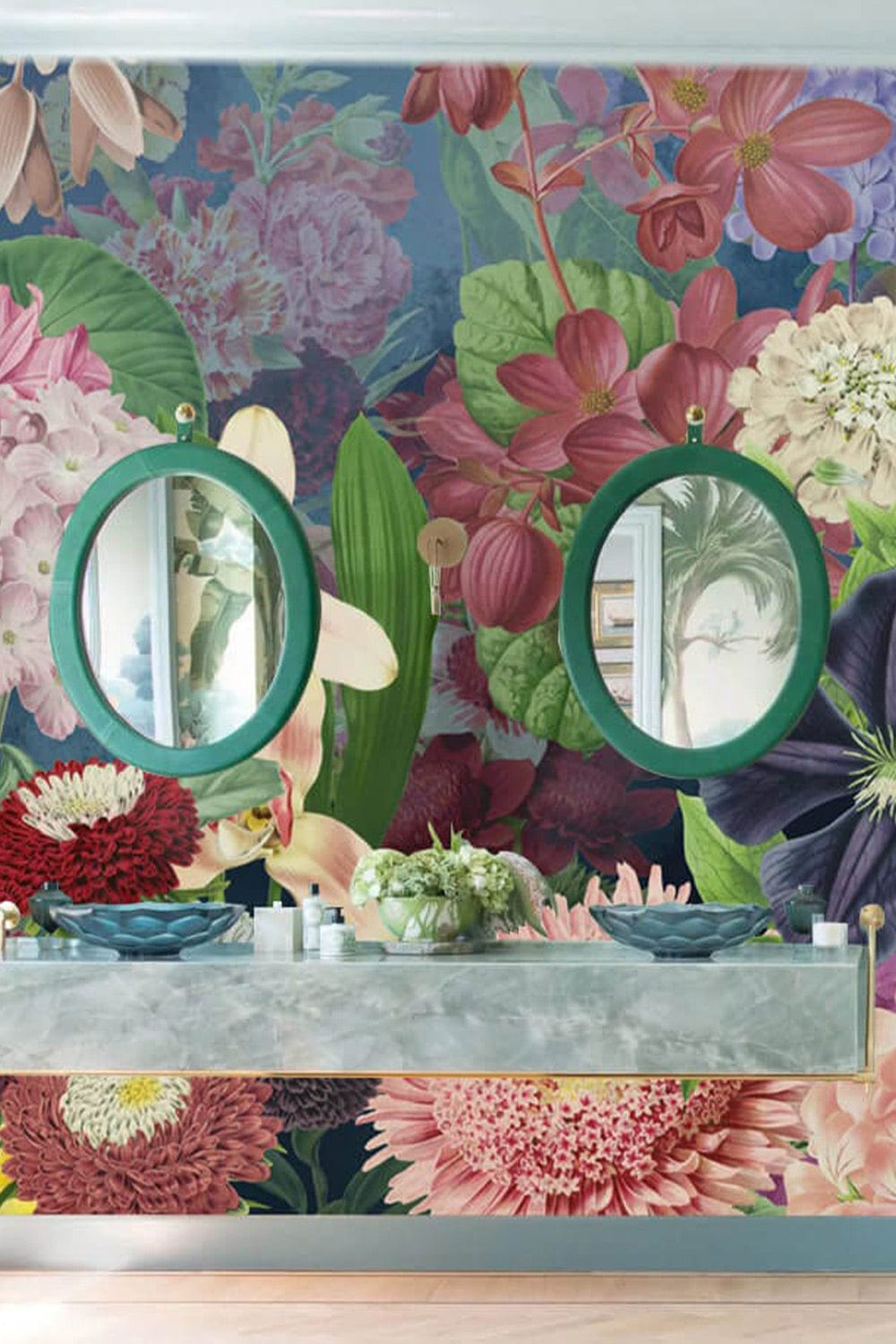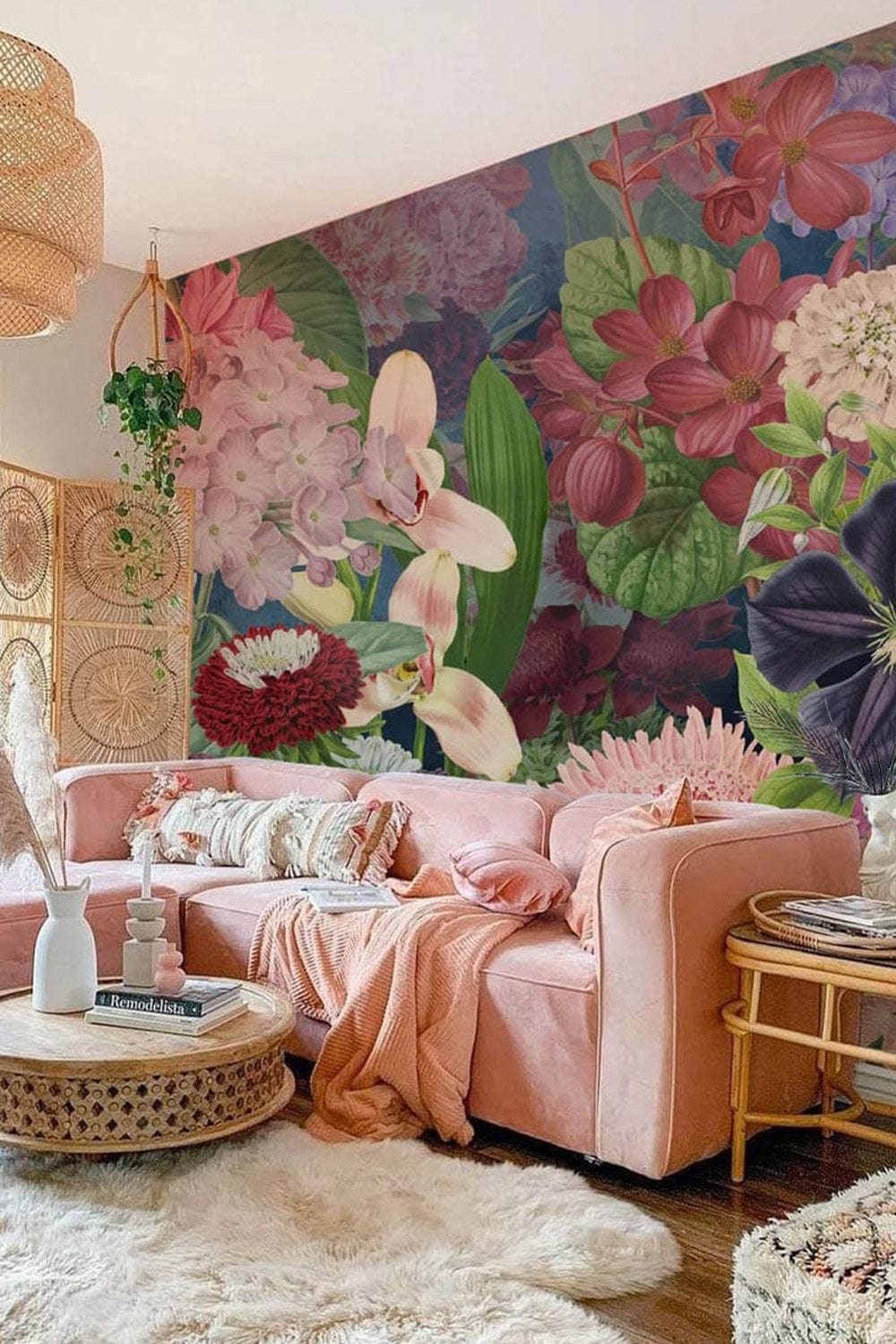 Bring Aesthetic Art design to your Space with Ever Wallpaper
We can all agree that having a nice wallpaper could drastically affect your space and everyday life. Some people like a wallpaper that talks about their personal lives, some others prefer simple yet bold color schemes, while some like designs based on popular culture.
Either way, these suggestions should get you started making just about any space of your own. But using the colors and designs from this blog will ensure that your new wallpaper choice is well-received by everyone. With that, all the best in picking out the best color match and combinations for wallpapers to dress up your home - only here in Ever Wallpaper!