Building A Productive Office Space With Calm Blue Wallpaper Murals
You have the liberty when it comes to decorating your home. If you intend to resell your home in the future, you may be extra cautious about wallpaper patterns, but in general, your home is your playground. Decorating an office, on the other hand, can be more restrictive. You must evaluate how the environment will feel to your staff and clients, as well as how properly your brand will be represented. This will differ based on your industry, but most companies desire to be perceived as professional.
What should you think about before installing new wallpaper in your business building?
You deserve more than just a metal desk and an extra chair jammed into a spare corner, whether your home office is a specific area for running a business, your remote workstation, or simply a place for paying bills and arranging your schedule. Why? A workspace that mirrors the decor and convenience of the rest of your home is where you'll want to stay up late. Below is Everwallpaper's collection, perfect for your office: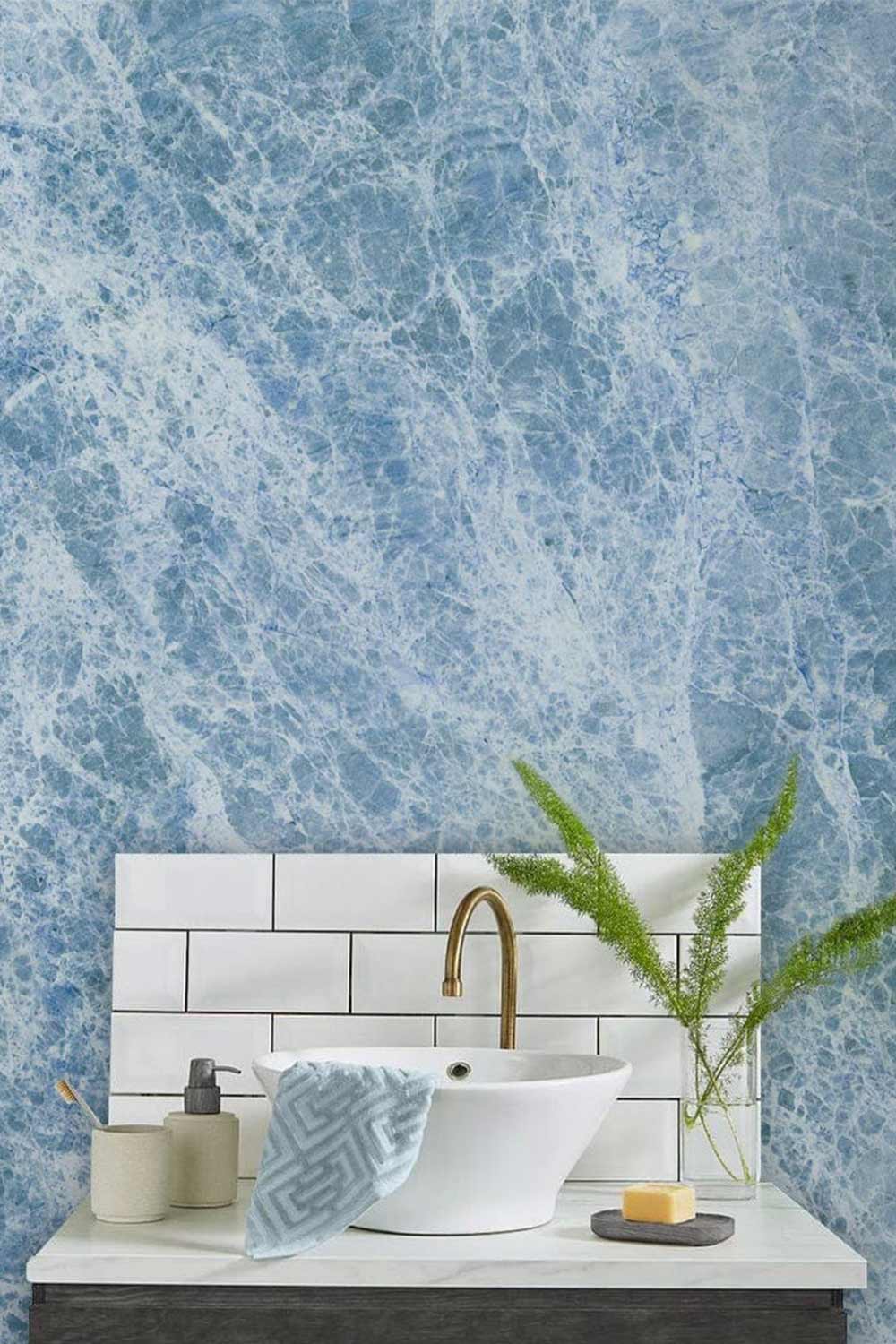 View design
Blue Marble 
With our white and blue marble wallpaper mural, you can create a one-of-a-kind area in your house with this elegant marble design. This light faux design is a stunning departure from the typical colors we associate with classic marble - the addition of delicate blue and white veins lends a touch of relaxing color to a space. The Blue Marble wallpaper mural will look great in a dining room, kitchen, or bathroom and is likely to impress you, your staff, and your visitors. Mix and match classic and contemporary furniture and decor to get the desired aesthetic.
Creating A Productive Office With Wallpaper Murals 
They may appear stylish, but too many patterns may turn off some of your clients. If you choose patterned wallpaper, try not to hang a different design on each wall. You certainly would not want your clients or staff to experience too much sensory overload.
Choosing one wall to create that statement with is a remarkable option for many businesses. If you're concerned that your customers may see patterned wallpaper adversely, place it on one wall and hang regular colored sheets on the other areas to minimize conflicting designs.
Unless you're trying for a modern design, consider items that add to the coziness of your home offices, such as a mug that serves as a pencil holder, stylish notepads and sticky notes, and a beautiful trash can. Wrap a beautiful cloth around your bulletin board and conceal functional bookshelves behind curtains made of the same material. Whether it's your children's framed artwork or a great painting, hang encouraging posters on the walls.
You'll most likely be spending a lot of time in your office, so don't skimp on space. Don't miss out on traffic congestion and your capacity to deal with distractions. Do you work best in a bustling environment, or do you prefer a more relaxing and quiet workspace? If clients visit, don't forget to prepare for a secluded area with plenty of sitting spaces.
A comfortable yet elegant area is fantastic for resting and reducing distractions, but go big if you really need your office to wake you up and get you ready for the day. Bright colors and energetic geometrics may energize you and your team. To keep you and your staff's minds busy and produce new and creative thoughts, use an exciting hue with a lot of visual action.  
In terms of home offices, the most difficult challenge for any worker is balancing work and family life. It's crucial to keep work at work, but this gets more difficult when your workspace is also a part of your home. If you have a specific space for your home workstation, make it stand out with unusual wallpaper contrasting with the rest of the house. Consider a color that isn't commonly used or a design that relates to the nature of your job. Even a new theme in the same color scheme will help you be productive and creative.