Make Teenager's Bedroom Unique With Multi-Coloured Wallpaper Murals
If you are the parent of a teenager, you know that they are in a constant state of change. One day they want to be just like their parents, and the next, they want to be completely different. This can make it difficult to decorate their bedroom in a way that reflects their current stage of life and grows with them as they continue to develop. 
Here are some teenage room accessories and furniture that can help make your child's bedroom unique and perfect for them! 
When it comes to fashion, brown is a prevalent color. It is considered to be a neutral color, which means it goes well with many other colors. Brown can be seen in all types of clothing, from casual wear to formal wear.
One crucial aspect of teenage room design is storage. Teens have a lot of stuff and need a place to put it all. A great way to add storage to a teen's bedroom is a storage bed. Storage beds have built-in drawers or shelves that can be used to store clothes, shoes, books, and more. This way, your teen can have all of their things close at hand but out of sight when they want to keep their room looking clean and tidy.
Another critical element of teenage room design is lighting. Teens need a lot of light to study, do homework, and prepare for the day. A great way to add light to a teen's bedroom is a floor lamp. Floor lamps can provide both task and ambient lighting, and they come in various styles that will fit any room design. 
Finally, furniture choices for a teen's bedroom should be functional and stylish. An effective way to add both interest and function to a teen's bedroom is with a desk. Desks provide a great workspace for homework and studying. They can also be used as a vanity for getting ready in the morning. When choosing a desk for your teen's bedroom, make sure to select one that is the right size and has enough storage for all of their supplies.
With these teenage room accessories and furniture, you can create a unique and perfect space for your teen. By adding storage, light, and stylish furniture, you can create a bedroom that will grow with your child as they continue to change.  
What other teenage room accessories do you think are missing? Wallpaper murals. If you are looking for an inexpensive way to decorate your teen's bedroom, look no further than wallpaper murals. Teens are typically very creative and have a unique sense of style. So why not let them express themselves through their bedroom décor? Wallpaper murals are a great way to do just that.
Gorgeous Multi-colored Wallpaper Murals For Your Teen's Bedroom
Why not try a multi-colored wallpaper mural? There are so many options to choose from – you can find a design that perfectly suits your style. Whether you want to go for something fun and funky or minimalist and modern, there's definitely a mural out there for you. Keep reading to see some of the best multi-colored designs.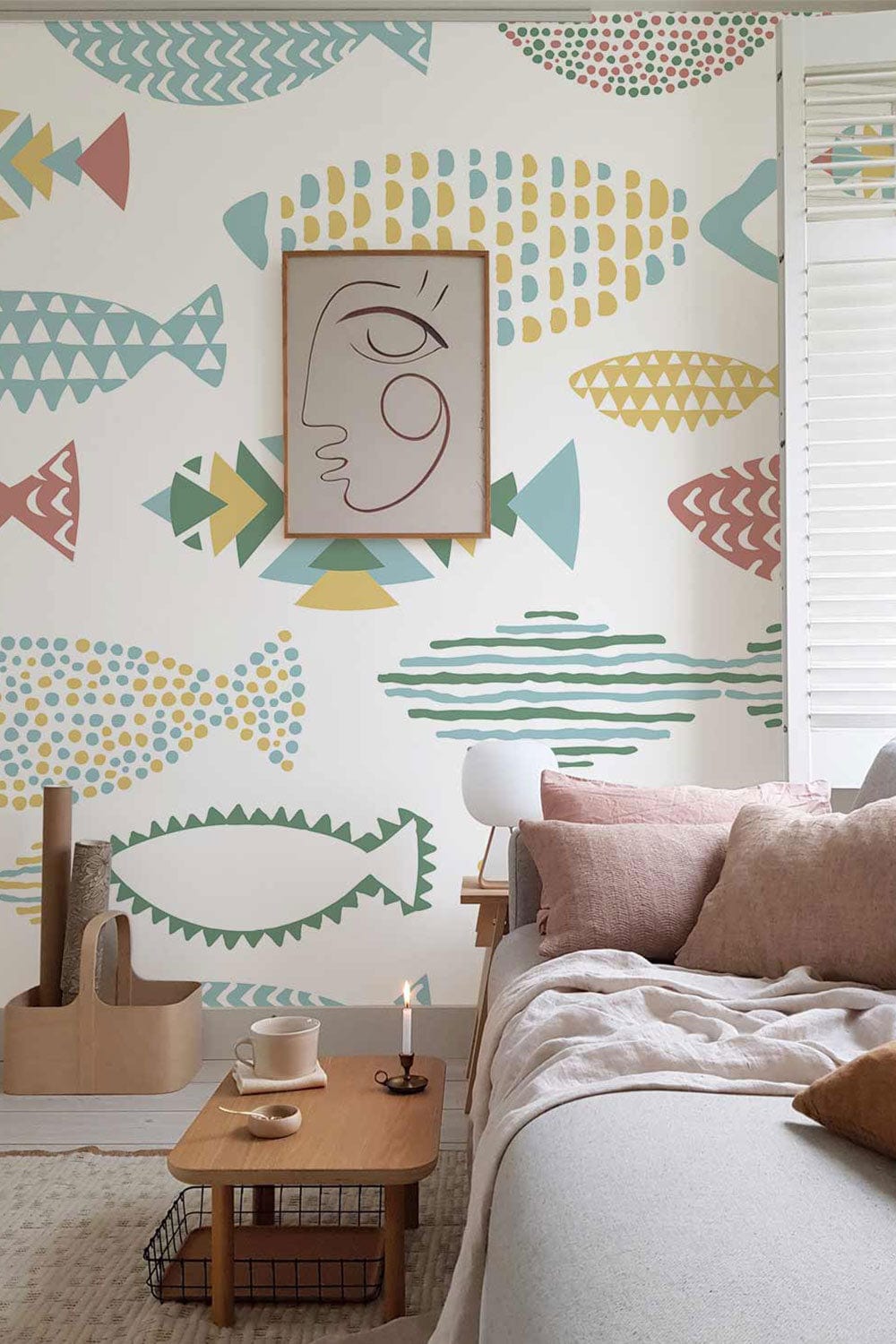 View design
Fish Art
Introducing the Fish Art wallpaper mural! This vibrant and bohemian-style mural is perfect for adding character to your teen's bedroom. The light colors are perfect for matching with more delicate furniture, and the fun fish design is sure to liven up any space. Jazz up your teen's bedroom or the kitchen; this Fish Art wallpaper mural is the perfect solution. So go and make a splash with your decorating with this design. 
Multi Colors Interior Ideas to Brighten Up Your Home
Are you bored of your home's color scheme? Do you feel like it's time for a change but don't know where to start? Why not try using multiple colors in your interior design? A bold, multi-colored scheme can add life and personality to any room. Below are excellent ideas for incorporating numerous colors into your teen's bedroom décor. 
One way to add multiple colors to your home is by using colorful accessories. This could include throw pillows, blankets, rugs, artwork, and lamps. Adding more color here and there can make a big difference in the overall look of your space.
Another suggestion is to wallpaper one wall in a bold design. This will create a focal point in the room and make it feel more dynamic. If you're not sure about wallpapering an entire wall, you could try stripes or another light pattern.  
Thinking of having a multi-colord scheme, you should keep a few things in mind.  
First, it's essential to have a plan. You don't want your teen's space to feel like a rainbow threw up in it. Go for a color palette you love and stick to it.  
Second, use colors in different ways. You can paint all of the walls one color and use accent pieces to add pops of other colors. Or, you could use all different colors for the furniture and accessories.  
Third, go mix and match. This is your chance to get creative. Try pairing unexpected colors together and see what you come up with.
Remember, there are no rules when designing your home. So have fun and experiment until you find a style that you and your child will love.
2022 Interior Design Trends: Why Create Multi-Colored Spaces
What will interior design be like in the second half of 2022? We gathered some ideas from the experts in the field, and this is what they had to say.  
One trend that seems to be rapidly growing is the use of multiple colors in a single space. This creates an interesting and eye-catching effect and can be used in both residential and commercial areas.   
Using multiple colors is a great option if you're looking for a way to add some visual interest to your space. This trend can be used in both large and small spaces and can be adapted to any style.   
One great thing about using multiple colors is that it can help to create a sense of flow in your space. If you have a large open area, using different colors can help to define each area and make it feel more cohesive. You can also maximize this technique to highlight certain features in your space, such as a fireplace or a piece of art. 
If you're unsure where to start, try using two or three colors that complement each other. You may opt for various shades of the same color to create an exciting effect. And don't be afraid to experiment. This trend allows you to have fun with and make your own.