Cool Style Wallpaper Ideas For Retro Aesthetic Interiors
Wallpapers are the most important thing for any interior design. It can make all the difference between a dull and boring room and a creative and stylish one.
The wallpapers you choose should be relevant to your style, whether you're looking for something modern, classic, or timeless. A suitable wallpaper can transform an ordinary room into an impressive one, but it's also important to choose a wallpaper that complements the rest of your décor.
A good wallpaper will help you create a cohesive look throughout your home. It will set off the focal point of each room, making them all look equally beautiful and cohesive. If you have too many different styles in one space, it can be overwhelming and confusing as to who's supposed to wear which color scheme at what time of day or night.
Cool style wallpapers are one of the most popular trends for interior design and home decorating. They have a cool style aesthetic that is reminiscent of the past but with modern and fresh additions. If you are wondering if this look is for you, here are some of the facts about cool style wallpapers you should know about.
Things You Should Know about Cool Style Wallpapers
Each one of us likes a unique style. With that, cool-style wallpapers come in. This design is a great way to jazz up your home. It will look so amazing on your wall and can change the look and attraction of your house completely.
#1: What Is Cool Style Wallpaper
Cool style wallpapers are the perfect way to add a touch of style and personality to your home. They come in all shapes, sizes, and colors and can be used on any walls.
The cool style wallpaper can be used in any room, but they tend to work best in spaces with a vintage feel. It is one of the most popular choices among interior designers because they believe it has a vintage charm and reflects the past perfectly.
You will find that there are many options when it comes to choosing cool style wallpaper for your home. Some of these options include traditional designs, contemporary patterns, geometric patterns, abstract patterns, and even animal designs. Each type of cool style wallpaper has its own unique qualities which make it perfect for any room in your home.
#2: Where to use Cool Style Wallpapers
Cool Style Wallpaper has been in trend for a long time now. The trend has been increasing day by day and it has become one of the most popular design themes in wallpapers.
This design is different from normal wallpapers because they have unique styles. The high-quality designs are attractive and trendy, but they're also easy to install and maintain. The patterns are quirky, vintage, and modern, but at the same time are bold and dark, which will add a touch of power to your space.
They are often used on walls of houses, offices, and other places where people can see them without having to get up or walk away from them for very long periods. The reason why cool wallpapers are so popular today is that it is easy to apply onto any type of wall surface making them perfect for homes and other small spaces where space is limited such as dorm rooms or apartments.
Cool Style Wallpaper can be used to decorate both interior and exterior walls of your home as well as other places like classrooms, offices, bathrooms, and bedrooms. They are also ideal for bedrooms, living rooms, kitchens, and more.
#3: How to Choose the Right Cool Style Wallpaper
One of the most important decisions you will make when choosing wallpaper is the color scheme. Choosing a cool style wallpaper that works well with your décor is essential if you want it to look its best. Here are some tips on how to choose the right cool style wallpaper for your home.
A neutral background can be used with almost any pattern or color, but if you're not sure which colors are right for your room, try looking at photos online before making a purchase. You'll be able to see how different patterns and colors look against different backgrounds, which can help you determine whether or not they'll work in your home. If you like the way a certain pattern looks against a solid color wall but don't want it over everything else in the room, consider using it as an accent instead of covering all the walls.
If a cool style wallpaper has small repeating patterns, leave them out of larger areas such as walls or ceilings. This will help prevent clashing patterns from appearing too busy in one place and making everything look messy. However, if there are large areas where there isn't much going on such as floors or tabletops (but not tables), then feel free to use them on these surfaces.
If you're looking for a way to add some punch and originality to your home décor, wallpapers are a great option. But when it comes to picking out the right wallpaper for your space, it's important to be mindful of the mentioned key factors.
#4: Who Uses Cool Style Wallpapers
Everyone loves to decorate their home with style and elegance. Some people use wallpapers for their homes but some individuals prefer using cool style designs rather than traditional ones. This is because this type of pattern gives a great look to the room.
People with retro and vintage tastes are more inclined to use cool style wallpapers. With the design that ranges from black and white patterns, pop culture portraits, street style art, and bold abstract layouts, this has gained popularity among their old-school aesthetics. Furthermore, the colors featured in the wallpaper, either monochrome or vibrant tones, can be used to match other accessories or furniture items in their room. This way, they get an overall feeling of harmony in their house.
Wallpaper is not just about covering the walls in your home. It also allows you to express your creativity and personality through its design as well as usage. It can be used as a great way to add style, elegance, and beauty to any room of your house.
Cool Style Wallpapers: Top 6 Picks
For your home, you need to have a lot of styles. When it comes to choosing the best style of home decorating ideas, you can choose from a wide range of different styles, depending on what you like and what fits well with your personal preference.
Designing a cool-style room is a tough job. There are hundreds of ways to decorate your home, each one is unique and will require some thought for it to turn out as you had envisioned. But if you've also been on the lookout for the best cool style wallpaper, it's hard to find just one that can suit both your taste and your wallet.
If you love this look, but don't want to spend a lot of money on the wallpaper, take a look at some of these cool style wallpapers ideas that will perfectly match your retro aesthetic interiors and old-soul preference.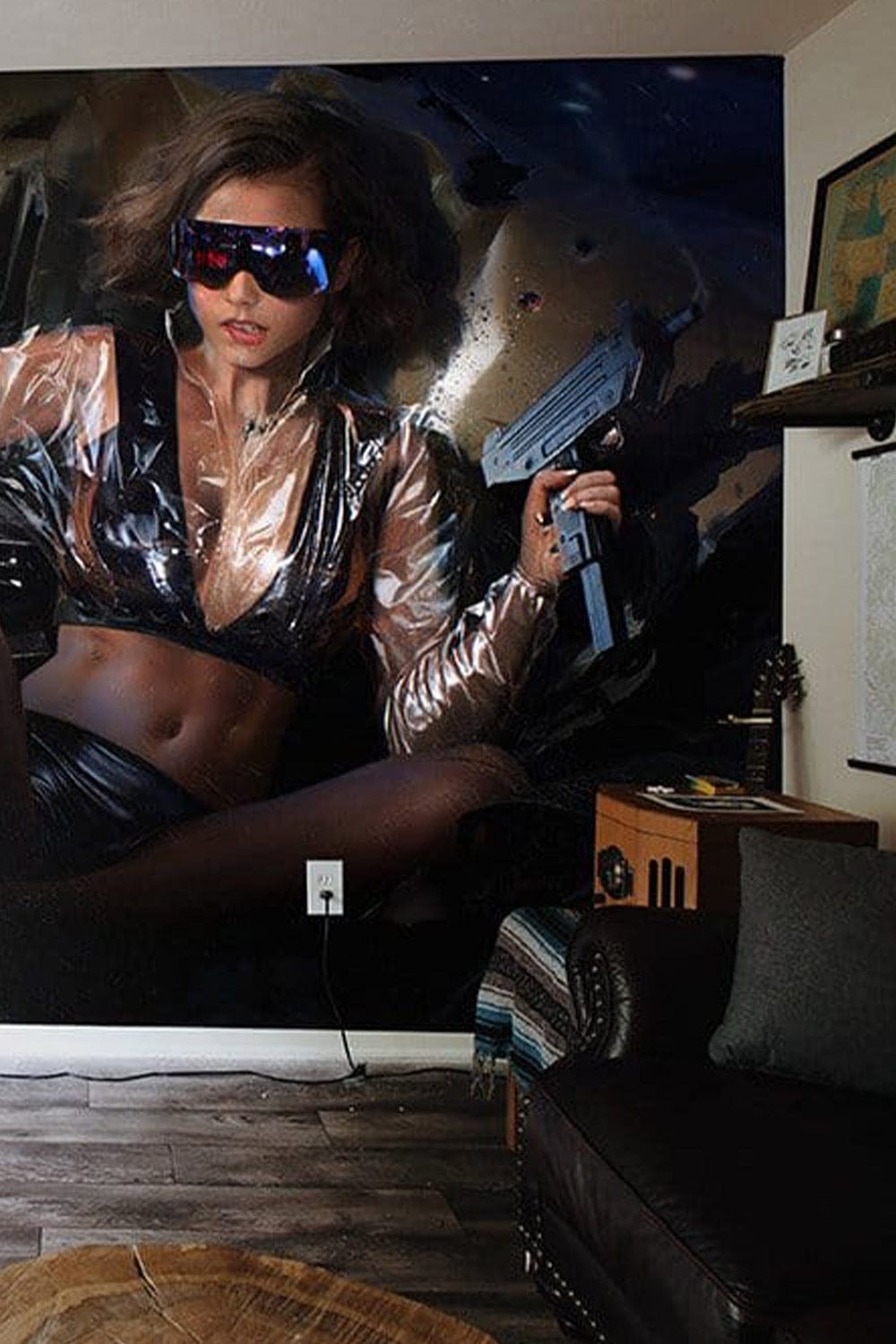 View design
Gunner
This 3D wallpaper is a great way to bring some real character into your home. It's a bold graphic design that will definitely add some personality to your living space, perfect for fans of gun games, science-fiction, and action films. This black wallpaper looks great on its own, but it also makes an excellent accent piece when combined with other items in your home decorating scheme. Perfect for interiors and exteriors, especially if you are looking for a little bit of live-action in your game room or man's cave.
Overall, wallpaper is a great opportunity for designers to provide something interesting and add some interest to the design. It's an easy way to add in some extra visual interest without having to be overly complex or time-consuming.
In an age of boring and sometimes cluttered spaces, it's important to remember that adding a bit of personality is sometimes all it takes to breathe some life back into your home.
Give Your Walls a Boost With Cool Style Wallpapers
Giving your walls a boost is an easy way to make your home feel brand new. Cool style wallpaper is the perfect solution for boosting up your living space by creating some interest and personality. If you're looking to add some flair to your home, then wallpapers are perfect for the job.
Wallpaper adds texture and depth to any room, making it look more interesting and inviting. Plus, it gives you the chance to decorate in a way that does not clash with the rest of your decor.
There are plenty of options out there for you to choose from when it comes to finding the perfect wallpaper for your home. Whether you're looking for something bold or sophisticated, there's something out there for everyone!
The importance of wallpapers in your home cannot be underestimated. It will help you to create a more relaxing and comfortable atmosphere in your home. It can also go well with other elements such as furniture, accessories, and rugs, helping to give you the look you want.