Bright and Cheerful Orange Wallpapers to Liven Up Your Interior
When it comes to the meaning of color, orange is often seen as a happy and cheerful hue. It is linked to happiness, joy, and success. In fact, it is frequently employed in marketing to instill a good impression in customers' eyes. But what is behind the psychology of orange? Why do we find this color so appealing? Orange is the color of fire and energy. It is associated with warmth, enthusiasm, and vibrancy. In the world of color psychology, orange is often seen as a positive and optimistic color. It is renowned for bringing happiness and success. Orange is frequently used in marketing to create a feeling of enthusiasm or to increase appetite.
When selecting a stone for your home's interior, there are numerous aspects to consider. Color psychology is one of the most important considerations. People react differently to different colors, and orange is no exemption. This blog post will discuss the benefits of using orange in your home and how it can improve your mood and productivity. If you're feeling overwhelmed by the thought of redesigning your home, you're not alone. The process can be daunting, especially if you don't have much experience with interior design. However, a straightforward solution can make a significant impact: wallpaper murals.
With so many patterns, colors, and styles to choose from, wallpapers are a great way to add personality to any room. And best of all, they're relatively easy to install. Wallpapers are undoubtedly worth contemplating if you're searching for a convenient and simple approach to providing your home a fresh look. This article will show you Everwallpaper's gorgeous orange wallpapers and give you some ideas for using orange in your home décor plan. So, keep reading if you're searching for a way to add a splash of color while also improving your mood!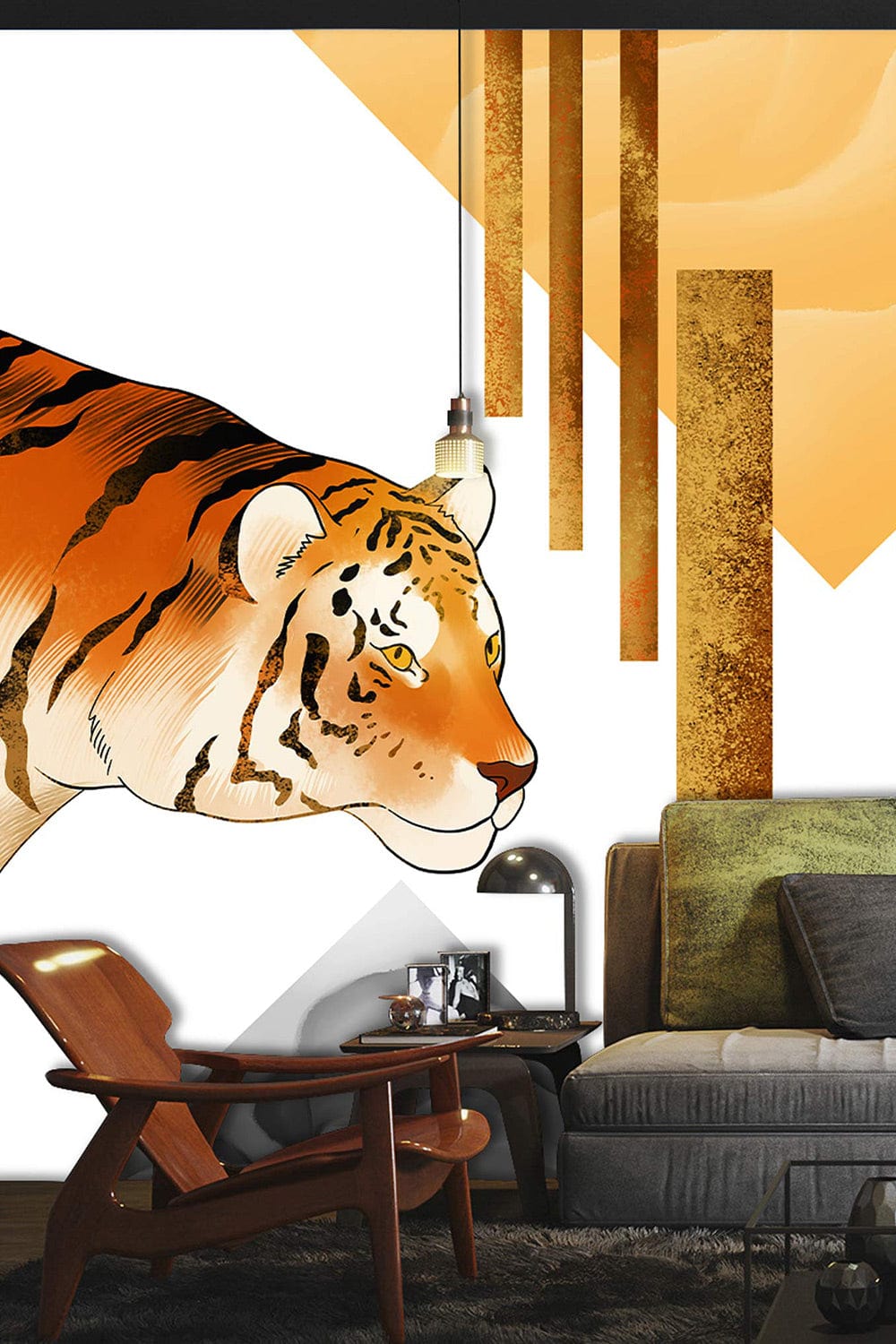 View design
Making The Most Out Of Your Orange Wallpaper Murals
Orange is surely a happy color. It is associated with sunshine, laughter, and good times. Orange also stimulates the appetite and has been shown to increase productivity. If you want to bring some cheer into your home, orange is the tone to use.
When using orange in your home decorating scheme, keep a few things in mind. First, orange is an intense color, so it's best to use it sparingly. A little goes a long way! Second, because orange is such a happy color, it's perfect for rooms where you want to feel cheerful and inviting. Kitchens and living rooms are great spaces to use orange. Finally, when using orange in your home decorating scheme, be sure to pair it with other colors that complement it. Gray, white, and black are all great choices.
What To Pair With Your Orange Wallpaper Murals?
If you're looking to add some brightness and boldness to your space, consider orange wallpaper. You may get inspired about office decoration. This fun and vibrant color can really make a room pop, but it's not always easy to know what to pair it with. That's why we've compiled tons of lists for decoration ideas for you! We have everything you need, from furniture to accessories.
When selecting furnishings for your area, consider things that will enhance the wallpaper rather than compete with it. A solid-colored sofa or armchair is a good option, but you could also go with something patterned or textured. Try an orange decorative chair or rug to bring a splash of color to the space.
There are several things to bear in mind whenever it comes to accessorizing. To begin, avoid anything overly busy or vibrant, as this might make the area feel crowded. Second, think about adding some greenery to balance out the boldness of the wallpaper. A few well-placed plants can really transform a space!
Finally, don't forget the little details. Both color and texture can be included in your space with items such as art, pillows, and rugs. You may create a fashionable and unified space by carefully picking each element.
Final Thoughts
Home design can be a difficult and time-consuming process, but it doesn't have to be. Wallpaper is one of the most popular and simple ways of giving your home a refreshing, new style.
Wallpapers are available in a wide range of shades, patterns, and designs, so you're sure to find something to your liking. They're also relatively simple to install, so you can save money by not employing an expert.
And best of all, wallpapers can be easily removed when you're ready for a change, so you can always experiment with different looks until you find the perfect one for your home. So next time you're feeling stumped by home design, remember that wallpapers are an easy and affordable way to give your home a whole new look.