How to Freshen Up Your Home With a Green Wallpaper Mural
Green is the color of nature. It is the color of new beginnings, growth, and healing. It is no wonder that green has been associated with luck and prosperity for centuries. Green is believed to deliver a calming effect. If you feel stressed or anxious, looking at green can help you feel more relaxed. Green is also said to boost creativity and productivity. So if you are working on a project that requires some outside-the-box thinking, adding some green to your surroundings may help spark some new ideas. 
It delivers many benefits that can improve your quality of life both mentally and physically. If you want to add more green to your life, consider taking a walk in the park, working in a garden, or adding some plants to your home or office. In addition to its mental benefits, green is also good for your physical health. 
Studies have shown that looking at green can help reduce eye strain and fatigue. And being in nature has been shown to improve overall well-being, including reducing stress levels, improving moods, and increasing energy levels. So when you start feeling overwhelmed or stuck in a rut, consider adding more green into your home. Whether it's taking a walk in the park, working in a garden, or simply adding some plants to your home or office, surround yourself with green and reap the benefits of this lucky color! If you're wondering where to start, consider these green wallpaper murals for your walls: 
Emeralds Forest
Create a natural oasis in any room with this breathtaking Emeralds Forest wallpaper mural. From the calming greens of the trees to the rustling of the leaves in the breeze, this design brings the beauty of nature indoors. Perfect for anyone who loves spending time outdoors or for anyone who wants to feel like they're on vacation every day, this mural is sure to transform any space. Deliver the magnificence of nature indoors with this Emeralds Forest wallpaper mural. Featuring a realistic green landscape, this design is perfect for creating an eco-friendly or woodland-themed space. Printed on high-quality paper, this mural is easy to install and will add instant style to any room.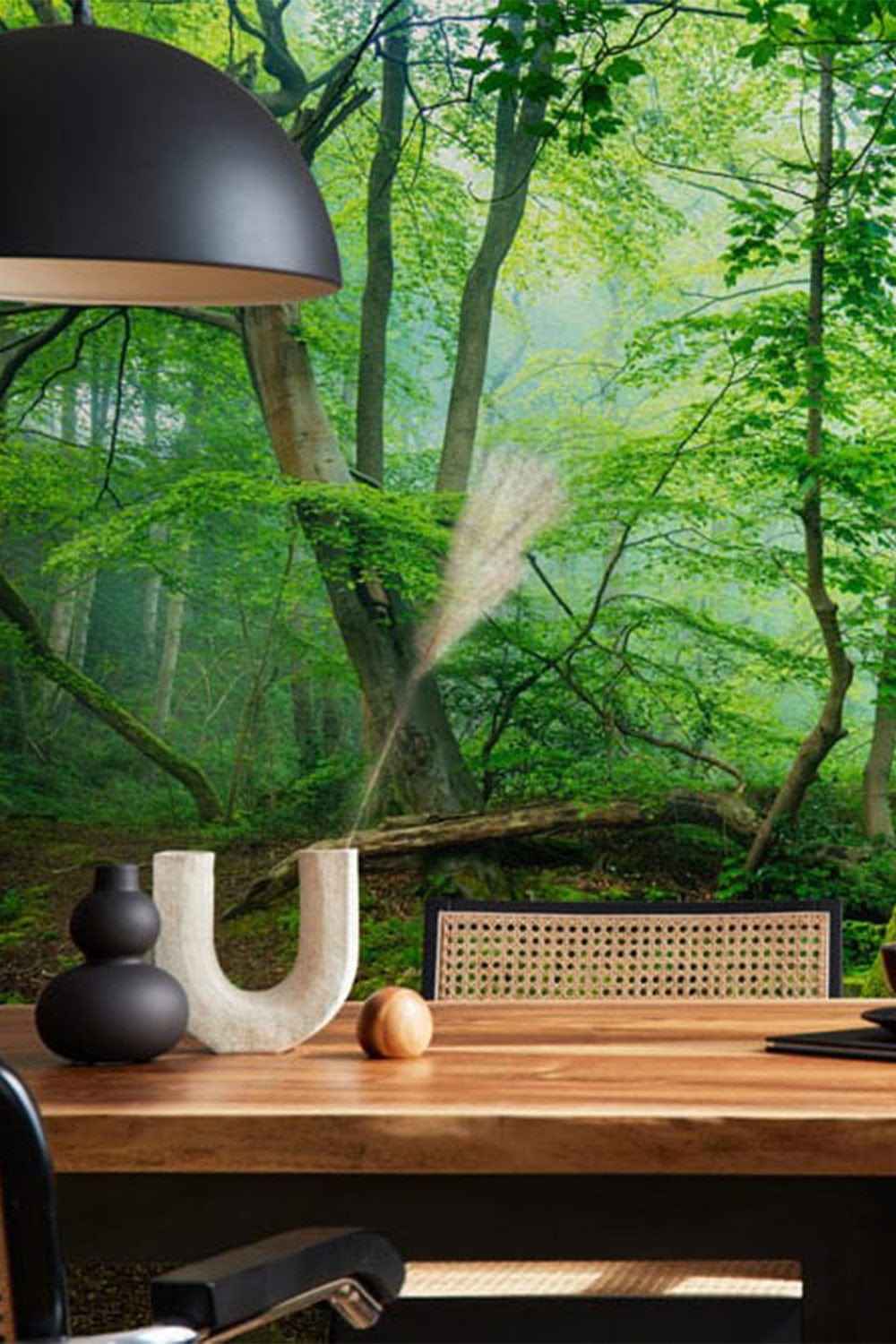 Jade
If you are dying to have an eye-catching and impressive wallpaper mural that can fit your rooms and art decorations, then this Jade wallpaper mural is your perfect choice. This Jade wallpaper mural will create a sense of space and a 3D atmosphere for your space. It is perfect for anyone looking to add a touch of grace and class to their home. This design wall covering is sure to create a sense of space for your living room, bedroom, or office. With its impressive design, this wallpaper mural is sure to turn heads!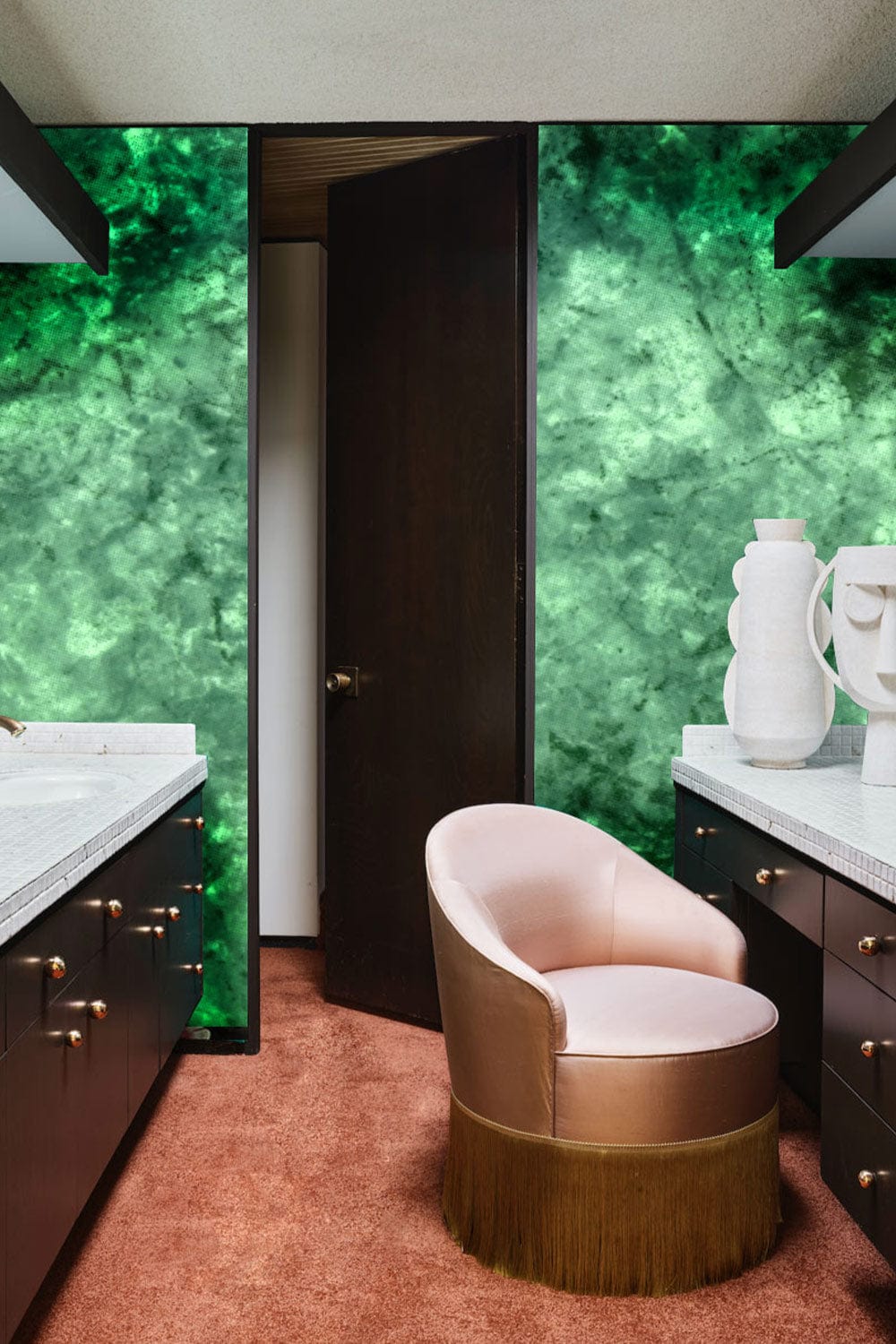 Green Lemons 
Introducing one of the wallpaper design, green lemons! This fun and the fresh pattern is perfect for adding a pop of color to any room in your home. Our green lemons wallpaper is perfect for bathrooms, kitchens, or any other space that need a little refreshment. The subtlety of the lemon print makes it versatile enough to work with any style of décor. Whether you are aiming for a chic look or something more modern, this wallpaper is an excellent way to bring more personality to your space.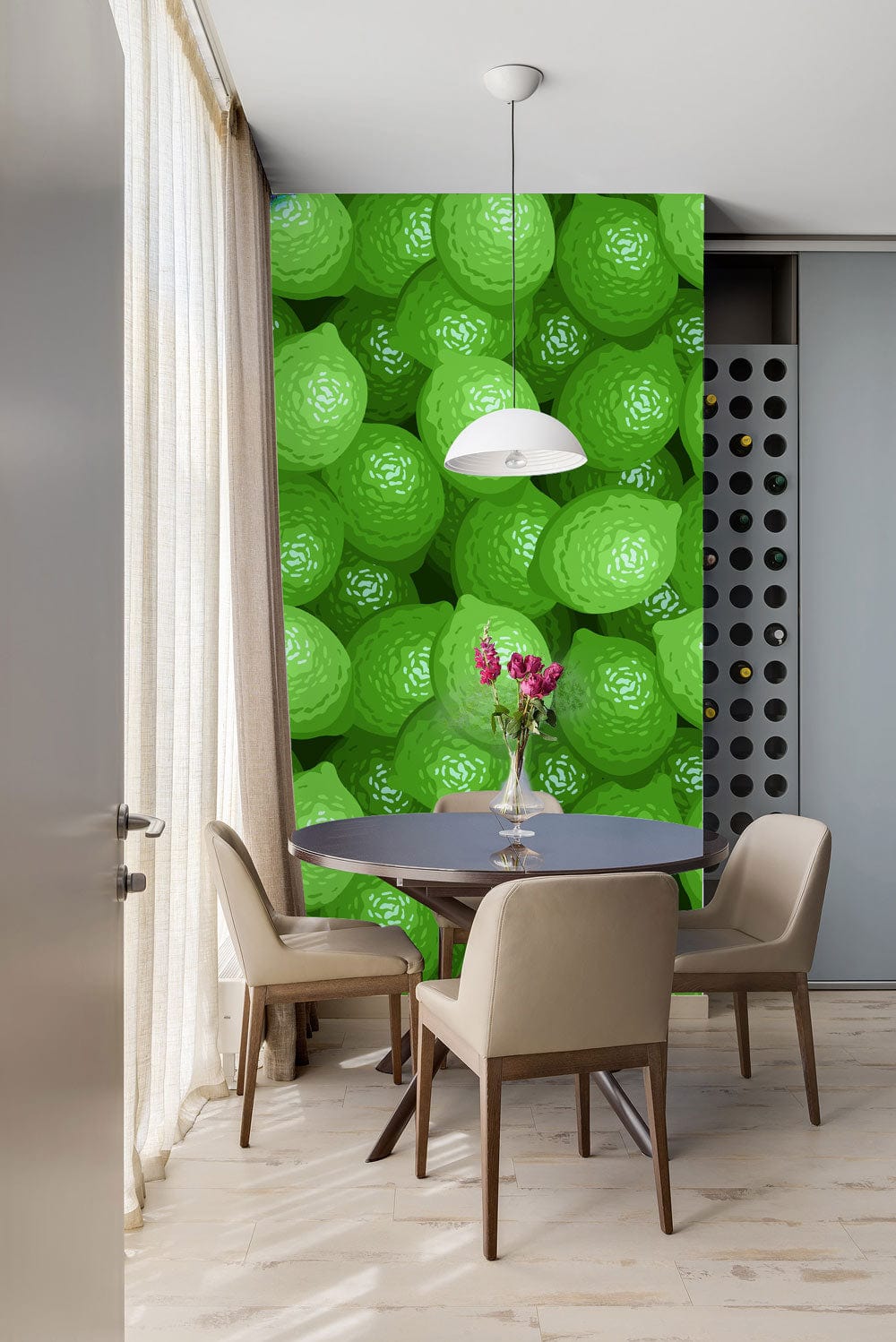 Vitality
Bring this Vitality wallpaper mural in your bedroom, living room, hallway, home office, kitchen, nursery, kids' room, or in any area in your home that needs a touch of fun decor. A radiant design with light green and pastel lemon shades. This Vitality wallpaper mural will give your home a refreshing atmosphere, as well as creating more illusion of space. This vitality mural of greenish oil color shades is best with brighter decorations, so opt for a modern furniture with it. White bed and chiffon curtains for a excellent match and dim green carpet to meet the contrast.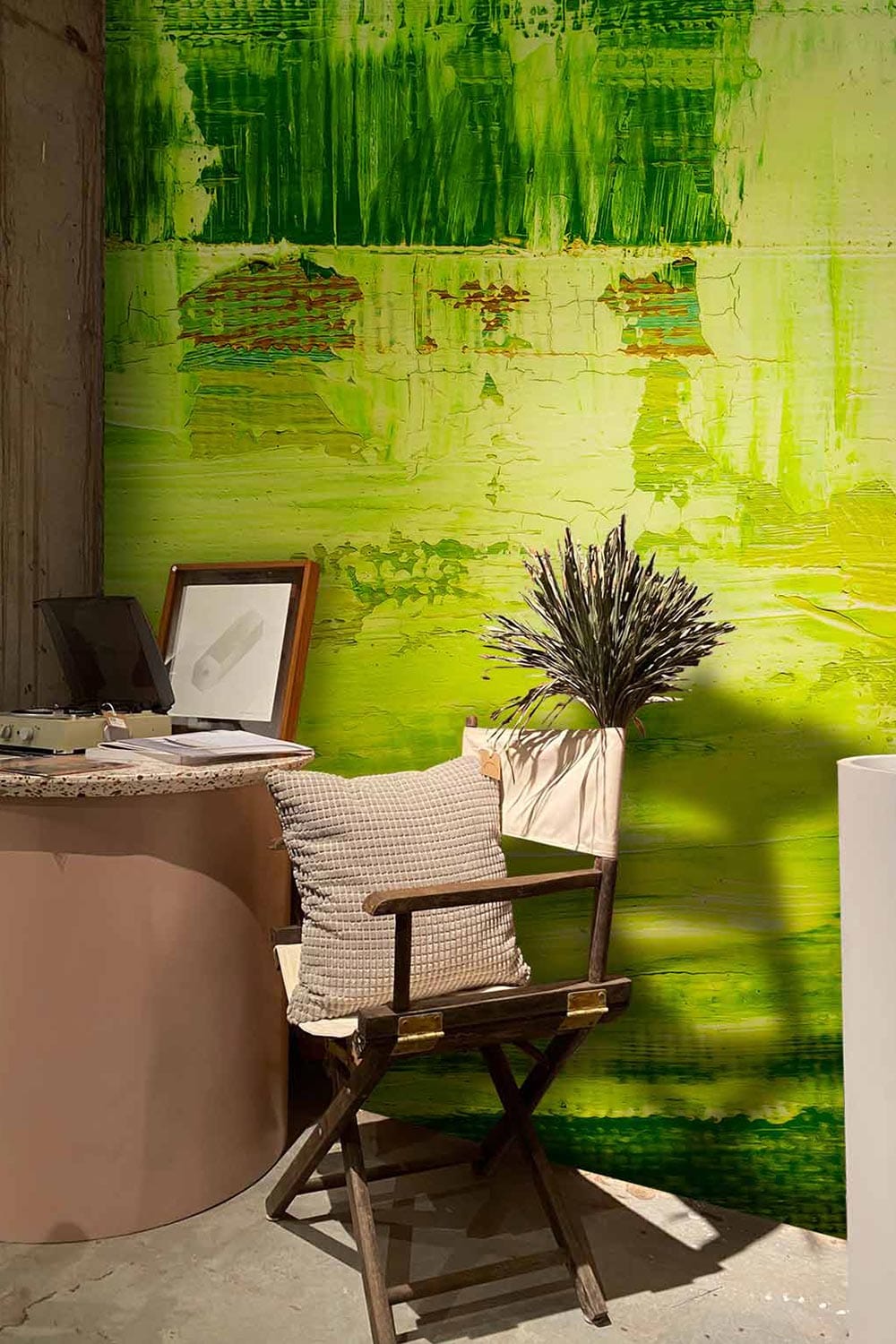 Green Panel 
Looking for a way to add some life to your bathroom? Check out Everwallpaper's Green panel wallpaper! This mural is perfect for giving your space a refreshing look. The green color is perfect for adding a pop of color to any room, and it's sure to brighten up your day. Plus, it's easy to apply and comes with detailed instructions. So why wait? Give your bathroom the makeover it deserves with our Green wallpaper today!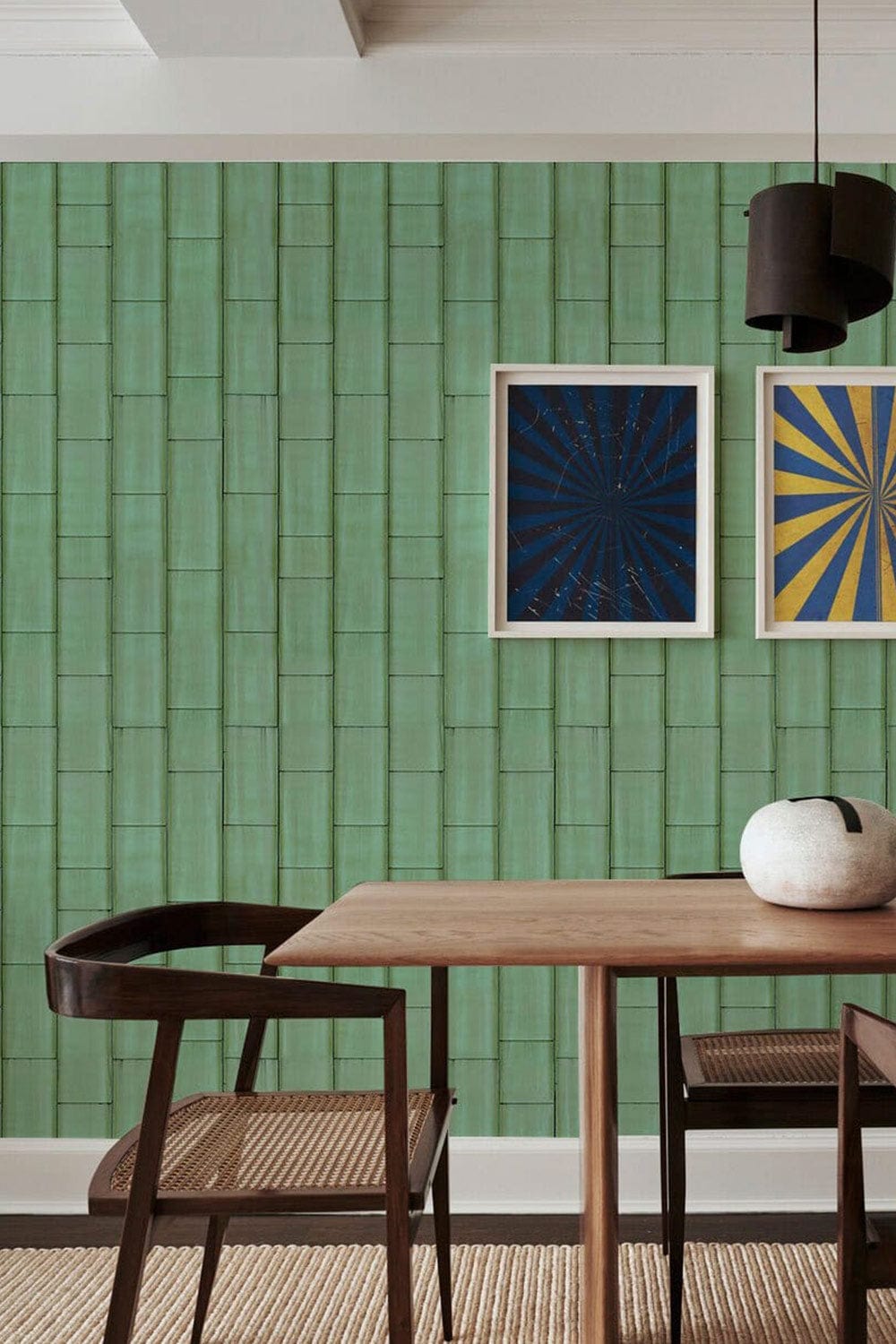 Wheat With Dew
Wheat With Dew wallpaper is the perfect way to add some country charm to your kitchen. The soft, golden wheat pattern will make you feel like you're living in a cozy farmhouse, even if you're miles away from the nearest cornfield. Wheat wallpaper for the kitchen is a brand-new product on the market that is made to brighten up your cooking space. With its vibrant yellow and goldenrod hues, this wallpaper adds a touch of natural beauty to any room. Made from real wheat stalks, this wallpaper is both eco-friendly and stylish. It's easy to install and care for, just wipe it down with a damp cloth to keep it looking beautiful for years to come. It's also a great way to add some extra insulation to your kitchen walls - who needs a stove when you've got wheat wallpaper?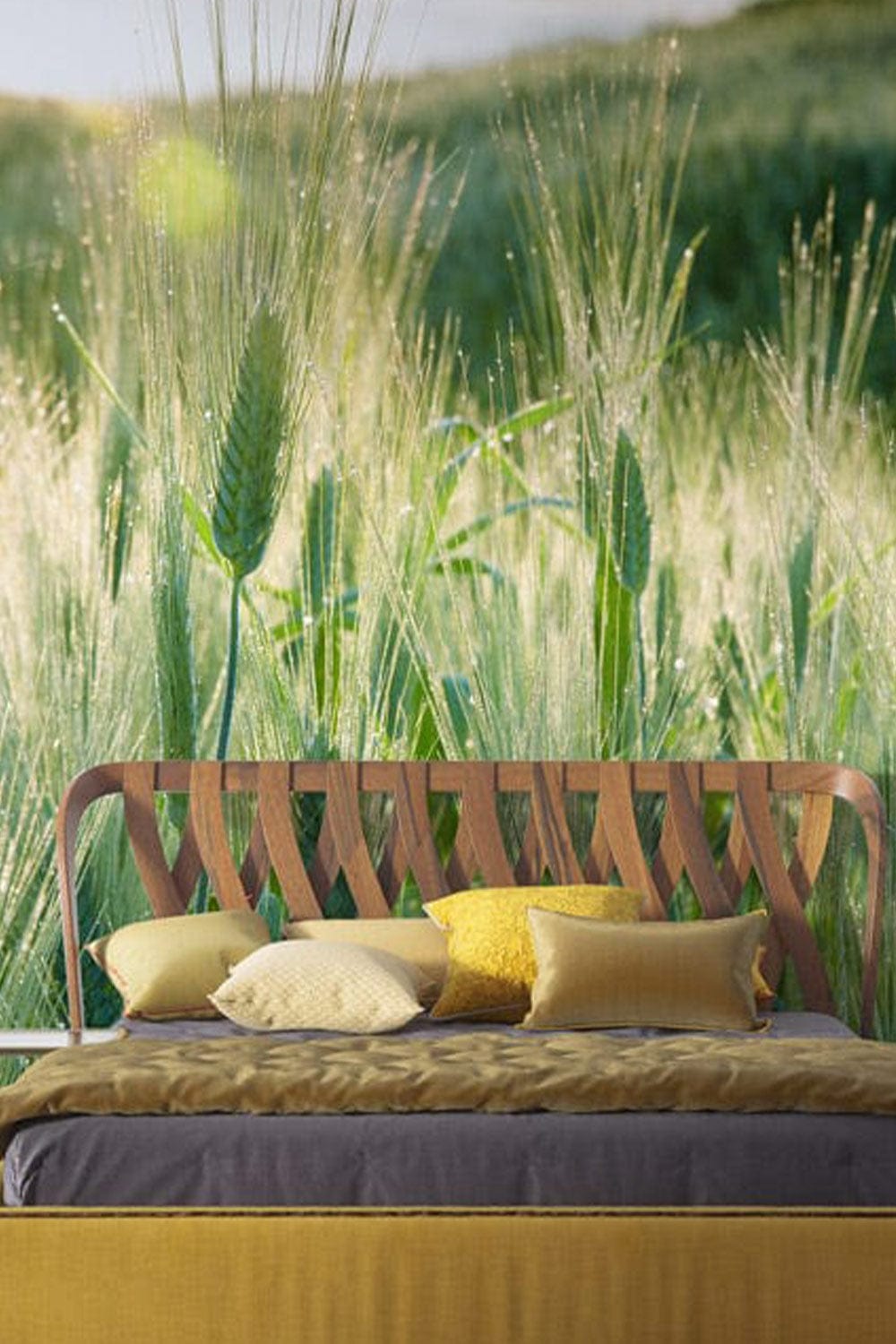 Why Green Looks Good In Your Interior? 
Green is an excellent color to use in your home's interior for several reasons. First, it's a very calming and relaxing color. It has been shown to minimize stress and anxiety, which is why it's often used in hospitals and doctor's offices. Secondly, green is also a very refreshing color, making it perfect for rooms where you want to feel airy and light. And finally, green can help boost your mood and mental well-being – so if you're looking for a little pick-me-up, consider painting your walls green! 
Whether you choose a light minty shade or a deep forest Green, incorporating this hue into your home will no doubt create a space that you love. If you are aiming to add more green into your life, check out some of the reasons you should do so. 
So there you go, three great reasons to use green in your home's interior! If you're searching for a color that will create a calm and relaxing atmosphere, refresh your space, and boost your mood, then green is a perfect choice. 
So, now that you have the benefits of green interior design, how can you incorporate it into your own home? Here are some tips:
Use green as an accent color: Accent colors are key in any interior design scheme. They are used to add more interest and contrast, and they can really make a space pop! If you want to use green as an accent color, try using it in small doses. Paint one wall green, or use green accents in your furniture or accessories.
Use different shades of green: There are so many beautiful shades of green, so don't be afraid to experiment! Try using a light green for a fresh and airy feel or a dark green for a more dramatic look. Or, mix and match various shades of green to create your own unique look.
Add plants: Plants are a great way to add some life and color to any space. They also purify the air, which is always an added bonus! If you want to add some greenery to your home, try placing plants in strategic locations around the room. For example, you could put a plant in the corner of your living room or on either side of your bed.
Putting Up Wall Decorations Next To Your Green Wallpaper Murals
There are many benefits to using wall decorations in your home. Not only can they add visual interest and style, but they can also help to improve your mood and create a more comfortable environment. In this blog post, we will discuss the advantages of using wall decor and provide some tips for choosing the best pieces for your home.
One of the main advantages of wall decor is that it can help to brighten up your space. If you reside in a smaller apartment or home, adding some well-chosen pieces of art or other decorations can make a big difference in the overall look and feel of your space. Wall decor can also be a great way to personalize your home and make it feel more like your own. Choose pieces that match your personal style and taste, and you'll be sure to enjoy looking at them every day.
Another advantage of wall decor is that it can help to create a more relaxing environment. If you're search for ways to minimize the stress in your life, adding some calming or soothing decorations to your walls can be a great help. Choose pieces that you find visually appealing and relaxing, and you'll soon find yourself feeling more at ease in your own home.
Finally, wall decor can also be a great way to improve the acoustics in your home. If you live in a loud apartment or have trouble sleeping due to noise from outside, adding some sound-absorbing materials to your walls can make a big difference. Choose pieces that will help to dampen sound, and you'll find yourself feeling more rested and relaxed in your own home. So, if you're searching for ways to boost your home's appearance or create a more comfortable environment, consider adding some wall decor. With so many benefits, it's easy to see why wall decorations are a great option for any home.