Yellow is the New Happy: Adding Yellow For Your Teen's Space
If you're looking for a way to give your teen's bedroom an instant upgrade, adding yellow is the way to go. This cheerful color is perfect for bedrooms, as it promotes happiness and creativity. Check out these suggestions we listed below on how you can add yellow to your teen's bedroom in a way that is stylish and age-appropriate. But before we move forward, let us understand why the color yellow can effortlessly brighten our mood.
Fun Yellow Facts: Surprising Stats About the Happy Hue
Do you feel happy when you see the color yellow? According to recent studies, there is a scientific reason why this hue makes us happy. Yellow is known to stimulate our brains and create a sense of optimism. Below are the fun facts about the color yellow.
So, what makes yellow such a happy color?
For starters, yellow is known to be the most visible color. This means that it is able to grab our attention more easily than other colors. In addition, yellow has been shown to increase our heart rate and make us feel more energized. When we see yellow, our brains release dopamine, which is a neurotransmitter that is associated with happiness and pleasure.
Interestingly, yellow is also the color of sunshine. This makes sense when you think about how happy we feel when we are basking in the warm sun. Studies have revealed that the right amount of exposure to sunlight can improve our moods and increase our levels of Vitamin D. So, next time you are feeling down, try spending some time in the sun!
Another fun fact about yellow is that it is often associated with positive words. In a study done by the University of Texas, participants were shown a list of words and assessed to rate them based on how positive or negative they sounded. The results showed that yellow was most often associated with positive words, such as "happy," "glad," and "smiley."
So, there you have it. These are just a few of the incredible reasons why yellow is such a happy color. If you are looking to create a brighter and more cheerful branding campaign, consider using this hue when designing your teen's bedroom. You might just find that it has a positive impact on your developing child. 
What better way to let your teen's personality shine than with a custom yellow wallpaper mural? These fun and vibrant designs are perfect for any teenager who loves color and wants to bring more personality to their bedroom. Whether they're into abstract art or nature scenes, we have the perfect design for them. So bring out your teen's inner joy and give them the bedroom they've always wanted! 
Little Book Tent
Encourage your teens to let their imagination run wild with the Little Book Tent wallpaper mural. This adorable mural is designed in subtle pastel shades of beige and features elements of fairy tales, making it the perfect addition to your growing child's bedroom. Whether your teens are dreaming up their own adventures or exploring new worlds through reading, the Little Book Tent mural will create a magical space for them to enjoy.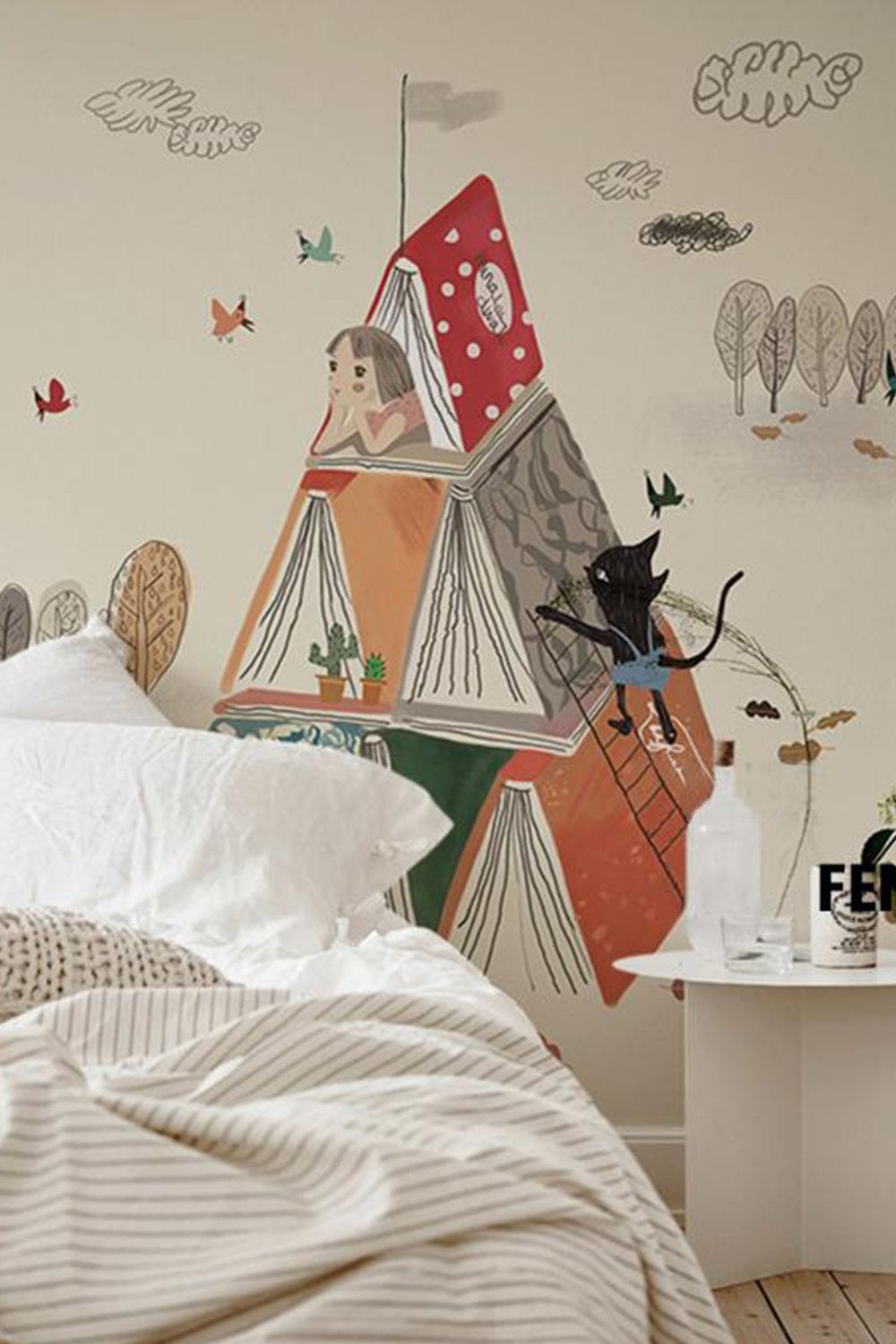 Exotic Alpaca
Alpacas are known for their luxurious fleece, making the Exotic Alpaca wallpaper a stylish and practical addition to your adventurous teen's bedroom. The design showcases a vibrant yellow backdrop adorned with alpacas and cacti, creating a unique ambiance. The cactus bring whimsy, while the yellow background injects some much-needed brightness into your teen's bedroom. If their bedroom is looking a little bland, bringing in the Exotic Alpaca wallpaper mural is surely an excellent idea.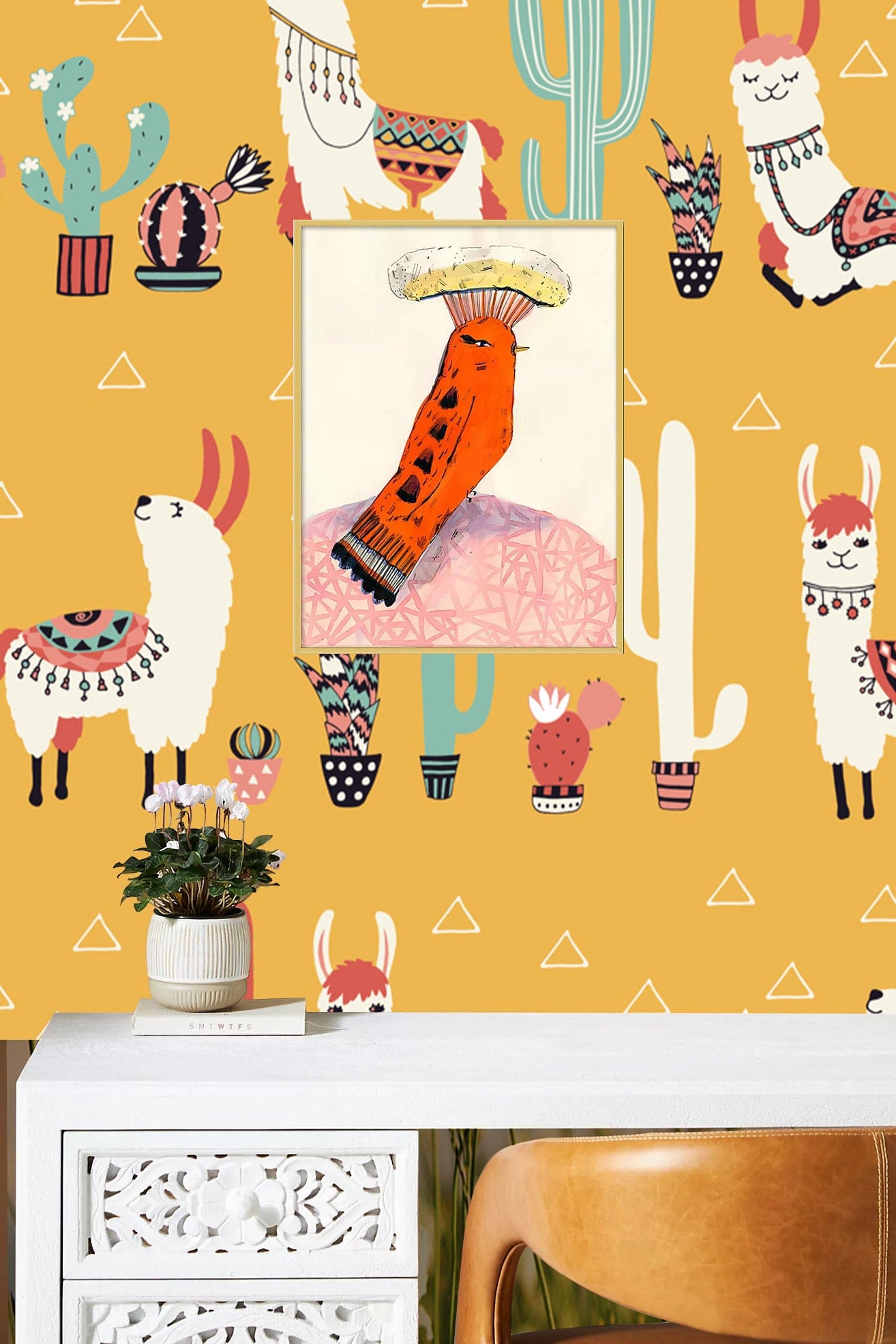 Painted Plant Pattern
The Painted Plant Patterns, showcasing small plants in soft pastel colors, is sure to bring a sense of freshness and relaxation to your teen's bedroom. Create an oasis for your teen to enjoy and unwind in after a long day. The Large-scale botanical design is hand-painted in watercolor hues of greens, blues, and yellows. It's the perfect backdrop for any relaxation spot in their room, whether it's next to their bed or in a reading nook. So go ahead and give your teen the gift of a serene escape with a Painted Plant Pattern wallpaper mural.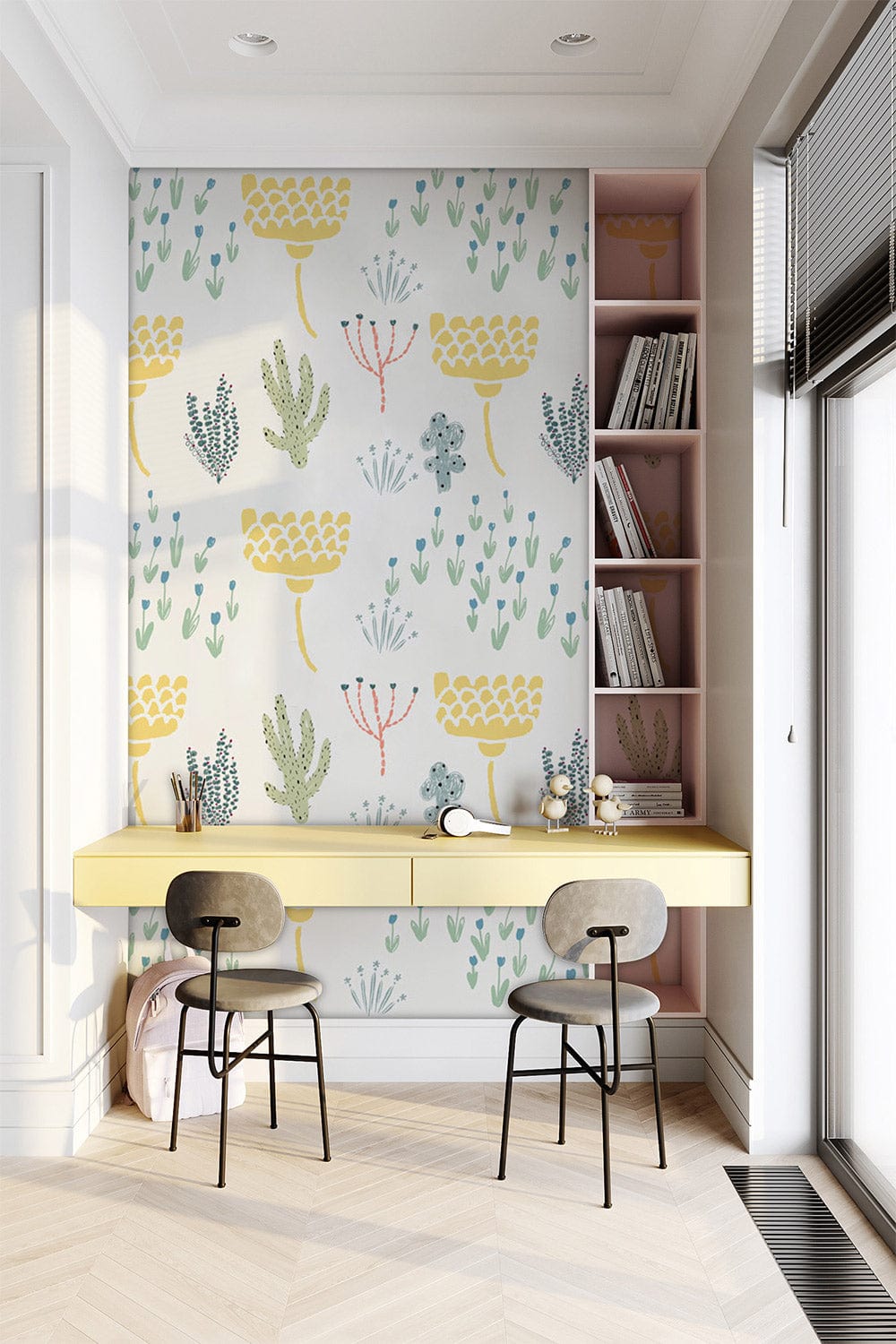 Colorful Desert
Get lost in the beauty of the desert with a Colorful Desert wallpaper mural. The stunning mural creates a sophisticated atmosphere in your teen's very own space. Featuring beautiful colors and bold details, you can finally introduce some excitement that your child will love looking at every single day. Without a doubt, your teen will love spending time in their bedroom with this fun and stylish Colorful Desert wallpaper mural.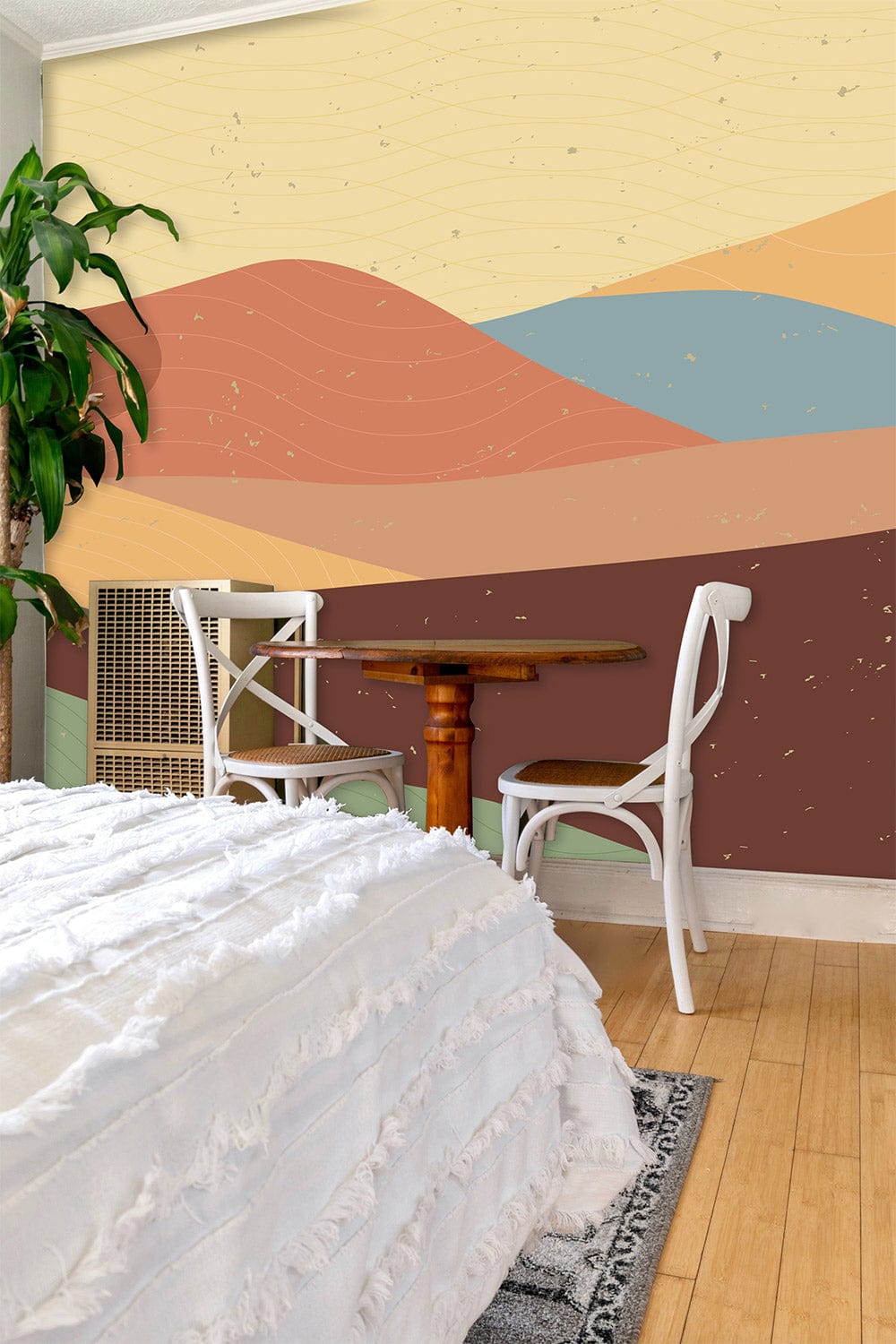 Ombre Desert
Your teen deserves warmth and brightness after a tiring day in school. You can finally help your child relax with the ever-charming Ombre Desert wallpaper mural. Our Ombre Desert wallpaper mural is perfect for adding a sunny and cheerful vibe to a space. Featuring a beautiful ombre effect in shades of yellow, this mural showcases the desert sky and mountains in a soft and dreamy way. Boost your child's love for nature with the Ombre Desert wallpaper mural.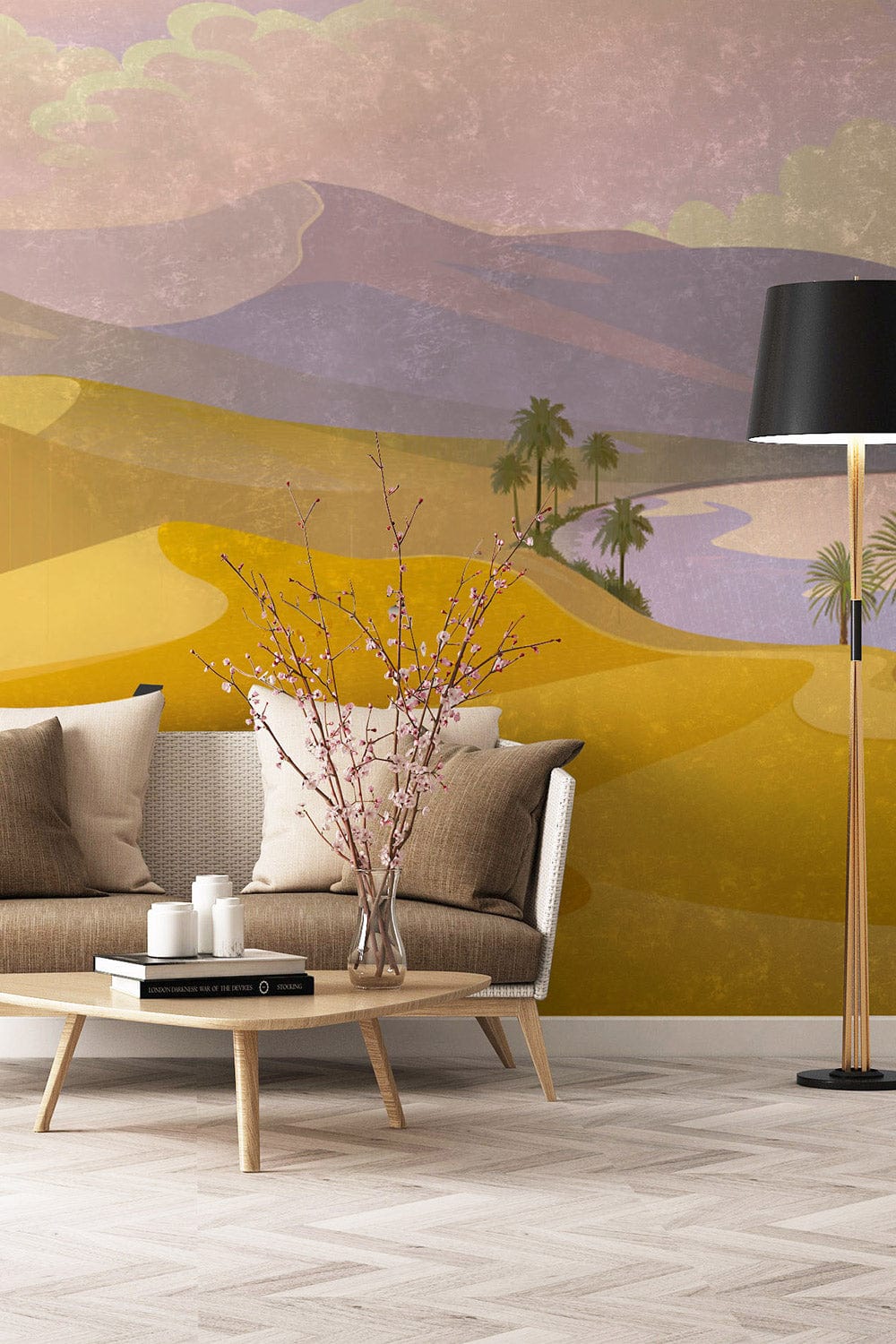 Country Road
The Country Road mural is a bright and vibrant design, featuring a bright yellow road winding its way through a green countryside landscape. The fun yellow color is sure to bring a smile to your kid's faces every time they see it. Other than that, it's perfect for adding a bit of country flair to your décor. Whether your child is a diehard fan of the countryside or just looking for a fun and funky way to liven up their space, the Country Road wallpaper mural is the perfect choice for you.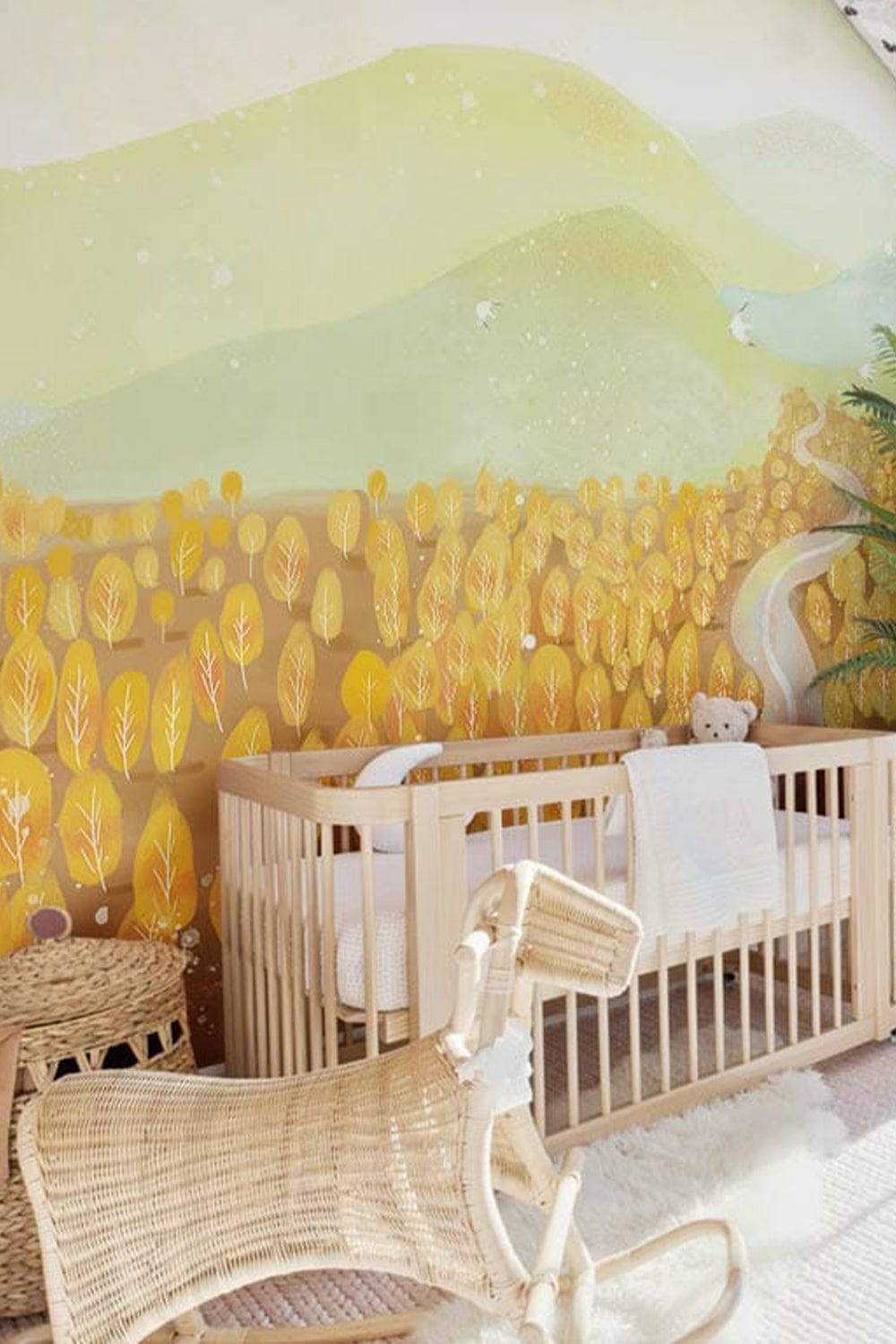 How to Add a Touch of Yellow to Your Teen's Bedroom for an Instant Upgrade
The best way to add yellow to a teen's bedroom is through accessories and accent pieces. Yellow throw pillows, blankets, and rugs are a great way to incorporate this cheerful color into the space. 
You can also add yellow artwork or posters to the walls. If you want to go bold, you can wallpaper an accent wall in yellow. Just be sure to use a light designs of yellow, as darker shades can be overwhelming in small spaces. If you decide to wallpaper your teen's room, make sure you use a high-quality mural that matches just right for your furniture. 
When buying yellow furniture, look for pieces that are made of natural materials, such as wood or bamboo. These materials will add a warm and inviting feel to the space.
Finally, don't forget to accessorize! Yellow lamps, vases, and picture frames are all great ways to add a touch of yellow to your teen's bedroom. These items can be bought at home goods stores or online.
Shades of Yellow: A Beautiful Exploration of the Many Colors of Yellow
There are so much wonderful colors in the world, but yellow may just be one of the best. It's warm and cheerful, perfect for a bright and sunny day. Let us together explore the many shades of yellow in the world. From pale yellow to rich gold, there is a shade of yellow for everyone. We also listed some famous pieces of artwork that feature this captivating and vibrant color. 
When it comes to yellow, there are so many different shades to choose from. The most popular shade of yellow is probably lemon yellow, which is a light and refreshing color.
If you want something more serene, try buttercream yellow. This creamy hue is perfect for creating a warm and inviting atmosphere. 
For something a little bolder, try canary yellow. This vibrant shade is sure to make a statement in any space! 
If you're looking for some artwork that features yellow, one of the most famous pieces is Van Gogh's "Sunflowers." In this painting, Van Gogh used a variety of different yellows to create a beautiful and bright floral arrangement.  
If you're dying for something abstract, check out Yayoi Kusama's "Yellow Pumpkin." This sculpture is an excellent example of how yellow can be used in a variety of different ways. 
A bright and cheerful mural can add personality and life to any space, and it can help stimulate your child's creativity and imagination. Best of all, these murals are easy to install and affordable, so you can give your child's room a makeover without breaking the bank.