The Best Witchy Wallpaper Murals to Turn Plain Rooms Into Magical Dungeons
Witches, vampires, and werewolves. As a kid, these were the creatures that we think could bring a little magic into our lives.
Today, with the emergence of whimsical prints of witchy wallpapers, you can now take in some magical spell straight into your home interiors. Otherwise, how can you transform a boring space into something magical, right? Sure, there are plenty of ways to do so, but our favorite is by using new witchy wallpaper murals!
It doesn't matter who you are— whether you're a geek or a gamer, who can resist a good dungeon? May it be for a castle, cabin, or a spooky night, with its utmost flexibility, you can use it however you would like!
Witchy Wallpaper Murals: Designing Home Interiors with Sacred Magic
The term "witchy" is a reference to the old English word wicce, which means "the practice of magic" or "the use of magic". These types of murals are often used for decoration and sometimes as a way to create a mystical theme in a room.
The best witchy wallpaper murals for home interiors include elements that give off an enchanting vibe. They are usually found in homes that have an antique or vintage appearance as they tend to match well with this style. The wall may have an old-fashioned look or it may be dark, but they are commonly filled with magical characters such as witches and wizards, fairies, and goblins.
Witchy wallpapers are ideal for a variety of uses. Some utilize it to update the look of their bedrooms while others use it for creating an artsy focal point in their living rooms. However, you can also apply them in any room where you want an accent color or texture that's different from the rest of the space.
What Are the Benefits of Using Witchy Wallpapers?
Witchy wallpapers are one of the most popular home interior trends and their popularity is growing every day. The defining characteristics of witchy wallpaper murals for home interiors are charms, occult, and mystical elements. If you like to live in a magical world, you need to find a witchy wallpaper mural that will add magic and divination to your home.
Here's what you can expect if you decide to include witchy wallpapers in your home decor:
You can easily add personality to your space without having to resort to cheesy or tacky accents. Witchy wallpapers are composed of fun and whimsical pieces that can transform your place with a cool and unique look. The most common witchy wallpaper design is geometric patterns with an urban edge. They are often colorful and have lots of movement within their designs so they work well as accent pieces in any room of your home.
Witchy wallpapers are versatile and can be used in many different kinds of applications. Some people use witchy wallpapers because they want their homes to look like they belong in a movie or book about witchcraft or magic. Others just enjoy seeing how these images can turn any room into something magical and mystical. Generally, witchy wallpapers can be applied as decorating elements on their own or you can use them to create a cool focal point for the room—from bedrooms to bathrooms. If you love them, you can even have them as part of an overall theme in your house for special events or holidays.
Witchy wallpapers are perfect for children's rooms because they'll add some fun flair without being too childish. They're also ideal for adults who want their bedrooms to feel like they've been transported into another world.
There are many different styles of witchy wallpapers, but most of them feature beautiful, mysterious objects and pieces associated with characters such as witches and fairies. These images are often quite colorful and vibrant, perfect for adding some color to your living space. However, they tend to be much darker than regular wallpaper murals, which makes them suitable for spaces that have low light levels or need extra illumination.
All in all, if you are looking for a little bit of spook, but not in an overt way, consider a witchy wallpaper mural. They carry a gentle spookiness that will not overwhelm your space. It can become something more subtle yet interesting to the eye. There is such a rich nature to these wallpapers that encourages further delving into their mystical-magical world.
Now that you know what makes a witchy wallpaper mural, you can begin your search for the perfect one to beautify your home.
Trendy Witchy Wallpaper Murals You Should Check Out
Witchy wallpapers are becoming trendy these days. They are incredibly popular online with tons of DIY projects to follow. The hues chosen for these psychedelic patterns evoke all the extravagance, intrigue, and delicacy of a witch's spell. But many people don't know how to pick out the best ones for their homes, especially when it comes to magical witchy wallpaper murals. Let's take a look at some of our favorite trendy wallpapers that will turn plain rooms into magical dungeons
Divination
Divination cards are a popular way to get answers from the Universe. This time, you can use it to give life to your walls! This witchy wallpaper has been designed to give a retro or vintage feel to your home without being old-fashioned or dated looking. The card patterns are ideal for creating a mysterious atmosphere in your room, from offices to bedrooms, with each card made to reflect the themes of witchcraft, mysticism, and the occult.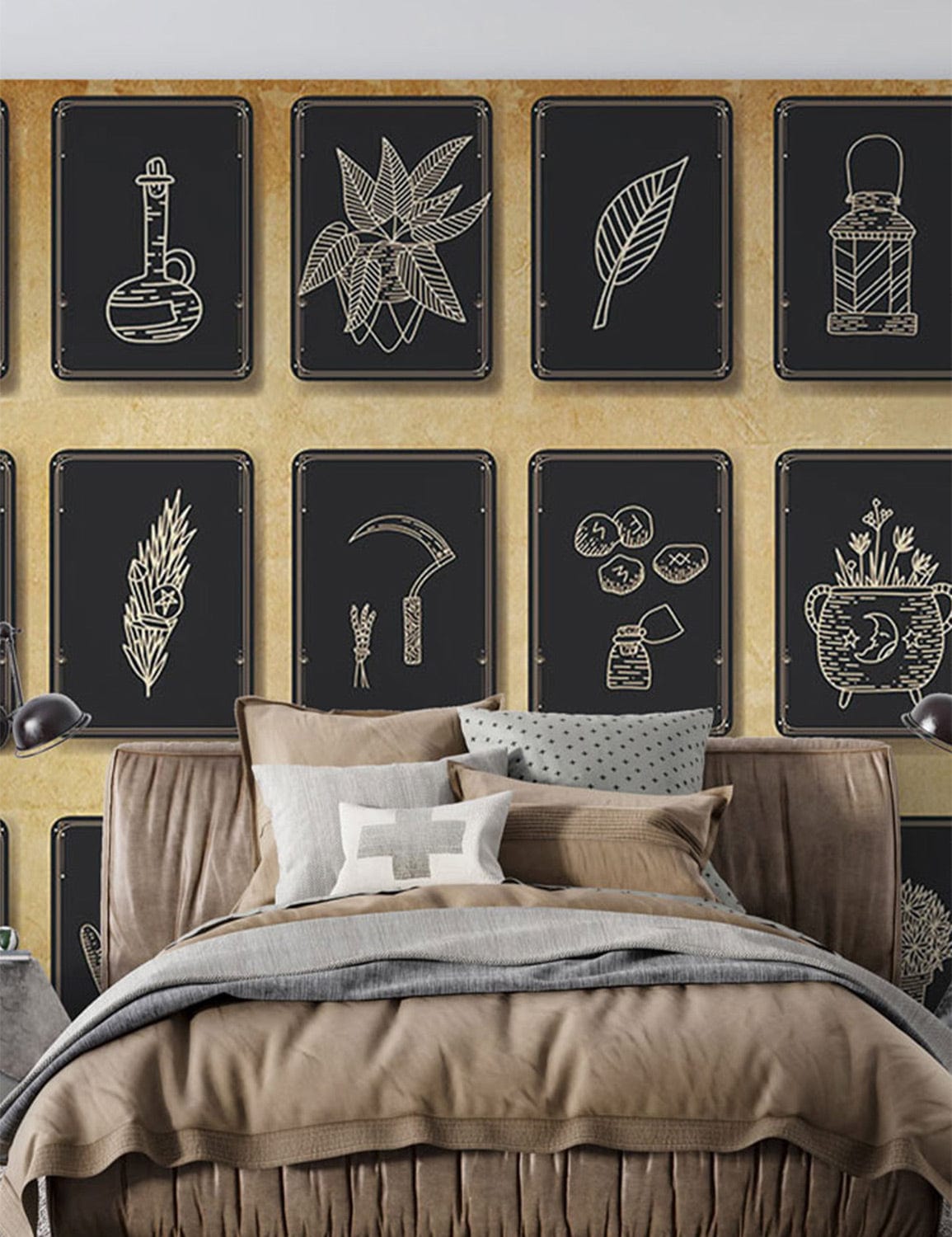 Snake Divination
Snake divination is a form of fortune telling that has been used since ancient times and continues to be used today in various cultures around the world. Hence, with this wallpaper mural, you can easily bring positive energy into your home! The Chinese characters incorporated in these designs can create elegance and beauty in any kind of room including living room and bedroom while giving off a calming yet bizarre feeling to it.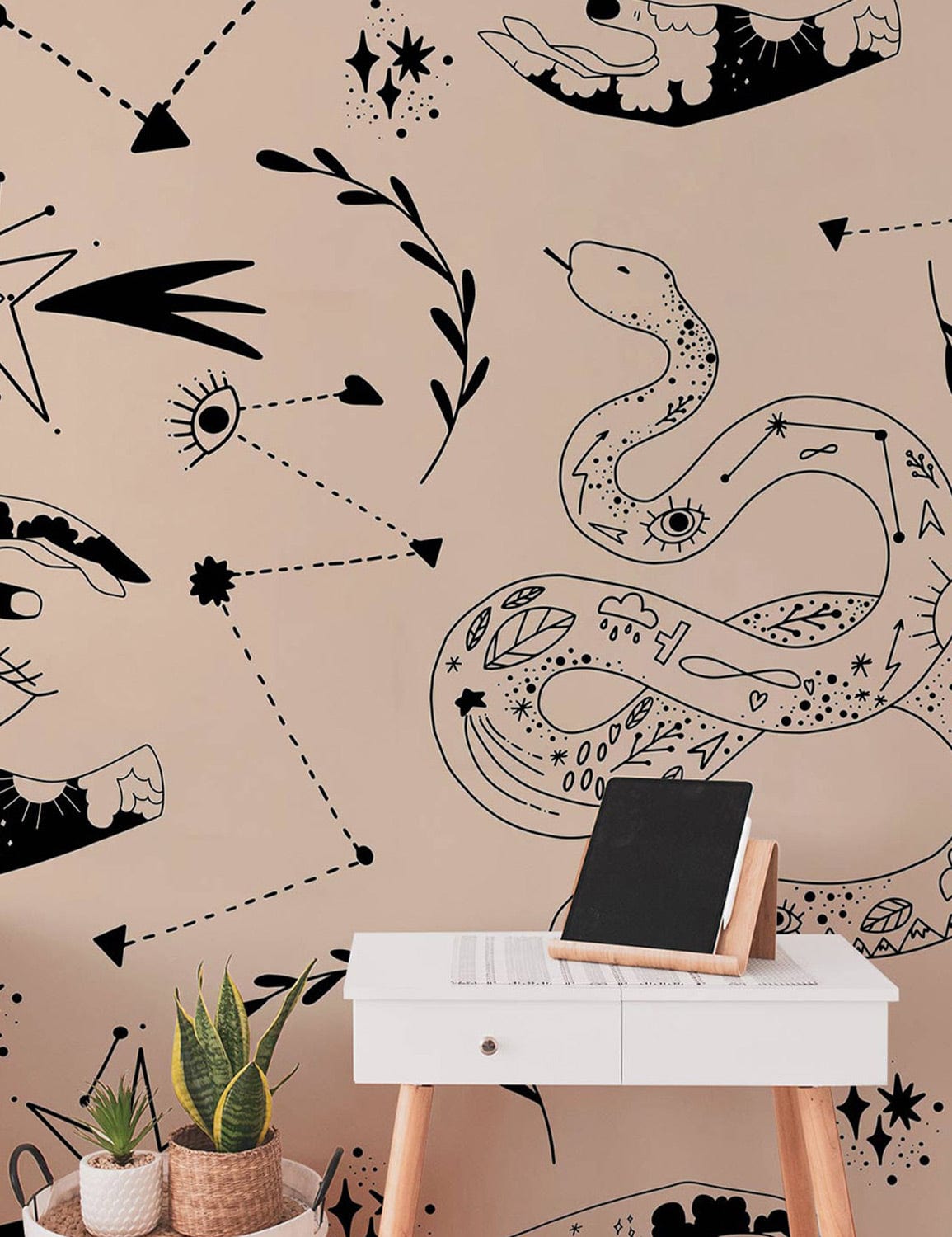 Whale Divination
Designed in a minimalistic style with the use of monochromatic colors and simple patterns, this whale wallpaper is specially crafted for those who opt for a subtle design in their homes. This wallpaper has a collection of lucky symbols in Chinese culture, ideal for people who want a unique touch to their decor but still like something that fits their style and personality. You can use this wallpaper as a unique accent piece on your walls or as artwork that can make your room stand out.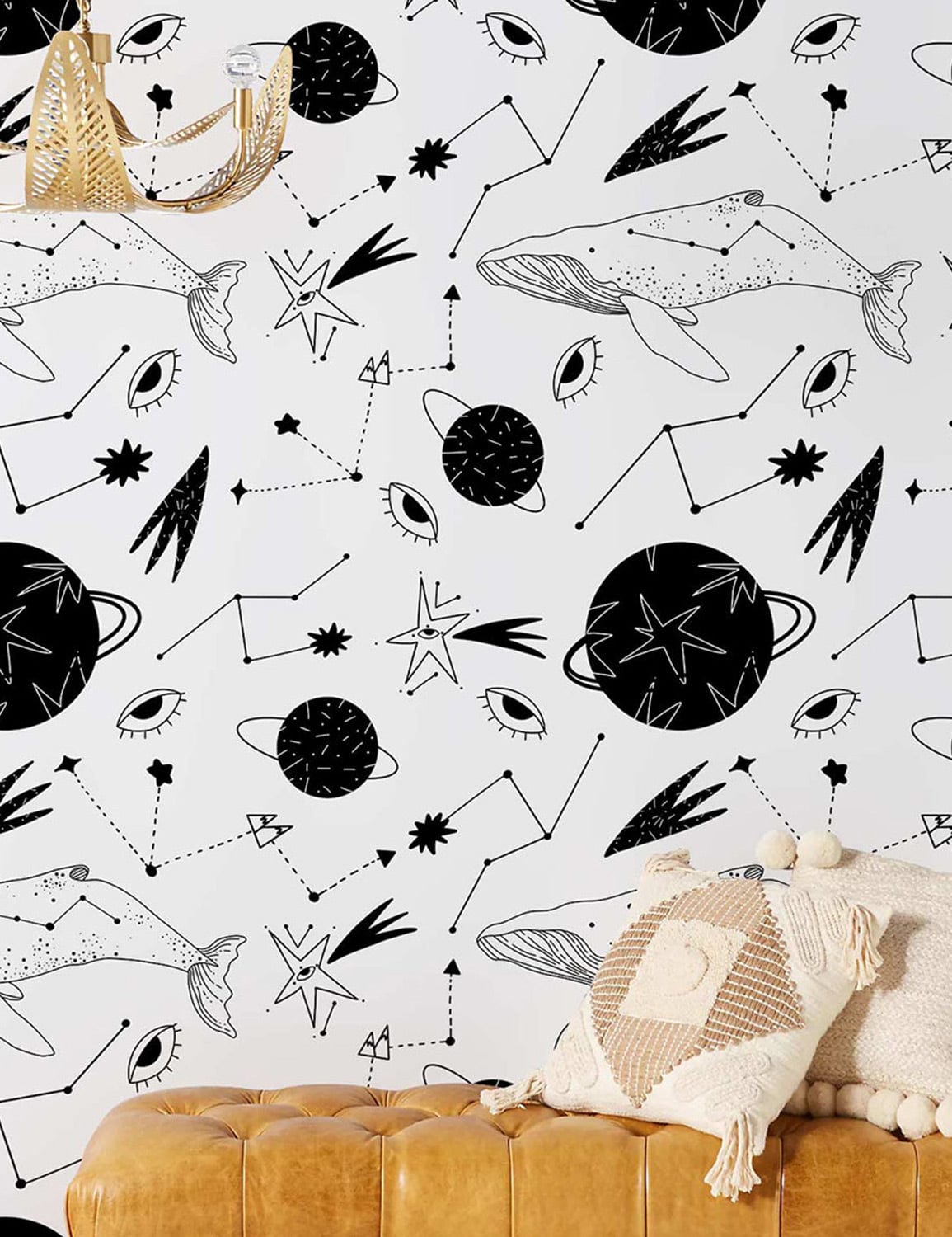 Butterfly Divination
The butterfly is considered one of the most beautiful creatures in nature. They are very delicate and fragile but at the same time, they are also powerful, wise, and spiritual. With this butterfly divination design, you can get rid of the negative energy and give inspiration to your space. The butterfly symbols used in this pattern were printed with a dark color palette, emphasizing its stunning and ethereal look. Its vivid orange background is similar to that of a pumpkin, making it an ideal addition to your Halloween-themed interiors!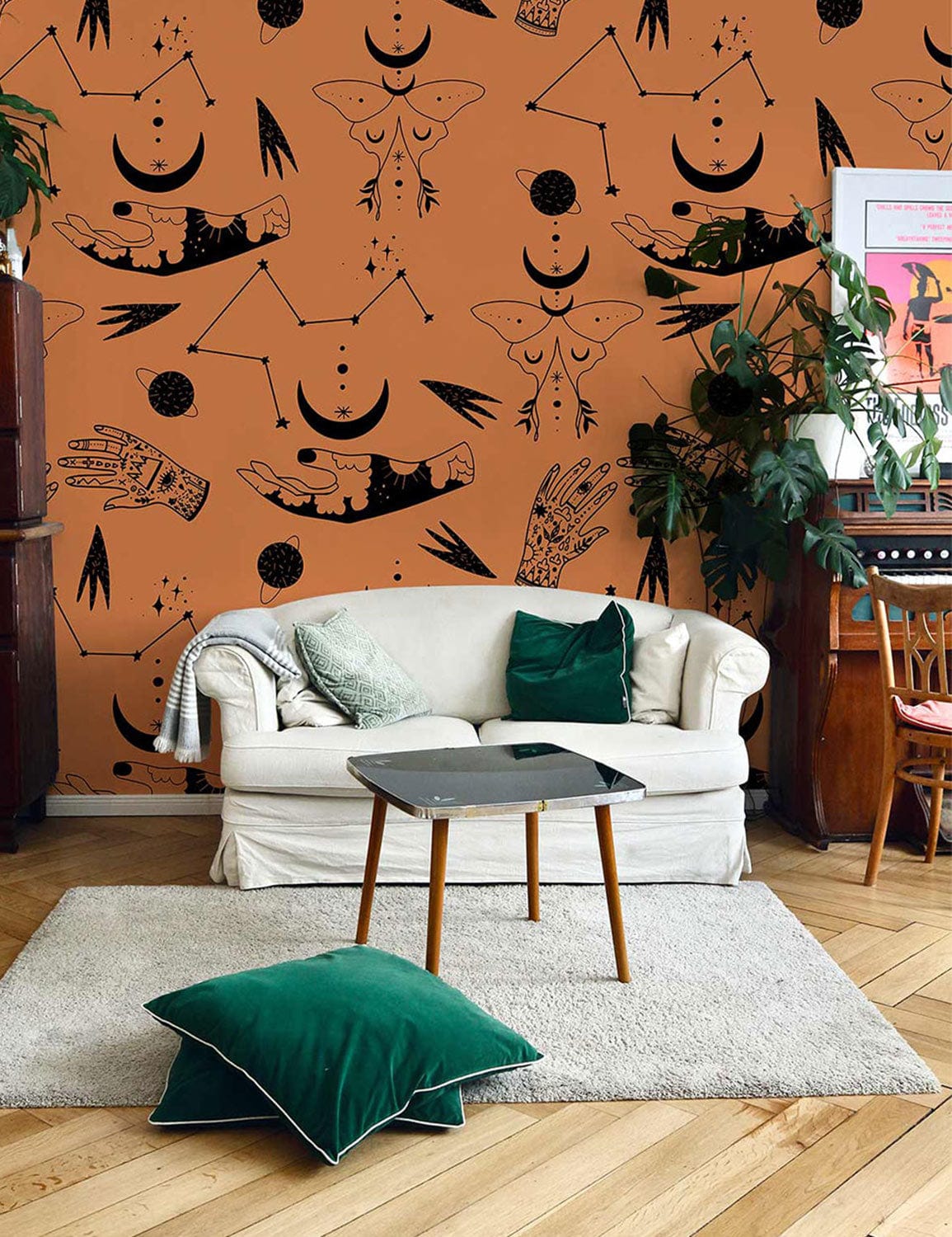 Snakes and Eyes
The snakes and eyes wallpaper includes all the elements of an awesome modern living room or bedroom: a sketched snake drawn on vintage yellow background, sparkling glitter that adds charm to it, and eyes that give off a strange and suspenseful vibe. This design topped with muted colors makes a perfect backdrop for rooms with supernatural themes. The best part is you can create more details to it by adding other decors like candles, books, or crystals to complete the look.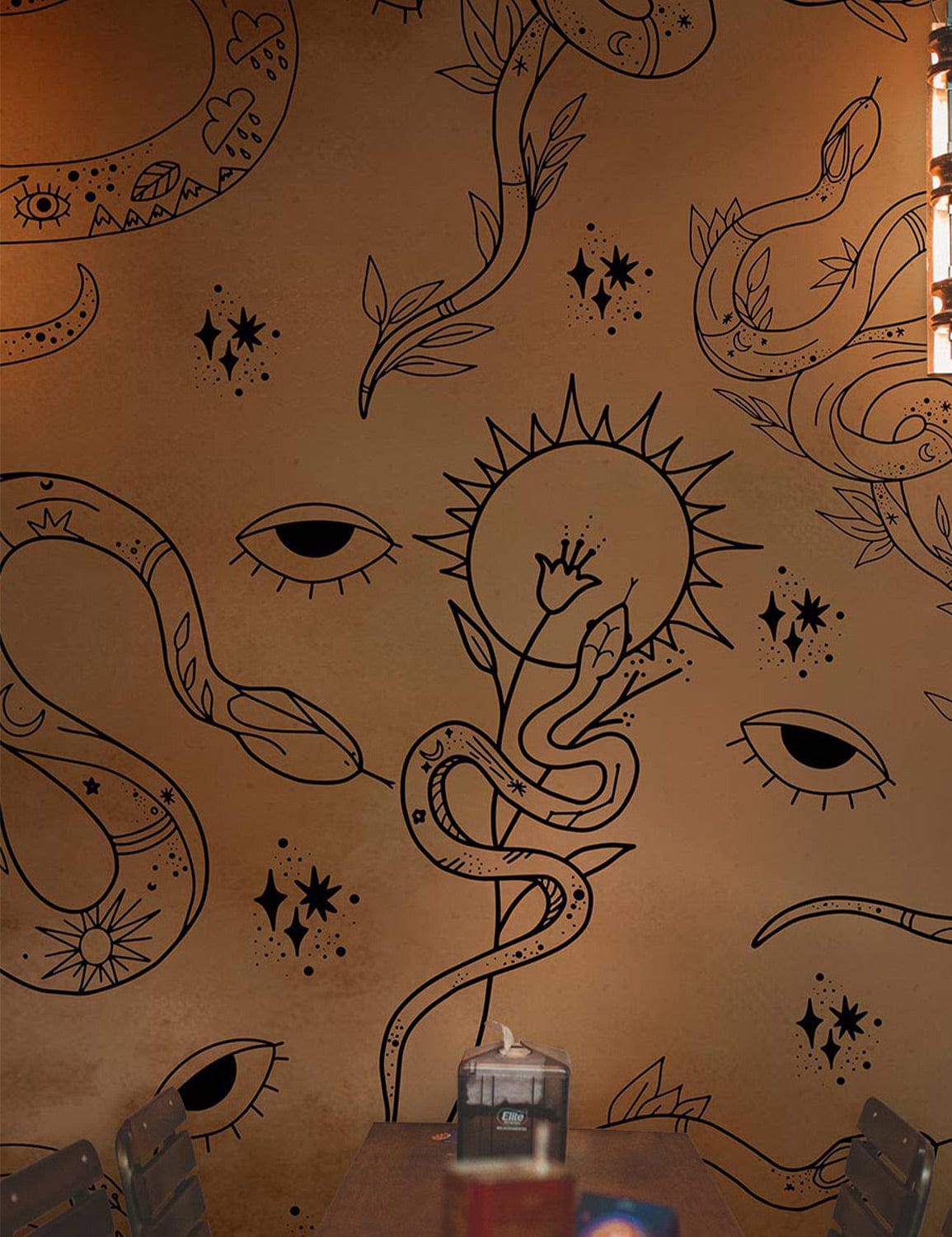 While all of these witchy designs look fun for the spooky season, they are just as capable of sprucing up homes year-round. After all, what is a dungeon without a little mystery, right?
But remember, you're not limited to just one of these ideas either. If you have a big space in your home and want to make a big impact, go ahead and try to mix and match these patterns in one place. You'll definitely be pleased with the results!
Enchant your Guests With Witchy Wallpaper Murals
Witchy wallpapering is a term used to describe the process of using a witchy symbol in your home wallpapers. The reason why the word "witchy" is used is that most of these wallpapers contain images of witches and even characters that represent them. While they may seem like a bit of a novelty, they're actually quite practical when it comes to decorating your home.
The easiest way to transform a plain room into a magical dungeon while enchanting your guests at the same time is by using witches and wizards as your inspiration. Whether you're looking for a simple, subtle theme or one that's more elaborate, there are plenty of options out there for you to choose from. This is all thanks to the fact that witches were once considered real supernatural beings with powers over nature -- not just fictional characters in books.
More witchy wallpapers can be found in blog-Top 12 Witchy Wallpapers for a Mystical Room